Are Drake and Future Teaming up for Another Collaboration?
As we all know, patience is key when it comes to the music industry and all of its avid supporters. Rap fans are itching to see another Drake and Future collaboration. Drake and Future released What a Time to Be Alive in 2015, and ever since then, listeners have been hoping for a sequel. The album's release received a lot of support and positive reviews.
Over the summer, Drake shared a compilation album, and just a few weeks ago, Future released Monster. Despite these recent releases, many people still believe there is a possibility of an upcoming project showcasing both of the rappers. Keep reading to find out why fans everywhere are anxiously awaiting part two of What a Time to Be Alive.
Future and Drake's past collaborated hits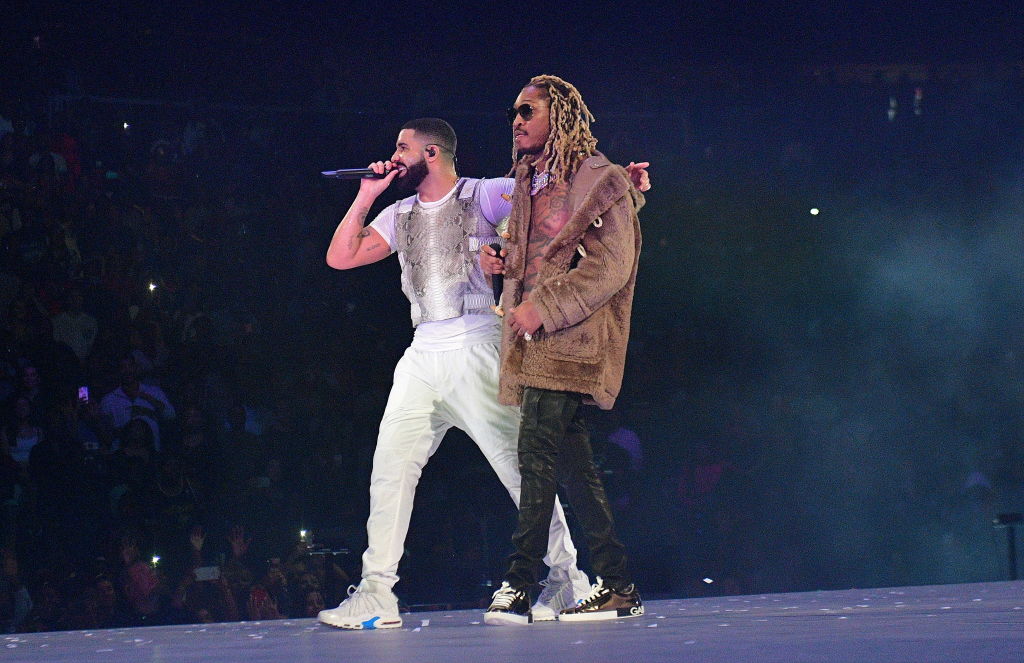 "I'm The Plug," "Change Locations," and "Big Rings" are just a few of the popular songs from What a Time to Be Alive. The surprise album even landed a No. 1 spot on the Billboard 200. However, these two rappers started collaborating way before 2015.
In 2011 the public got a taste of the artists working together on "Tony Montana." Just a few years later in 2013, the two paired up to create "Fo Real" on a mixtape Future produced. Shortly after What a Time Be Alive was released, Dirty Sprite 2 came out, and with it came yet another Future and Drake collaboration.
When the rappers get together their creativity and talent go unmatched. From their song lyrics to music videos, Future and Drake never disappoint their fans. "Where Ya At" confirmed to the public that collaborating is something the two musicians not only enjoy but are also clearly very good at it. Which begs the obvious question, have the rappers been working on a sequel? We sure hope so.
The evidence supporting a Future and Drake collaboration
There have been a few things in the media that have rap fans raising their eyebrows. Project Casting recently posted about a casting call for an upcoming video shoot in Atlanta. The open call asked for actors and individuals of all different looks to help create and film some needed kitchen and store-inspired scenes.
Despite the limited details, DJ Akademiks confirmed Project Casting's call is related to a new project for Future and Drake. Since then, sources have come forward claiming that they have spotted Future and Drake filming in public.
Future's Instagram leaks
In addition, there is the hard evidence that fans got a sneak peek of what we all hope to be the upcoming collaboration on Future's Instagram story.
Though it only lasted a little over one second, viewers got to see Drake briefly rapping over some beats. As exciting as this is, we are still curious if this could be a whole new album or just the release of a single. Of course, hopes are high. Fans are left wondering how much of the speculation could be correct and how much could be wishful thinking. Everyone is hopeful that these recent developments mean the sequel to What a Time Be Alive is well underway, but only time will tell.
It's no wonder why Future and Drake continue to dominate the headlines and charts. The success of What a Time to Be Alive speak for itself. You can visit this site to read more about how WATTBA came to be. Rap fans everywhere are eager to see another collaboration featuring the talented musicians.