Are Drake and Kanye West Still Feuding?
There have been many feuds between rappers over the years, but one that many of us have been extremely invested in has been Drake's ongoing beef with Kanye West.
The two rapper haven't been on the best of terms for a while now and their feud continues to reach new heights year after year.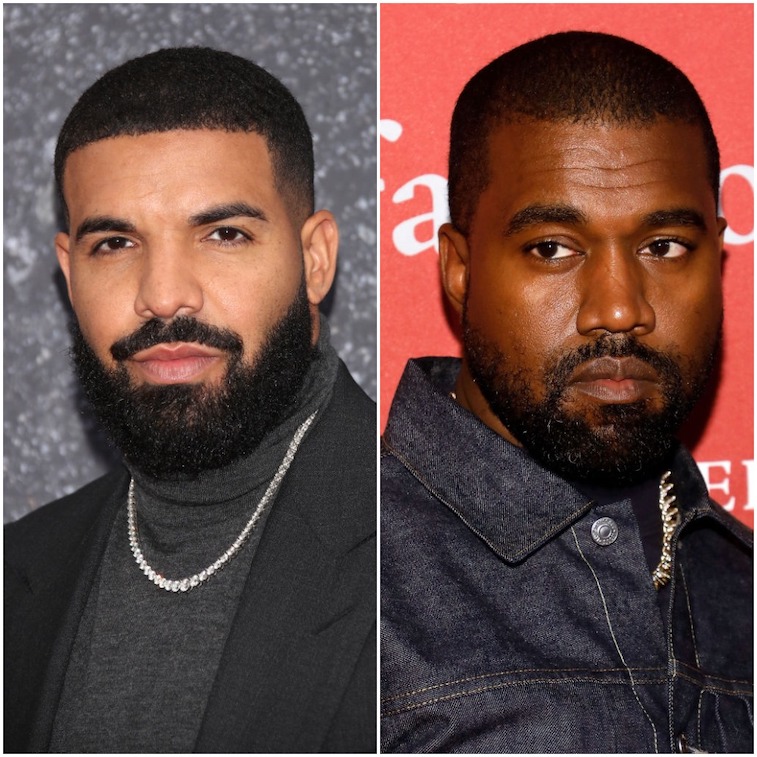 How did their feud begin?
Long before Drake and West became sworn enemies—over reasons that we'll get into later—the rappers actually considered each other acquaintances.
A few years prior to their beef, the rappers collaborated on a number of songs, including "Find Your Love," which was co-written and produced by West.
Prior to the release of his song, Drake stopped by MTV News back in 2009 and praised West for always being his role model in music.
"Before I ever got the chance to meet him, Kanye West shaped a lot of what I do, as far as music goes," he told the platform. "We always, always, always took the time to listen to Kanye's music and appreciate it beyond. We searched the samples and we find out where his inspiration came from, because he has one of the best ears in music, period. He knows how to recognize great music that's not his. He knows how to utilize great sounds and great music. So before I met him, I had the utmost respect for Kanye West. I'd even go as far as to say he's the most influential person as far as a musician that I'd ever had in my life."
While Drake and West never really considered themselves the best of friends, their deep respect for one another soon turned into an intense feud that no one saw coming.
In 2011, Drake and Lil Wayne announced plans to release a joint project, around the same time West and Jay-Z were planning to drop their joint album called, Watch the Throne.
To stir the pot even more, Drake publicly dissed West and Jay's project during an interview with English DJ Tim Westwood.
"We still got to do that album. I heard two other guys are coming out with an album together, too," he said. "There's two other rappers are coming out with an album together. I don't know where they got that idea but… I caught wind of it through the grapevine that there's some other album with two guys rapping on it."
Their feud reached new heights in 2017
Following his interview diss, Drake went on to take another jab at West on DJ Khaled's 2011 track "I'm On One".
On it, he raps, "I'm just feeling like the throne is for the taking/Watch me take it," which many people believed was geared toward West and Jay-Z.
After the song and accompanying music video were released, Drake and West would make subtle comments about each other and their alleged feud every now and again.
While many fans were certain that these rappers had bad blood, they continue to make it clear that they had nothing but love and respect for one another.
Fast forward to 2016 when the real drama started taking place. After a few months of speculation surrounding a joint album, the "Jesus Walks" rapper had an onstage rant about Drake and DJ Khaled's 2011 track during a stop on his Saint Pablo tour.
While in the middle of his show, West called out the fellow rappers by alleging that DJ Khaled "set up" his Drake collaboration "For Free" with radio stations in order for their song to be played more.
A few months after his onstage rant made headlines, Drake sat down with DJ Semtex to share what he thought about West's diss, "I'm not really sure what he's referring to half the time."
"Because in the same breath, I went from being…like working on a project with him, to him sorta publicly s——ing on me and DJ Khaled for being on the radio too much," he said. "I'm not sure why we're the target of your choice that you made that night. And yeah, I accept what you're going through, and I just go and continue working on my own thing."
Their war of words continued on
In 2018, things went from bad to worse when Drake's longtime rival Pusha T released the song "Infrared" off of his album Daytona.
In the song, Pusha T alleged that the "God's Plan" rapper uses a ghostwriter and to make matters worse, West produced the entire album.
Following the release of his album and exchanging some heated words on Twitter, Pusha went on to release a diss track full out mocking Drake and even exposing the fact that the "In My Feelings" rapper had fathered a child with former adult-film star Sophie Brussaux.
It was soon alleged that West was the one who told Pusha T about Drake's child.
Months after Pusha T's diss track was released, West took to Twitter to apologize to Drake in a series of tweets.
"There should have been no songs with my involvement that had any negative energy towards you," West wrote.
He also denied telling Pusha about Drake's son. "I did not have any conversations about your child with Pusha," he wrote. "I don't play with the idea of people's children after I spoke to Wiz [Khalifa] a few years earlier."
In September 2018, West did a complete 180 and full out slammed Drake in a lengthy Twitter rant following the release of "In My Feelings".
In since-deleted videos, West fired back at claims that his wife, Kim Kardashian, hooked up with Drake in the past.
He also brought the fact that Drake references someone named "Kiki" in the chart-topping hit, which many have speculated to be Kardashian West seeing as though that has long been one of her nicknames.
"People making rumors or thinking you f— my wife and you're not saying nothing… that don't sit well with my spirit," West said. "You know, if I had a girlfriend from Chicago, her name was Renita, and you was married to Rihanna, I wouldn't make no song called 'Riri.' So when you're like, 'I don't know where it came,' you too smart for that bro."
Since then, Drake and West haven't been able to see eye to eye and have come to blows on social media more times than once over the past year.
While they might have taken a break from publicly slamming each other, we can easily guess that this feud is far from over.