Are Ellen DeGeneres and Jennifer Aniston Friends?
Ellen DeGeneres and Jennifer Aniston are two of the biggest names in Hollywood. Both women have had careers spanning three decades and are known for bringing laughter to audiences everywhere.
Their names are occasionally seen together and Jennifer Aniston has been a guest many times on The Ellen DeGeneres Show, so what does it mean? Are the two stars really friends? Read on below to find out.
Ellen DeGeneres and Jennifer Aniston have known each other for nearly 30 years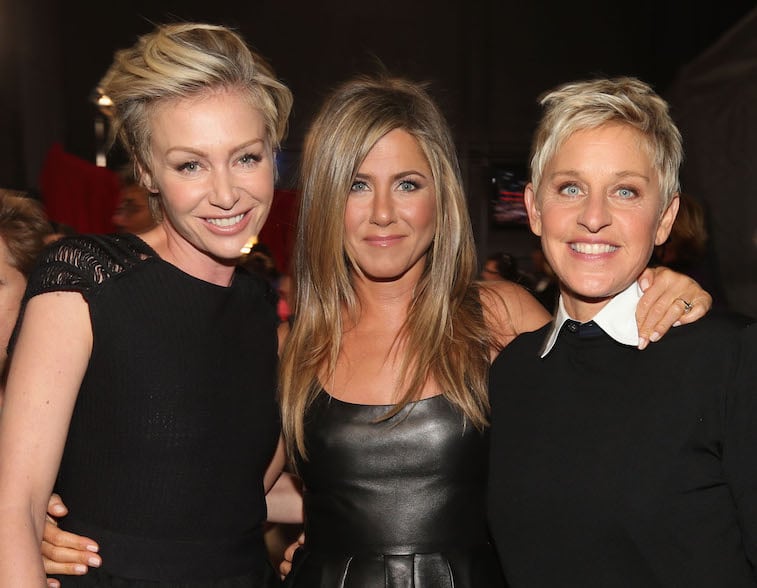 As Ellen DeGeneres and Jennifer Aniston once revealed on The Ellen DeGeneres Show, the pair has known each other since the early 1990s – almost 30 years ago. They became great friends soon after meeting and they were so close at the time, in fact, that some fans actually thought they were dating each other.
Even after both of their respective careers took off, Ellen DeGeneres and Jennifer Aniston remained friends. Aniston even was the first guest on The Ellen DeGeneres Show when the program premiered in 2003.
Ellen DeGeneres likes to fight with Reese Witherspoon over Jennifer Aniston
Ellen DeGeneres and Jennifer Aniston are so close that DeGeneres has made it a running joke on her show to fight with other celebrities over who is really closer to Aniston.
Back in 2017, she got into a funny back-and-forth argument with Reese Witherspoon, another good friend of Jennifer Aniston's.
"You're pitching a show with Jen Aniston, which is a great idea," DeGeneres said. "I know about this because Jen is, you know, a close friend of mine."
"Right," Witherspoon responded. "I mean, she's better friends with me, but…"
The two continued to bicker about their relationship with Jennifer Aniston with each claiming that they are her best friend. Ellen DeGeneres even jokingly said that Jennifer Aniston approached her first to work on a show together, but she already had her own show, so she turned it down and gave the opportunity to Reese Witherspoon.
This same argument recently resurfaced when Reese Witherspoon stopped by The Ellen DeGeneres Show again on May 20.
When discussing how close each of them is to Jennifer Aniston, Reese Witherspoon shared that they recently finished filming the show that they were pitching in 2017 and Jennifer Aniston had a great time.
"She told me that she was so excited to work with me because she was just tired of hanging out with you," Witherspoon said.
"Wow," Ellen DeGeneres responded. "She'll say anything to make you feel better. That's the kind of girl she is."
Ellen DeGeneres even brought up this playful banter with Justin Theroux once. At the time he was still married to Jennifer Aniston, so she decided to ask him to confirm to the audience that she was better friends with Jennifer Aniston than Reese Witherspoon was.
Theroux pointed out that, being her husband, he also was one of Aniston's best friends, but he did not want to pick between DeGeneres or Witherspoon.
"I get in trouble if I say she's the best friend, or you're the best friend," he said, eventually settling for the fact that they were "equal friends."
Jennifer Aniston actually confirmed that Ellen DeGeneres is her best friend
On the May 20 episode of The Ellen DeGeneres Show, Ellen DeGeneres decided to call Jennifer Aniston herself to put an end to the argument.
"So Reese Witherspoon… she somehow thinks that she and you are better friends than you and I are, and I just wanna settle this once and for all that you and I are better friends than Reese and you," DeGeneres said to Aniston, who was running on the treadmill.
"Yes honey, we've cleared this up. Haven't we?" Aniston replied. "Yes darling…that's based on almost 30 years of knowing each other."