Are Hannah Brown and Demi Lovato Friends?
Demi Burnett isn't the only Demi supporting The Bachelorette's Hannah Brown on Dancing with the Stars. During the dancing competition on Sept. 30, Burnett and Demi Lovato were spotted cheering on Brown as she performed with her onscreen partner, Alan Bersten. After the taping, Brown opened up about her relationship with the "Sorry Not Sorry" singer. So are Brown and Lovato friends in real life? There's nothing but love and support between the two starlets. And honestly, Bachelor Nation couldn't imagine a better friendship for the former Bachelorette.
Brown thanks Lovato for her friendship and support during 'DWTS'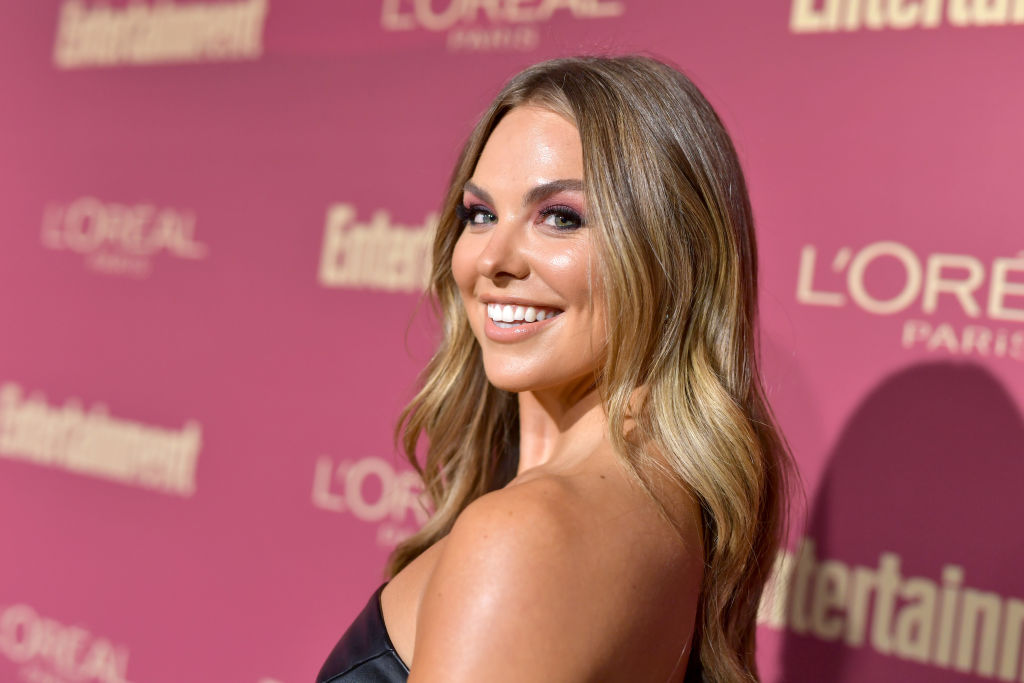 Following Brown's performance on DWTS, the reality star revealed what she really thinks of Lovato. "She's so great," Brown told People. "I'm just really thankful for her support through everything."
The Bachelorette lead also explained how Lovato's support has helped her adjust to a new life of fame. "She is always there for, 'Hey, do you just want to come over and just hang out?' That's what I need right now; just a friend that is supportive of and understanding of what like this new life has been," Brown shared. "She knows it on a much bigger level than I do, but she doesn't care about that."
Brown then noted her friendship with Lovato is just like any other. "She needs friends just like we all do, and I need friends just like everyone does," the 25-year-old stated. "And so it's great to have somebody who can be a guidance of this new life and then just somebody who's so loving and different."
The ABC star has also met with Lovato's group of friends — and it seems they have Brown's stamp of approval. "I've seen her group of friends that just have been so great and kind to her and her allowing me in to meet them and realizing that it's really all about that group of people that love you no matter what and are going to support you," Brown said.
How did Brown and Lovato meet?
Brown and Lovato haven't been friends for long. According to an interview with Entertainment Tonight, Brown admitted she met Lovato because of The Bachelorette.
"[Lovato] started watching [The Bachelorette] and her mom is a big fan, so her mom got her into it and so we kind of connected before then," Brown told the publication.
This comes as no surprise to Bachelor Nation. In May 2019, Lovato publicly supported Brown during her season of The Bachelorette on social media.
"I've never watched the Bachelorette or the Bachelor but she is soooo cute!!" Lovato gushed on Instagram Stories, per People.
Brown then quickly responded on Twitter. "Me everyday for the rest of my life: Demi Lovato called me cute!" she wrote in excitement.
Meanwhile, Lovato continued to comment on Hannah's season of The Bachelorette and even warned Brown of Luke Parker. "Hannah, Honey, do not trust him," Lovato captioned an Instagram Stories clip of the ABC reality series.
Lovato also appeared in the finale of The Bachelorette to support the season's leading lady, according to CNN. "I interrupt this social media break with this very important and iconic snap shot of WINDMILL cookies with my new favorite person @alabamahannah.. and quess what… Jesus still loves us," Lovato wrote on Instagram of Brown's Fantasy Suite date with Peter Weber. "Tonight's the season finale y'all.. make sure to tune in cause it's gonna get crazy!!"
Lovato also has a connection with Mike Johnson
Clearly, Lovato and Brown's adorable friendship is out in the open. However, Lovato is also connected with another Bachelor franchise contestant. And it looks like things are being kept quiet.
On Sept. 30, Mike Johnson, who appeared in Brown's season of The Bachelorette and Bachelor in Paradise Season 6, revealed he has been on a few dates with Lovato.
"We've gone on more than one date," he told People. "I like her tattoos — we both have a lot of tattoos. Demi has more than me. And, uh, she kisses really well." Nevertheless, it seems the two are keeping it casual. "My status of the relationship with Demi and I are that we are two people exploring each other," Johnson added.
Of course, given Johnson and Brown's past on The Bachelorette, fans are curious about Brown's opinions of Johnson and Lovato. But, when speaking with ET, Brown made it clear their relationship has nothing to do with her. "I like Mike and I like Demi as well," Brown said. "So whatever is happening with them, that's their business. Not mine."
However, it seems Brown will continue to support both Johnson and Lovato, regardless of their relationship status. "Look, I am used to people, people having opinions about if I have a relationship or if I don't," Brown said, per People. "So I do not talk where I don't need to, so really just excited for her future." And that's what friendship looks like.
Check out Showbiz Cheat Sheet on Facebook!