Are Jax Taylor and James Kennedy From 'Vanderpump Rules' Actually Being Supportive of Each Other?
Did Jax Taylor and James Kennedy from Vanderpump Rules actually put down their swords? The two SURvers never seemed to find their friendship groove, even warring hard after briefly getting along.
But after a season where Taylor basically wrote off the DJ, both he and Kennedy seem to be taking a softer, almost supportive view of each other. While they certainly don't seem like buddies, words they recently shared about each other could almost be considered kind and respectful.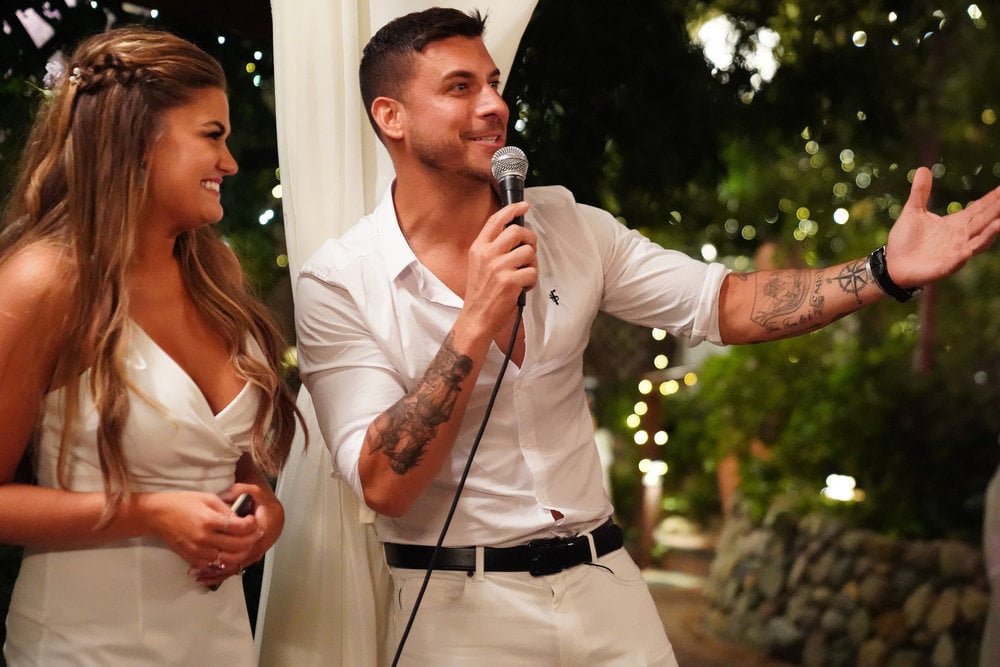 So what are the two saying about each other? And how is Taylor supporting Kennedy in his journey to sobriety?
Making 'positive changes'
A fan asked Taylor how Kennedy was re-hired at SUR after being fired a few times for being drunk on the job. Kennedy recently tweeted, "Guys! I'm back at sur and DJing and Hosting tonight !!!! Everyone come party with us it's gonna be big night." While Taylor made it clear the two don't hang out he had positive remarks about Kennedy.
Taylor tweeted, "To be honest I've spoken to James maybe 3 times in the last year in passing for a few minutes each time, I gotta give him credit he's made a lot of positive changes and he looks a lot healthier. Proud of him, the dj life can be rough but it looks like he has it under control."
Fans were happy to hear Taylor was being supportive of Kennedy's progress. "That's great news and sounds like you have made big changes too… I love hearing positive s**t," one fan remarked. Another fan, who met Taylor loved hearing this news too. "Wow you have really come a long way Jax! To hear you complement James like that is amazing. You are a great guy and getting better all the time! I met you at SUR and you were very gracious to me even while you were slammed at the bar!!!"
Kennedy is mending fences
Kennedy shared with US Weekly he is focusing on his sobriety and mending his friendship with Lala Kent. He's also going strong with girlfriend Raquel Leviss and steering clear of the SUR drama too.
He also addressed the reports that Taylor blocked cast members on social media. "I think Jax just blocks people on Instagram when he gets mad and he doesn't care for the followers as much as some of the other influencers, if you will," Kennedy said. "So he doesn't mind blocking people because he just doesn't really care about Instagram. I think. He's just like living his own life."
Taylor has recently experienced several social media headaches. After reports he blocked cast members, Kristen Doute reported he now follows her on social media. He also blocked Captain Lee Rosbach from Below Deck after the two had a few spicy exchanges.
They have warred in the past
Taylor and Kennedy have fought both on the show and online. After briefly making a connection, this past season was filled with anger between the two.
Kennedy was fired for being inebriated at work and for making derogatory comments about Katie Maloney. Some fans took pity on him, but Taylor took a hard line. One fan tweeted, "James broke my heart last night. He is so broken inside, it was sad to watch." Taylor, on the other hand, was not feeling the love. "Well jail can fix that." Ouch, savage. When someone suggested Alcoholics Anonymous would be better than jail, Taylor wrote, "AA is for alcoholics. That's the least of his problems."
He added, "Trust me if you knew the truth you wouldn't feel bad." Also, "Again what he has done you can't come back from. Period. That's all I'll say about that."