Jennifer Aniston and Courteney Cox's Relationship: Are They Friends in Real Life?
"I'll be there for you" might be the Friends theme song, but it's also the anthem for Jennifer Aniston and Courteney Cox's relationship in real life, too. The former Friends stars were reportedly ultra close when filming Friends and, as it turns out, they are still each others' besties.
We share an inside look at how Jennifer Aniston and Courteney Cox's relationship has evolved over the years, plus why some say they are closer than ever, ahead.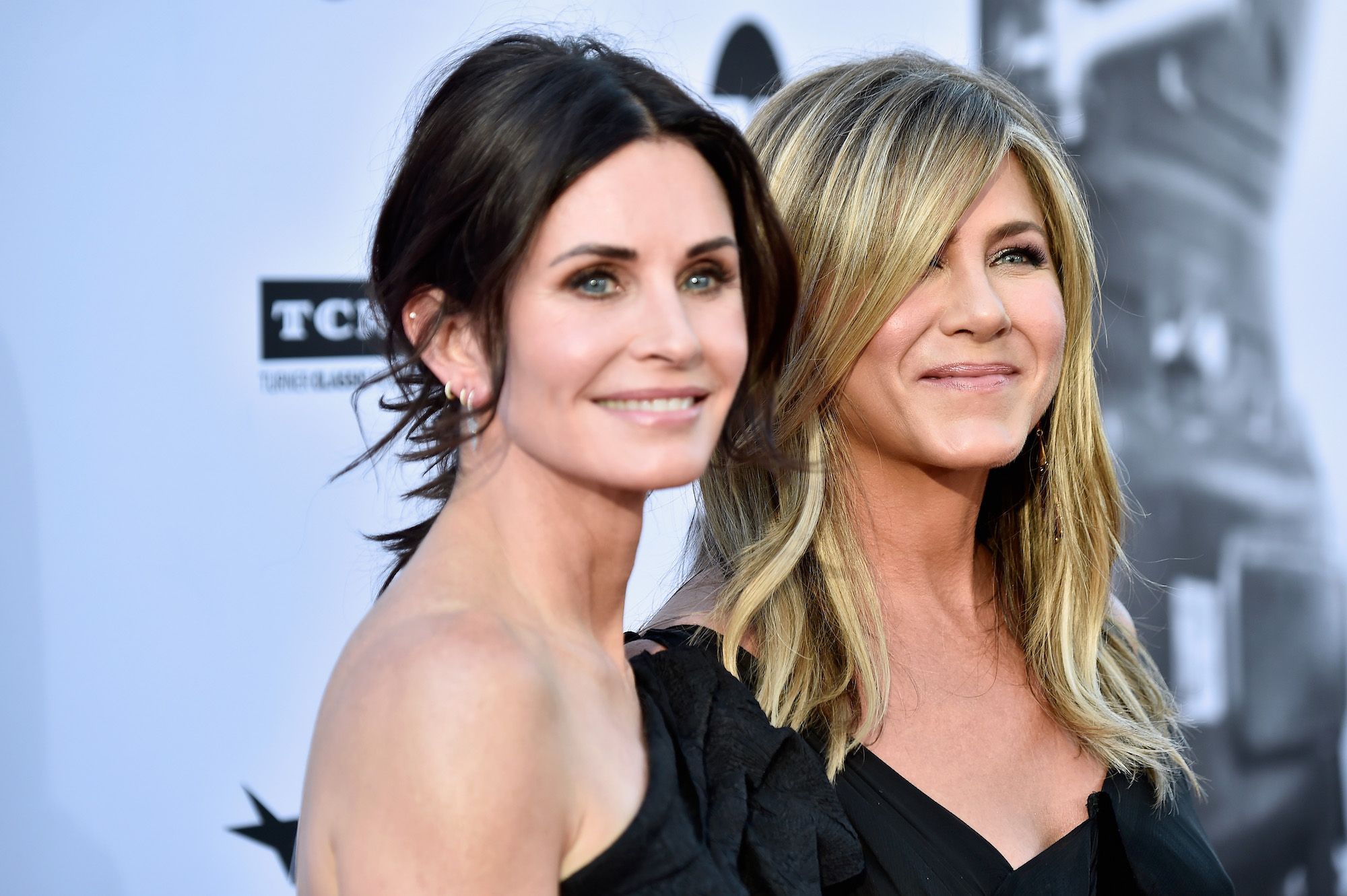 Jennifer Aniston and Courteney Cox's relationship
On Friends, Jennifer Aniston and Courteney Cox portrayed two best friends living in New York City together. And although they don't live in New York in real life, (both reside in Los Angeles, California), they are best friends, just like their characters.
Here's how the actresses have managed to stay close nearly 15 years after the Friends series finale.
They support each others' careers
Courteney Cox and Jennifer Aniston met through working together on Friends. And, although they are no long starring in the same show, they continue to offer career support whenever possible. Case in point: Cox once put a congratulatory ad out in the Hollywood Reporter after Aniston won the Showest Female of The Year award in 2005. The ad read: "Congratulations Jennifer. Your enormous heart makes you an incredible actress and beautiful friend. We love you. Courteney, David, and Coco."
They have been through breakups together
Between Jennifer Aniston's dating history and Courteney Cox's divorce from David Arquette, the two friends have gone through a lot of breakups together. That said, they are always each other's support system. After splitting with Brad Pitt, Aniston reportedly leaned on Cox for strength. "I've slept in her guest bedroom a lot," she told More in 2014. "Without giving away too much of my private stuff, all I can say is she's been there for me through thick and thin."
Jennifer Aniston is godmother to Courteney Cox's daughter
Jennifer Aniston doesn't just play an important role in Courteney Cox's life — she is also close with her daughter, Coco. According to several reports, Cox named Aniston godmother to her daughter, who was born in 2004 following the series finale of Friends.
They are each other's maids of honor
When Jennifer Aniston said "I do" to Justin Theroux, her bestie Courteney stood by her side as her maid of honor. And, Aniston will allegedly return the favor when Cox marries her long-time beau, Johnny McDaid.
They go on vacation together
In addition to everyday life, the two like to plan escapes together, as well. Aniston and Cox — along with McDaid and Theroux — even celebrated Aniston's 48th birthday together in Mexico.
They have a group text with Lisa Kudrow
Courteney Cox and Jennifer Aniston aren't the only ones that are close. The two are reportedly in a group chat with their former Friends co-star, Lisa Kudrow, too. "Lisa, Jennifer and I all have a text chain, but to me it's too much pressure. I'm not into the group text chain. I really don't like it," Courteney Cox once told Us Weekly. "And then you have something funny to say and you say it but then you send the text and they don't get it," she added.
They are there for each other, no matter what
Jennifer Aniston and Courteney Cox have an undoubtedly close relationship. And, when it comes to being each other's support system, they try to keep it judgment-free — like true best friends. "There's absolutely no judgment in Court," Aniston once told More. "You'll never feel scolded. She's extremely fair, ridiculously loyal and fiercely loving," she added.
Check out The Cheat Sheet on Facebook!