Are Johnny Depp and Kevin Smith a Good Match for Yoga Superhero Movie?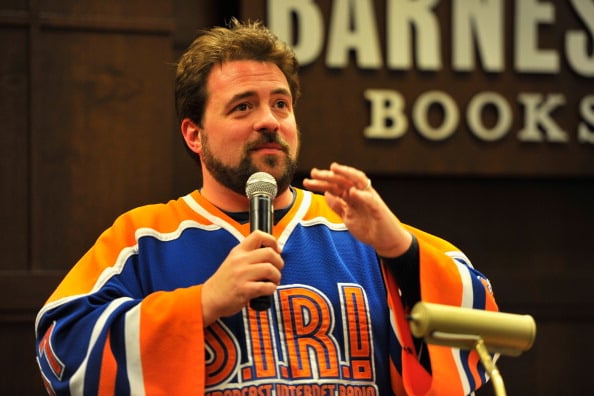 Kevin Smith's upcoming indie comic book movie, Yoga Hosers, has signed on some serious star power. Johnny Depp and his 15-year-old daughter, Lily Rose, will star in the movie, which promises to be an action-adventure featuring young female heroes. The addition of a name like Depp's will gain Smith a bigger audience for the film than his bizarre recent indie efforts have been getting otherwise, and according to a description of the movie obtained by The Hollywood Reporter, Yoga Hosers sounds like it will be a hilarious spoof on yoga, Canadians, and comic book movie tropes.
The movie is written by Smith and stars Lily Rose Depp and Smith's daughter, Harley Quinn Smith, as the high-school-age protagonists, both named Colleen, who work an after-school job at a convenience store in Manitoba called Eh-2-Zed and practice yoga in their spare time. A supernatural evil force "rises from beneath Canada's crust" and throws the girls' plans to attend a senior party in jeopardy. With the help of a "legendary man-hunter from Montreal" played by Johnny Depp, the girls seek to defeat the evil force using "all seven Chakras, one Warrior Pose at a time."
"People always ask me 'Are you ever going to make a comic book movie?'" Smith said, per The Hollywood Reporter. "This is it —–but instead of yet another dude saving the day, our antiheroes are the most feared and formidable creatures man has ever encountered: two 15-year-old girls."
Starstream Entertainment is producing and financing the movie, and Starstream CEO Kim Leadford said the film will target an under-served female audience with its girl heroes. "The timing couldn't be more perfect as so many production companies are struggling to find content to fill a serious void in the market of female superheroes and antiheroes. And it's pretty exciting to have their dads making the film with them," Leadford said, per The Hollywood Reporter.
Depp's role as "legendary man-hunter" Guy Lapointe will likely see him in familiar territory as a dark, beatific character that bestows wisdom upon the young yoga warriors, although Smith's obscenity-filled writing style would be a change of pace for an actor who has been wasting his talent in Disney franchises in recent years. Working with Smith will hopefully give the actor a chance to flex some comedic muscle in a well-written manner, something Depp has not done enough of over the course of his career, especially recently. His upcoming film Mortdecai is an action-comedy, but the recently released trailer is cringe-inducing.
Yoga Hosers is the second film in a trilogy of Smith's exploration of Canadian myths and culture. The entire cast from the first installment, Tusk, is returning for Yoga Hosers, and the convenience store was briefly shown in Tusk. Michael Parks, Justin Long, Haley Joel Osment, Genesis Rodriguez, Ralph Garman, and Harley Morenstein were all in Tusk.
Some other big actors aside from Depp and his daughter have been added on for Yoga Hosers. Tony Hale, Natasha Lyonne, Austin Butler, Adam Brody, Tyler Posey, and Jason Mewes will appear in the film, as well, according to The Hollywood Reporter. Depp is rumored to make a cameo as Lapointe in Tusk, which comes out September 19.
Earlier this summer, Smith said that he's been going through a major creative spurt after thinking he was going to retire from the movie industry a couple of years ago. Making Tusk, a Canadian horror film about a man who wants someone to dress up in a walrus costume, was a liberating experience for the director. Smith promised that the third Clerks film is on the horizon as well as a "Creepshow-like horror anthology" in addition to Yoga Hosers.
Smith is a cult filmmaker who will always have a certain amount of fans interested in his movies, and Johnny Depp is the biggest movie star to appear in one of Smith's films in years. The movie is being marketed and distributed like an indie, and the weird subject material makes it unlikely that Yoga Hosers will be a blockbuster, but it will probably be more successful at the box office than Tusk. In addition to Depp, having television comedians like Tony Hale and Natasha Lyonne rounding out the cast makes Yoga Hosers look like it will be a lot of silly, weird fun.
[mediagraph-partner content_url="8486264a437fe65e7f9c63ac"][/mediagraph]
Follow Jacqueline on Twitter @Jacqui_WSCS
More from Entertainment Cheat Sheet:
Want more great content like this? Sign up here to receive the best of Cheat Sheet delivered daily. No spam; just tailored content straight to your inbox.