Are Katie Holmes and Jamie Foxx Still Dating?
Katie Holmes is an actress best known for her role in Dawson's Creek and her high-profile relationship with actor with Tom Cruise, which ended in divorce. Jamie Foxx is an actor best known for Django Unchained and UCollateral. The two together form what is possibly Hollywood's most low-profile, secretive romance.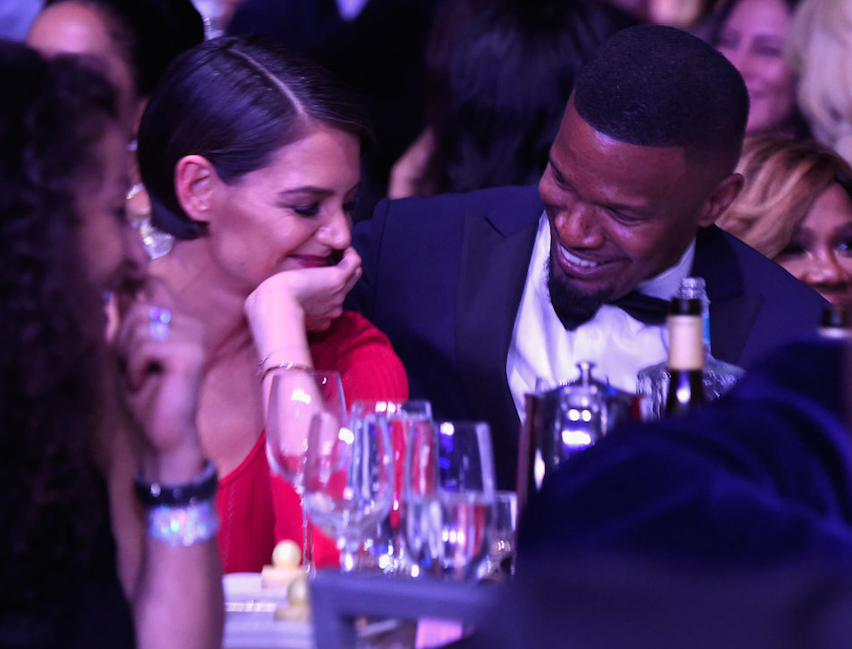 First romantically linked just a year after Katie Holmes divorced Tom Cruise, both she and Foxx denied their relationship for years. After a shared dance at a public event started the romance rumors, the paparazzi found it difficult to find any solid information stating the couple were linked. A grainy image of the two holding hands was thought to be evidence, but proved to be nothing.
Katie Holmes and Jamie Foxx like their secrecy
Why would Katie Holmes and Jamie Foxx keep their relationship so secret? While it can't be confirmed, there are rumors the divorce settlement with Tom Cruise is to blame. Cruise, who is an outspoken advocate for and member of the Church of Scientology, is said to have put some rather disturbing clauses into their divorce agreement.
Among these clauses were statements saying Katie Holmes could not publicly date anyone for a minimum of five years after her divorce. Another stated she was not allowed to discuss Tom Cruise or Scientology with the public.
While these are just rumors, they do make a little sense. Holmes and Foxx became slightly more open about their long-hidden romance just after the five-year anniversary of the Holmes-Cruise divorce.
Katie Holmes' secrecy may have become habit
Despite being more open about their relationship recently, Katie Holmes and Jamie Foxx are still far from high-profile. The two have been spotted at a few places together in the past year, but seem to still be taking their time and keeping the details of their relationship to themselves. Since Holmes' relationship with Tom Cruise was incredibly high-profile, she may simply be enjoying the change.
Katie Holmes and Jamie Foxx go public with their relationship
The first official photograph of the two as couple was shared when they were spotted having a quiet date night together last April. It was their recent vacation, however, that truly confirmed their relationship.
Images were taken of Holmes and Foxx holding hands while walking down the beach together, and of the two sharing a heated kiss on aboard a large, expensive yacht. They were also spotted riding jet skis together in Biscayne Bay during their vacation.
Are Katie Holmes and Jamie Foxx still together?
But then, as usual, the couple quietly slid off the paparazzi's radar and left fans wondering whether the duo were still dating. Further speculation came when Katie Holmes shared an image of herself and daughter, Suri Cruise, with Jamie Foxx nowhere to be found.
While fans may be wondering, this isn't really as curious as it may sound. Katie Holmes took the image while in Vancouver for work. Jamie Foxx, it is presumed, is also probably working on something. It isn't an odd occurrence that dating celebrities must spend time apart for work.
Holmes and Foxx are still together, according to birthday photos
In December, Katie Holmes celebrated her 40th birthday with a simple celebration that involved Jamie Foxx and her mother, Kathleen Stothers-Holmes. Holmes and Foxx were photographed together at the event, and sources confirm they arrived in the same vehicle. Holmes' mother is said to have ridden to the event in the same vehicle as the private couple.
The birthday party took place in New York City's Serendipity 3. A source states that "Her mom walked out with a cake box at the end. Jamie and Kathleen ordered their frozen hot chocolate, and Katie had a strawberry sundae."