Are Kenya Moore and Marc Daly Divorcing Because of 'Real Housewives of Atlanta?'
Real Housewives of Atlanta star Kenya Moore is pulling the plug on her two-year marriage to husband, Marc Daly. The former Miss USA turned reality star stunned fans in a surprise announcement that she was ending their union.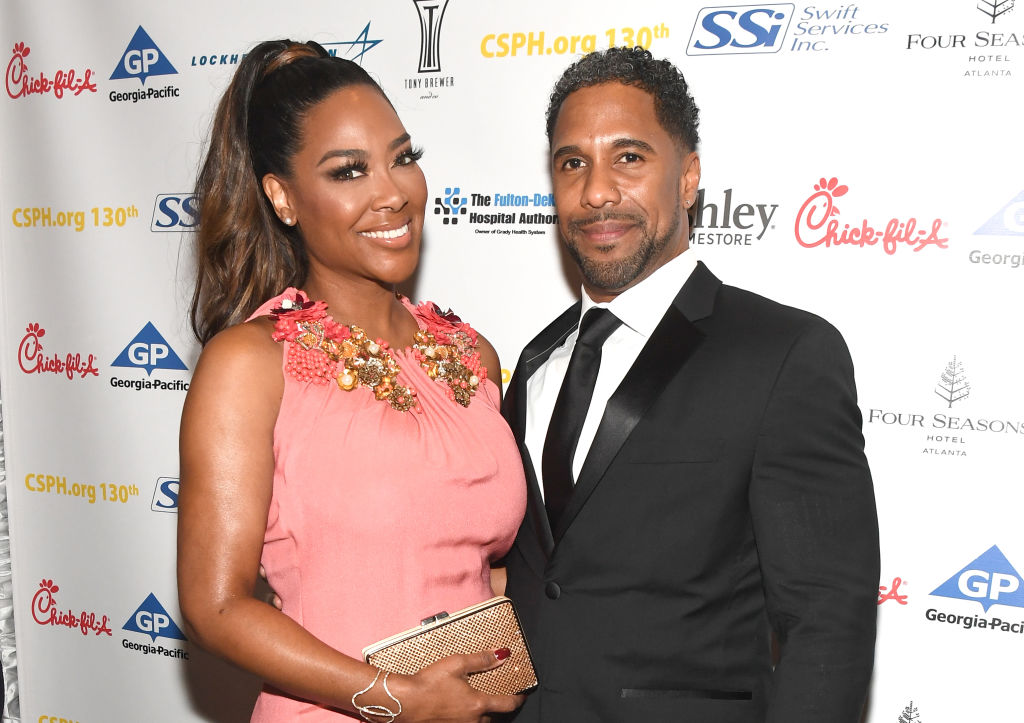 No one expected a divorce filing from Moore, who found love in Daly after years of dealing with unsuccessful relationships. After marrying Daly in a secret ceremony, Moore made it her mission to keep her marriage out of the spotlight to protect it from the scrutiny that comes with fame.
After leaving the show to focus on marriage and family, she eventually returned to Housewives for the upcoming season to show her new life with her husband and baby. Unfortunately, fans won't see the happily ever they expected.
Marc Daly reportedly told Kenya Moore no to filming 'Housewives'
During the Season 10 reunion, Moore was grilled by host, Andy Cohen, and her castmates about why her marriage was not part of the show. Her castmates felt it was unfair to show all aspects of their lives while Moore chose to keep her relationship with Daly private and off-camera.
But it was Daly, and not Moore, who is said to have refused to show their love to the world. Cohen claims that Daly told producers that he was not a fan of the 'Housewives' franchise. "It's my understanding that he doesn't like it, that he thinks this show is a bad representation of black women, and he did not want to be a part of it," Andy said to Kenya.
Moore denied those claims and insisted that Daly was supportive of his wife and her job on the show, but that she chose to keep her marriage out of the public eye. She credited her decision saying that after years of being taunted on the show by castmates about her struggles in the love department, she wanted to enjoy her marriage privately. Whatever the reason for her deciding not to film she and Daly's relationship, Housewives producers were not thrilled and resulted in Moore's exit from the show. She focused her attention on starting a family with Daly.
Is 'RHOA' the reason behind Kenya Moore and Marc Daly's divorce?
The short answer to that appears to be no. After news hit that Moore was filing for divorce, blogger Love B Scott revealed that the reason behind the split may be due to Daly not being honest about his past.
According to the blog post, Daly had a previous marriage that Moore knew nothing about. It is also alleged that he had two additional children from that marriage that Kenya was unaware of. Sources told Scott that Moore was under the impression that she was Daly's first wife, only to find out otherwise.
In her divorce statement, Moore hinted that there were recent revelations regarding her husband that led to her decision to end their marriage. "Due to recent and ongoing circumstances, I can no longer continue in the marriage," she said in an exclusive statement to People Magazine. Both she and Daly asked the public for privacy as they are committed to raising their 10-month-old daughter, Brooklyn, and sorting out the details of their divorce.
What's next for Kenya Moore after divorce filing?
Moore's divorce announcement came as a shock to many of her fans who followed the reality star's long journey to finding love and starting a family. Fans were eager to see her new life on the upcoming season of RHOA, but it looks as if they will see more of what led to the filing than newlyweds in marital bliss.
Season 12 of RHOA is currently underway and normally premieres in November. Moore promised fans they would see all aspects of her life as a new wife and mom and that unlike in the past, Daly would be a participant in her storyline.
Moore has been silent on social media since she and Daly released their divorce statement, but both appear to be committed to co-parenting their daughter. "My sole concern and focus is and will always be my daughter, Brooklyn, my miracle baby. She was made in love and true commitment," Moore insists. Daly shared the same sentiments in his statement and said he'd "cherish" their family's good times and is committed to separating amicably.