Are Kevin Hart and Dwayne Johnson Really Close Friends?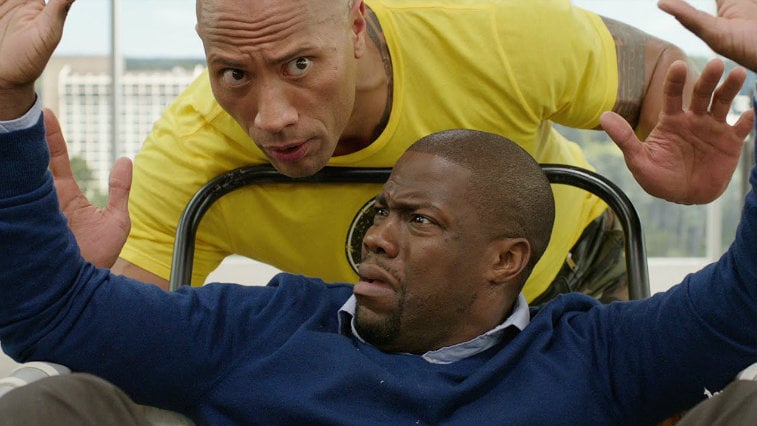 At more than two feet taller and 120 pounds heavier, Dwayne "The Rock" Johnson dwarfs Kevin Hart, but both stars are heavyweights in their own right.
From collegiate football player to third-generation professional wrestler and one of today's hottest action stars, Johnson has been successful in nearly every aspect of his multi-faceted career. Hart is no one-trick pony either. He sells out stadiums with his stand-up comedy and earns major bucks with his blockbuster movies. It's no wonder Hart and Johnson set box office records when they join forces.
The duo's onscreen chemistry is arguly successful because the two are close friends in real life. From incessantly ribbing each other to celebrating the births of each other's children, Hart and Johnson often act more like brothers than friends. A deeper look at their bromance will explain why these best buddies are friendship goals.
What movies have Kevin Hart and Dwayne 'The Rock' Johnson filmed together?
Johnson and Hart knew they wanted to work together even before a chance meeting brought the stars together. "We met each other for the first time probably two or three years ago at an awards show, but we always knew we wanted to work with each other." Johnson told The Hollywood Reporter in 2016.
Hart and Johnson finally got their chance to work together when they filmed the 2016 comedy Central Intelligence. Unlike other Hollywood co-stars, Hart and Johnson bonded closely during filming. "Since working with him I can honestly tell you that I've never had this type of brotherly chemistry with anyone that I've worked with and it's a cool thing," Johnson said, "If we never do another movie again, then I know I got a brother for life who I have this crazy chemistry with."
Johnson and Hart treated fans to another round of their brotherly chemistry when they teamed up for 2017's Jumanji: Welcome to the Jungle. The Jumanji sequel was wildly successful, breaking a domestic box office record for Sony and earning nearly one billion dollars globally. The flick still holds the record for the highest-grossing film in Hart and Johnson's careers.
Kevin Hart and Dwayne 'The Rock' Johnson impersonating each other is hilarious
Close friends often pick up on each other's expressions and mannerisms, and talented actors pick up on subtle nuances that the rest of us don't. Hart and Johnson showcased their bromance and acting talents when the pair conducted an entire interview for LAD Bible as each other.
Neither star could keep a straight face as they took turns asking and answering each other's questions in character. The video interview is hilarious and their impersonations are spot-on.
Dwayne 'The Rock' Johnson and Kevin Hart have pet names for each other
From The People's Champion to The Most Electrifying Man in All of Entertainment, The Great One, and The Rock, Johnson has had many titles in his career as a football player, professional wrestler, and actor. Thanks to Hart, Johnson can add one more to the list.
The pet names Hart and "The Rock" have cooked up for each other are equally adorable and hilarious. Hart affectionately refers to Johnson as "DJ," while Johnson jokingly calls Hart the "Snack-Sized Denzel."
The funniest moments of Kevin Hart and Dwayne 'The Rock' Johnson's bromance
Hart and Johnson's funniest of moments involve a long-running fake feud between the two stars, which goes back years and is well-documented on social media. The joke centers on Johnson being the bigger and most popular of the two stars and Hart's subsequent resentment.
Jimmy Fallon even got in on the joke when Hart co-hosted The Tonight Show. Hart attempted to Facetime Johnson, bragging to Fallon that Johnson was a close friend of his. Johnson ignored the calls from Hart, but answered Fallon's call. As Hart sat beside Fallon and looked dejected, Johnson told the host of The Tonight Show that Hart was "like a little gremlin" that he wanted to throw into oncoming traffic. Ouch.
Another memorable moment from the feud occurred when the BFFs went to Paris. As Hart filmed in front of the Eiffel Tower, he tried to include Johnson in the video. However, Johnson was busy filming his own video for Instagram, causing the two to argue about whose fans were more important.
The pair's feud has also gotten a little weird sometimes, like the time when Johnson announced the birth of his third daughter with a sweet picture. In the picture, Johnson is seen holding the baby as they enjoyed some skin-to-skin time. Hart photoshopped his crying face over the newborn, however, so that Johnson appeared to be holding him in the photo.