Are Kim Kardashian and Kanye West Close to Announcing Baby No. 5?
Kim Kardashian and Kanye West celebrated five years of marriage earlier this year, and they nearly have one child to show for each year they've been together. The couple welcomed their youngest child, Psalm West, via surrogate in May, and fans have already wondered if they're thinking about another. Will they announce baby no. 5 any time soon? Here's what we know.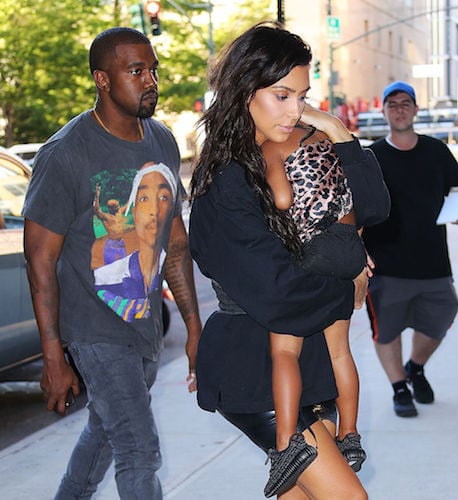 Kardashian and West welcomed four kids in five years
Kardashian and West tied the knot back in 2014 in an elaborate ceremony in Italy. Since then, they've welcomed four children. Their first daughter, North, was born nearly a year before the couple married; she turned six years old in June, shortly after their five-year anniversary. Both North and her younger brother, Saint, were birthed by Kardashian. However, Kardashian has something known as placenta accreta, and she has since welcomed her two other children via surrogate. Chicago West and Psalm West both arrived by surrogate in January 2018 and May 2019, respectively.
Kardashian has said that West wants seven children
Fans were surprised when Kardashian announced that she and West were welcoming a fourth child so soon after their third was born. However, last season on Keeping Up With the Kardashians, Kardashian told a friend that she and West had talked about having seven kids. Though Kardashian didn't seem thrilled with the number and wasn't confident she could handle raising seven children, her husband seems to want that many. And Kardashian has a lot of love for her little ones, so it's possible she could get talked into welcoming that many at some point down the road.
The two haven't waited long in between kids, so baby no. 5 could come sooner than we think
If Kardashian and West do plan on having seven kids, it probably won't be long before the couple announce that baby no. 5 is on the way. The two have typically waited just over a year between pregnancies, so it's expected that should they decide to have a fifth, an announcement will likely come sometime early next year, with the expectation that they'd welcome the baby before the end of 2020. The Kardashian-Jenner family has always been family-oriented, but since almost all of Kris Jenner's children started welcoming kids themselves, they've made those kids their top priority and seem to love watching their whole family continue to grow.
Kardashian and West might want to have their children before a certain age
While fertility does start to decline at 35, and Kardashian will be 39 this year, that isn't necessarily why the two might want to have their children by a certain age (after all, it's still very possible to welcome a healthy baby after 35). Kardashian grew up with her mother very close in age to her; Kris Jenner had Kardashian when she was only about 25, and with that said, Jenner has played a vital role in Kardashian's life. Kardashian and West (who is 42 years old) likely want to spend as many years with their children as they possibly can, so she might want to have her next few kids fairly quickly so that she can be around for the majority of their lives, the way her mother will be for hers.