Are Kylie Jenner and Travis Scott Getting Back Together After Spending Thanksgiving as a Family?
If there's one thing that the holidays are known for, it's bringing people together. There's nothing like a deep-fried turkey or cranberry sauce to end a feud. Kylie Jenner and Travis Scott broke up long before the turkeys had even gone in the oven, but is holiday cheer enough to bring these two back together?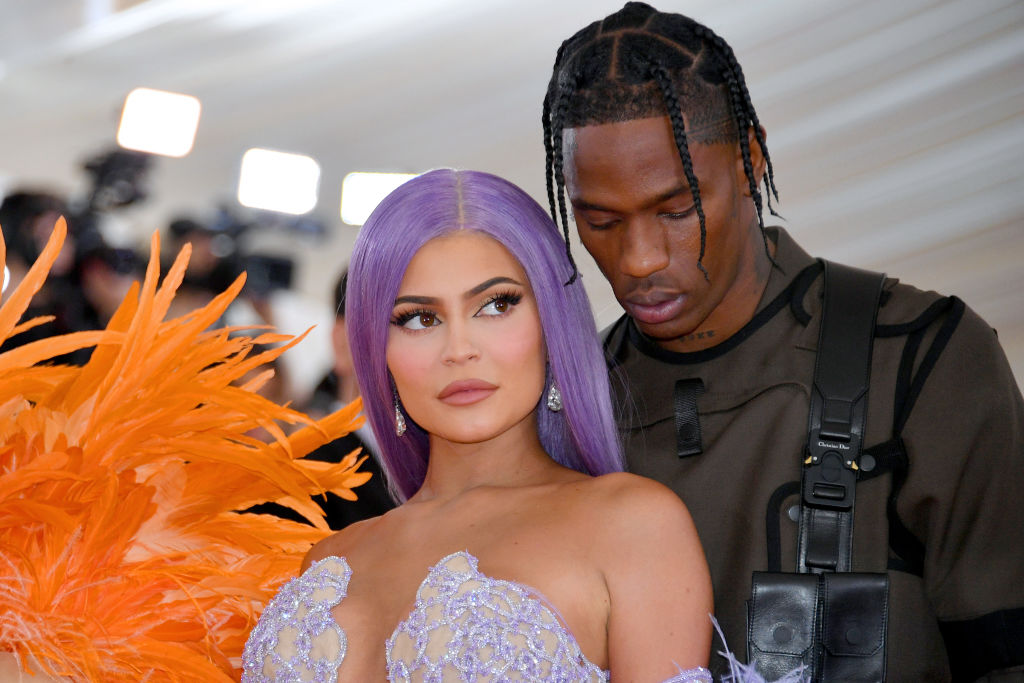 Kylie Jenner and Travis Scott's relationship
Jenner and Scott had somewhat of a whirlwind romance. After hitting it off at Coachella in 2017, the two started dating. It wasn't long before rumors started swirling that the young makeup mogul might be pregnant. Jenner stayed tight-lipped about her pregnancy and never confirmed anything until after the baby was born. Jenner and Scott welcomed Stormi Webster into the world in February of 2018.
Jenner and Scott seemed to juggle family life and their careers quite well in the beginning. Scott appeared to be head over heels for Jenner, even including her in his Netflix documentary, Look Mom I Can Fly.
But no matter how it looked on the outside, there were obviously cracks in their relationship and the two broke up in October of 2019.
Why did Kylie Jenner and Travis Scott break up?
Jenner and Scott went from being single people to a part of a little family in less than a year. That is a big transition for anyone to make. Throw in a little infidelity and it's too much for almost any relationship to handle.
"The couple has been hot and cold since their last breakup, and haven't been able to fully get on the same page again," a source told Entertainment Tonight right after the pair announced the split. "They are both extremely busy with different schedules and since Kylie found out about Travis messaging another girl on Instagram, the rebuilding of trust has been hard."
Jenner was focused on their family, while Scott didn't want the responsibilities that came with it all.
"Kylie is young, but she really wants the traditional family life," the source continued. "She has seen her older sisters with big families and multiple kids and she wants the same. She loved being at home with Travis and their daughter, Stormi Webster, more than anything. But right now, their priorities are different."
"It was hard for him to be coming home every night to be with the family and putting Stormi to bed." the source told the outlet. "That's not where he is in his life. It made Kylie insecure and anxious. The last few months, Kylie felt they were drifting and she was never really sure what was going on."
But neither one of them ruled out the idea of them getting back together.
"Although they aren't together now, they're both open to getting back together in the future," the source said. "Above all, Kylie and Travis know their priority will and always has been Stormi."
Are Kylie Jenner and Travis Scott getting back together?
Scott and Jenner have been spending a lot of time together lately. They even celebrated Thanksgiving with one another.
"They celebrate all the big holidays together with Stormi," a source told People. "It was the same for Thanksgiving — Travis was invited to Kris' Palm Springs house.
And according to those close to them, the pair seems happy to be around one another.
"Kylie and Travis are good," the source continued. "They get along and seem happy whenever they are together. They are all about making sure Stormi has a happy life. They are not officially back together, but you can tell that they still love each other."