Are Lori Loughlin and Felicity Huffman Bad People?
The definition of what a "bad" person is has more complexity today in a complicated world of people doing things they think are right when they're legally wrong. We may have a hard time putting the pieces together on the latest scandal involving actresses Lori Loughlin and Felicity Huffman being swept up in a college admissions cheating scheme.
It's easy to get caught up into such things when you think you're doing what's best for your children. However, being blinded by elitism should still bring some form of punishment.
Everyone's wondering now whether Loughlin, Huffman (and maybe their husbands) will get jail time. Will this turn them into pariahs? We may need more word from their friends and a future movie to sort it out.
College has become a status symbol for the elite
After this scandal, a lot of people will likely point to Ivy League universities as catering to the rich and famous. We've seen examples of it before, including those working at the top levels of our own government. Many point to President Trump's son-in-law Jared Kushner getting into Harvard 21 years ago after Kushner's father pledged a $2.5 million donation to the university.
Many other cases are possibly out there the FBI never had time to scope out. Maybe many did know about them but were afraid to speak up because wealthy people were involved.
As we see more and more powerful people being brought down by crimes, some may find it gratifying to see the feds go after crimes likely going on for decades.
Whether this makes people like Loughlin and Huffman criminals is a complex web to sort out.
Did friends of Loughlin really not know the college scheme existed?
You'll find some interesting insight into Lori Loughlin if you watch the clip above of Kylie Richards on the after show of Watch What Happens Live with Andy Cohen.
During the segment, someone calls in to inevitably ask about the college admissions scandal. Richards says she knows a lot of people involved in the scheme, though says Loughlin is still a good person who just happened to get caught in the middle.
While some might debate whether it's true Richards claims she didn't know such a criminal plot existed, we don't doubt people like Loughlin and Huffman are still goodhearted people. These aren't people with a gangster frame of mind; rather more like people caught up in the world they live in.
Others might think otherwise considering the charges range from mail fraud to honest services fraud.
Will we hear Loughlin and Huffman's side of the story eventually?
No doubt both actresses want to sort things out with the public after social media exploded over this story. Should they face prison time, we obviously won't hear from them for a long time on why they did this over letting their kids prove their worth.
From all indications, the daughter of Lori Loughlin and Mossimo Giannulli (Olivia Jade Giannulli) says she didn't really want to go to college, perhaps the source trigger behind why her parents decided to do bribes. Unfortunately, Olivia could be caught up in this herself since she posted Instagram ads promoting herself as a USC college student.
Maybe this proves having the designation of an Ivy League degree is all that matters to famous parents who want a good reputation for their kids. When it comes to doing what's best for their children, parents sometimes do things they regret just to make sure their offspring have a good life compared to what they had growing up.
What will the inevitable movie look like?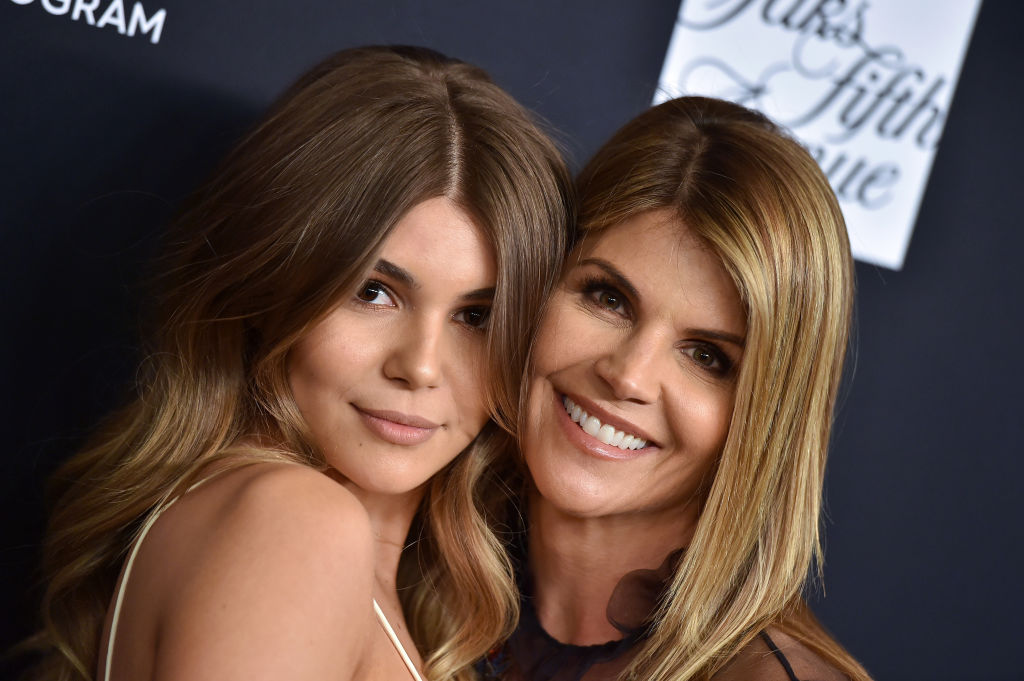 Now we have to wonder if we'll ever see a movie about this someday called Operation Varsity Blues. Should it happen, you have to contemplate whether things will turn meta and Loughlin and Huffman play themselves in the main roles. Maybe even fashion designer Mossimo Giannulli will join in.
William H. Macy may have to play an FBI agent investigating this scandal if he happens to escape any blame or indictment from the case.
Then again, with this scandal opening a Pandora's Box on a decades-long blight in Hollywood, most studios may never want to green-light such a project.