Are Miley Cyrus and Ariana Grande Friends?
One thing we as ordinary civilians of the world often wonder: Are the celebrities who we see interact frequently really friends, or is it just for show? When it comes to these two very honest performers, Ariana Grande and Miley Cyrus, you can believe that what you're seeing is genuine affection. Here's a look at their relationship.
Ariana Grande and Miley Cyrus grew up on opposing networks
Everyone knows that Cyrus started out as a Disney Channel kid, kicking off her career in Hannah Montana, in which she plays a teenage girl (also named Miley) who puts on a blonde wig and performers as the titular singer, keeping her real identity a secret.
Meanwhile, over on Nickelodeon, Grande was making a name for herself. She starred in an ensemble cast of musical talent in Victorious, a series about, well, musically talented teens at a performing arts school. Grande portrayed Cat, a ditzy yet well-meaning redhead with impressive pipes.
They don't seem to run in the same circles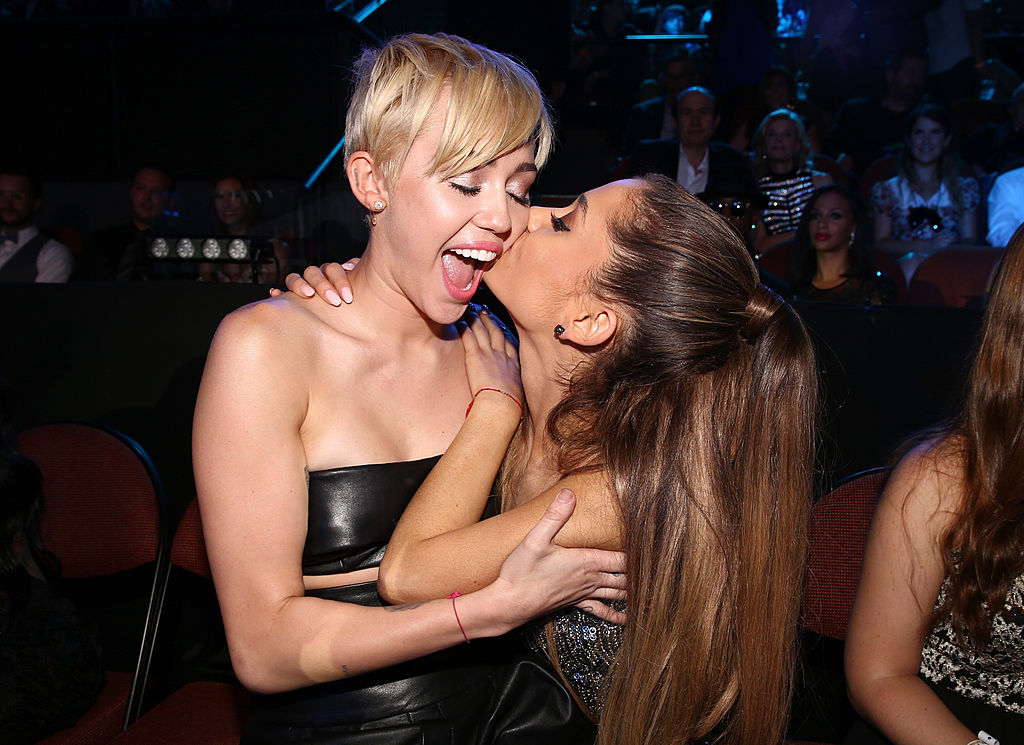 Their origins certainly kept them apart, but now that they shed their respective roots, it would make sense that Cryus and Grande would become at least friendly, given that they're pop stars of the same age attending many of the same events.
The friendship of Cyrus and Grande hasn't been particularly well-tracked, but clearly, they're not enemies. See above, as the two share an affectionate moment at the 2014 MTV Video Music Awards.
The artists performed together before
Though there isn't much evidence of a deep relationship, Cyrus and Grande seem to have more than just mutual respect for one another. Both have proven themselves to be benevolent artists, especially after the bombing that occurred at Grande's show in Manchester, England, in May 2017.
Grande has been commended for how she stepped up after the tragedy and organized a benefit concert, One Love Manchester, which took place in June 2017. Cyrus was in attendance and sang alongside Grande. The "Slide Away" singer reminded us of this in 2019 for International Women's Day, when she posted the above video of the two singing together.
Cyrus and Grande worked on a song together for 'Charlie's Angels'
Though they've never had an official collaboration in the past, that's all changing now. Remember how the 2000 film Charlie's Angels had Destiny's Child's "Independent Women" as its theme? Well, the upcoming sequel/reimagining, due out in theaters in Nov. 2019, will have it's own song.
Enter Cyrus, Grande, and Lana Del Rey. The three singers have teamed up for a new track "Don't Call Me Angel." The music video arrives on Sept. 13, 2019. And Grande and Cyrus appear to be very excited to share it with us.
Grande wrote this supportive message to Cyrus
Having worked together recently, it's understandable that Grande would want to support Cyrus right now during her recent split and pending divorce from Liam Hemsworth. And she's doing just that.
Cyrus' new song and accompanying video, "Slide Away," reflect on her time with Hemsworth. Grande RT'd a clip of the video that Cyrus shared, writing a sweet message to her friend: "this / you are so stunning. inside n out. love u."