Are Our TV Tastes Truly a Sign We're Getting Smarter?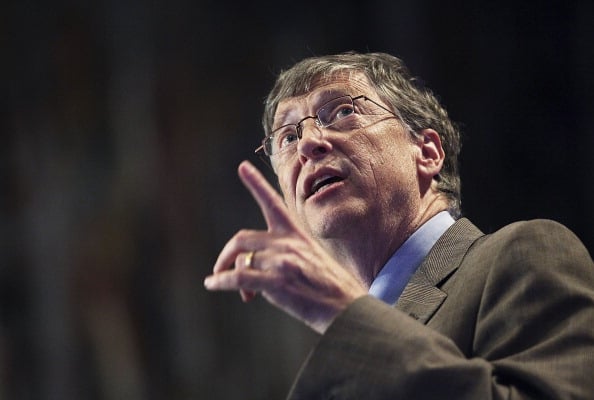 With all his wealth, Bill Gates has made himself into a force for enacting global change. The Bill & Melinda Gates Foundation alone has raised more than $400 million for malaria vaccinations, $1.5 billion for expanding childhood immunization, and over $100 million toward saving newborn lives (all stats pulled from the Gates Foundation website). This being so, it's safe to say that the Seattle philanthropist has a finger on the pulse of the world's needs. In an interview with Ezra Klein of Vox, Gates posed an interesting theory based on this ability: That Breaking Bad is an indicator for the increased intelligence of the mainstream.
Before we dig in to the reasons this could or couldn't be true, it's important to observe the full statement, following Klein's question about whether the Internet promotes ignorance over knowledge:
Look at IQ test capability over time. Or even take a TV show today and how complex it is — that's responding to the marketplace. You take Breaking Bad versus, I don't know, Leave it to Beaver, or Combat!, or The Wild, Wild West. … The interest and complexity really does say that, broadly, these tools have meant that market-driven people are turning out more complex things.
Part of a larger answer, it's a statement that poses an "A+B=C" situation for current pop culture. Back when Leave it to Beaver was on TV, our bar for what defined intelligent entertainment was decidedly low. The shows people watched most were mindless sitcoms with simple situations that just about anyone could understand. Fast forward to now, and we have Breaking Bad setting the standards for truly great TV. Our bar is far higher than it was 50 to 60 years ago. Because of this (and a number of factors we'll get to soon), Gates theorizes that people's want for smarter TV in turn means that they themselves are smarter.
But there's another side to this argument that shows his reasoning doesn't quite hold water. According to TV By The Numbers, CBS still holds a commanding lead, with 14 million viewers to ABC's 4 million over the week of January 11-18. The shows that put that channel out to this lead? NCIS (in its various iterations), The Big Bang Theory, and CSI. Very few can make the argument that the offerings of CBS embody the intelligent storytelling of a show like Breaking Bad, but despite this, it still manages to be the most-watched network on TV — and it's not even close.
Perhaps Gates is referring more to the fact that shows like Breaking Bad even exist as an indicator for a smarter mainstream. Mindless movies, TV, and music have been around since the dawn of pop culture, and the simple reality may just be that they'll always be popular regardless of smarter — and sometimes equally popular — alternatives. Back when Leave It To Beaver was the flavor of the week, shows considered intelligent by today's standards weren't even an option, namely because the market didn't demand it.
Nowadays, there's a market for smart TV because there are smarter people out there. Gates noted in his Vox interview that "the interest and complexity really does say that, broadly, these tools have meant that market-driven people are turning out more complex things." These more complex things find a viewership craving more than slapstick comedy and corny catchphrases, carving out a sizable niche for a brand new audience. It's that demand for more that makes it clear that in many ways, current pop culture consumers are getting smarter, despite the massive popularity of the less nuanced mainstream. Who knows: Maybe in the next 50 to 60 years, this need will keep on increasing until we've pushed mindless entertainment out of the picture entirely.
More from Entertainment Cheat Sheet:
Want more great content like this? Sign up here to receive the best of Cheat Sheet delivered daily. No spam; just tailored content straight to your inbox.