Are Prince Harry and Kate Middleton Friends?
Rumors about drama and infighting between members of the British royal family just won't go away. First, there were reports that Prince William and Prince Harry can't stand each other. Then there were allegations that Kate Middleton and Meghan Markle have clashed behind closed doors… The list really goes on and on.
But you don't hear much regarding, say, Prince Harry and Kate Middleton, which might make you wonder whether these two actually get along.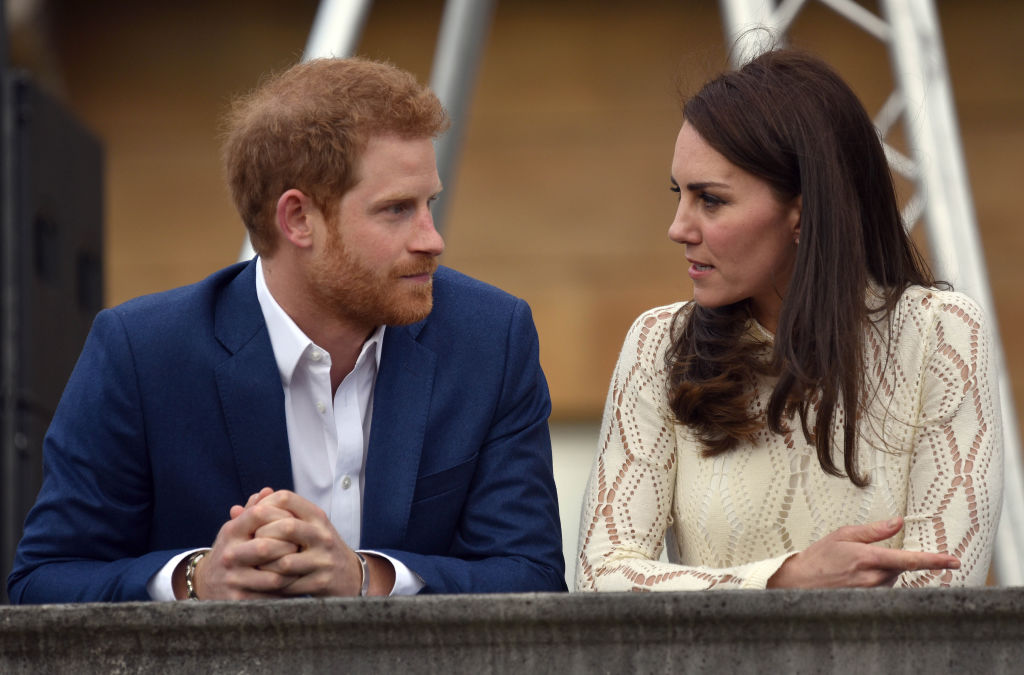 A closer look at Prince Harry and Middleton's relationship
At one point, there was arguably no question about whether these two got along. They were often seen hanging out, sitting next to each other at events, and enjoying each other's company. According to Newsweek, when Prince William and Kate Middleton got engaged, Prince Harry even called her "the big sister he never had."
However, things reportedly became tense when Prince Harry allegedly accused the Cambridges of "not supporting his bride enough" ahead of their May 2018 wedding. People previously reported that Prince William did not agree with his brother's fast-moving relationship with Markle and, apparently, Prince Harry did not take that lightly.
The Daily Mail reports that Prince Harry started a "showdown" with his brother and Middleton and "read them the riot act" one day. Express notes that the expression means to "reprimand severely."
In response, the Cambridges reportedly "assured Harry they were happy to offer his wife more support, with Kate even bringing a bunch of flowers to their home the next day." She also reportedly proposed that she and Markle attend Wimbledon together. Markle obliged, and the two wore coordinating outfits to the event. But, at the same time, sources noted a "frostiness" between them.
Prince Harry and Markle later split households
In March 2019, news broke that Prince Harry and Markle decided to split from the royal household. Sources said this wasn't because of any feud but because it was just time. "[Prince William and Prince Harry] have always been different, they are very different characters," a source told People. "They drew great comfort from each other when their mother died, and as they've grown up together. But they need to be separate. Now Meghan has arrived it is the right time to make that break."
However, other sources said there was more to the split than the royals let on. They believe Prince Harry moved out because he didn't want to be "controlled" by his brother.
Either way, the split has reportedly paid off
Royal insiders told People in July that the distance is "allowing them more time to be like family."
"They all know what's at stake, and William and Harry know that their grandmother [Queen Elizabeth] in particular needs them to be on the same page," sources continued.
The four have been going out of their way to quiet feud rumors, too.
"There have been two major circumstances, which are very calculated and deliberate efforts to try and stem these rumors about a feud between the foursome," royal expert Katie Nicholl told Entertainment Tonight in July. "We saw it at the polo match where William and Harry were obviously playing together. We hadn't expected the duchesses to turn up with their children. The fact that they did is a wonderful treat for royal watchers, but I think those candid pictures were quite deliberately intended to snuff out those rumors of the feud between the foursome. And you saw them all very close, very happy, very comfortable with each other."
While they might not be BFFs, it seems like they're all on the path to forging a tight-knit bond. With any luck, maybe we'll get to see Prince Harry and Middleton hang out soon — y'know, like the old days.