Are Prince William And Prince Harry Worth More Than Queen Elizabeth?
It is no secret that the British monarchy is filthy rich. Members of the royal family – including Queen Elizabeth, Prince William, and Prince Harry – live in opulent palaces across Britain, wear outfits worth thousands of dollars, and have an assortment of diamond-studded tiaras and other jewels at their disposal. While the family is clearly not lacking in money, it is difficult to determine which members of the royal family are worth the most. Here is a look at the top earners in the royal family and how they built their fortunes.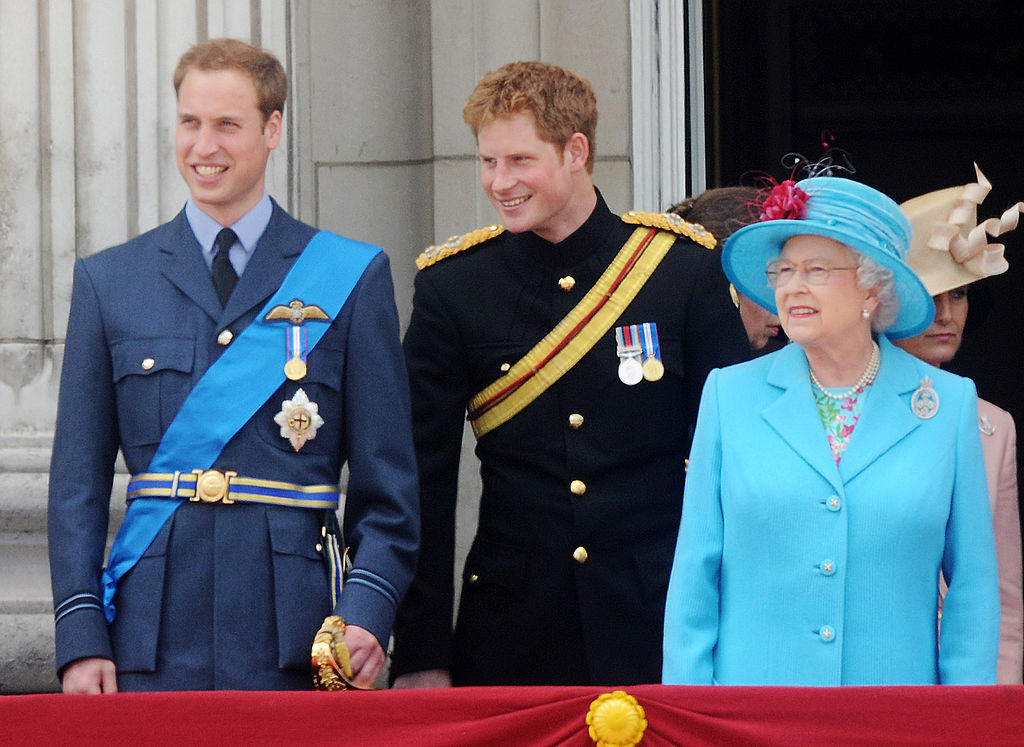 Prince Harry and Meghan Markle
Prince Harry is the youngest of Prince Charles' sons and made most of his fortune from an inheritance. After the tragic passing of his mother, Princess Diana, Harry was gifted a substantial amount of money from Diana's estate as well as Queen Elizabeth's holdings.
According to Harper's Bazaar, Harry also made some money from serving in the military, though it does not compare to what he inherited. In total, Harry's net worth is estimated to be around $39 million.
Unlike other individuals on this list, Meghan Markle's net worth is based largely on her own earnings. Prior to marrying into the royal family, Markle had a successful career in Hollywood starring on the hit show, Suits.
At the height of her fame, Markle was pulling down around $70,000 per episode of the show. She also received millions of dollars in various endorsements and film projects. Markle is believed to be worth close to $5 million.
Prince William and Kate Middleton
Prince William may be Harry's older brother, but the two are worth the same at the moment. Like Harry, William earned a living in the military and later received a salary as an ambulance pilot. He also received a large inheritance from his late mother and Her Majesty.
William's fortune is estimated to be around $39 million, though that will significantly change once he inherits the crown. William is currently third in line to the throne, after his father, Prince Charles.
Middleton's fortune may be the most surprising on this list. Although most people think she came from humble beginnings, Middleton's parents are the owners of a party supply company that is worth millions of dollars.
In fact, Middleton once worked at the family business, called Party Pieces. Not counting any contributions by her husband, Middleton's net worth is hovering around $10 million, about double that of Markle.
Prince Charles
Being the next in line to the throne, Charles' fortune easily eclipses just about everyone on this list. While he waits to become the next King of England, Charles is in charge of the duchies of Rothesay and Cornwall, both of which earn the family millions every year. Charles also has an impressive portfolio made up of properties, investments, and agriculture.
In total, the Prince of Wales is worth a staggering $386 million, a large portion of which funds the lives of his children. Charles, of course, will give up the duchies once he takes the crown, though his net worth is not expected to take a major hit.
Queen Elizabeth
As the leader of the royal family, the Church of England, and the Commonwealth, it is understandable that Queen Elizabeth has the largest net worth out of all the other members of the royal family.
Her Majesty gained the majority of her fortune through inheritances (from her mom and dad), properties, jewelry, and winnings from horse races. Queen Elizabeth easily tops the list of the wealthiest members of the royal family with a net worth of around $464 million.
Although Elizabeth is worth close to half a billion dollars, she is not the richest aristocrat in the UK – not by a long shot. Queen Elizabeth is currently the 17th richest person in Britain. The richest person in the country is the Duke of Westminster, also known as Hugh Grosvenor, who has a fortune upwards of $11 billion. Grosvenor inherited most of his wealth from his late father, who owned multiple properties in several wealthy districts of London.