Are Ryan Seacrest and Shayna Taylor Back Together for Good Now?
Ryan Seacrest has been known as one of Hollywood's most desirable bachelors. The 44-year old got his claim to fame by being the host of American Idol. When the show first aired, audiences from all over the country were immediately drawn to him for his charm and his down-to-Earth personality. 
Although Seacrest has never been married, he has been in a long-term relationship with 27-year-old Shayna Taylor. The two have had an on-again, off-again relationship for the past few years.
Recently, it was announced the couple has once again called it quits. Many of Seacrest's female fans had hoped that he was back on the market. But not long ago, some new developments about their relationship have emerged and people are now wondering if the two are back together.
When did Ryan Seacrest and Shayna Taylor start dating?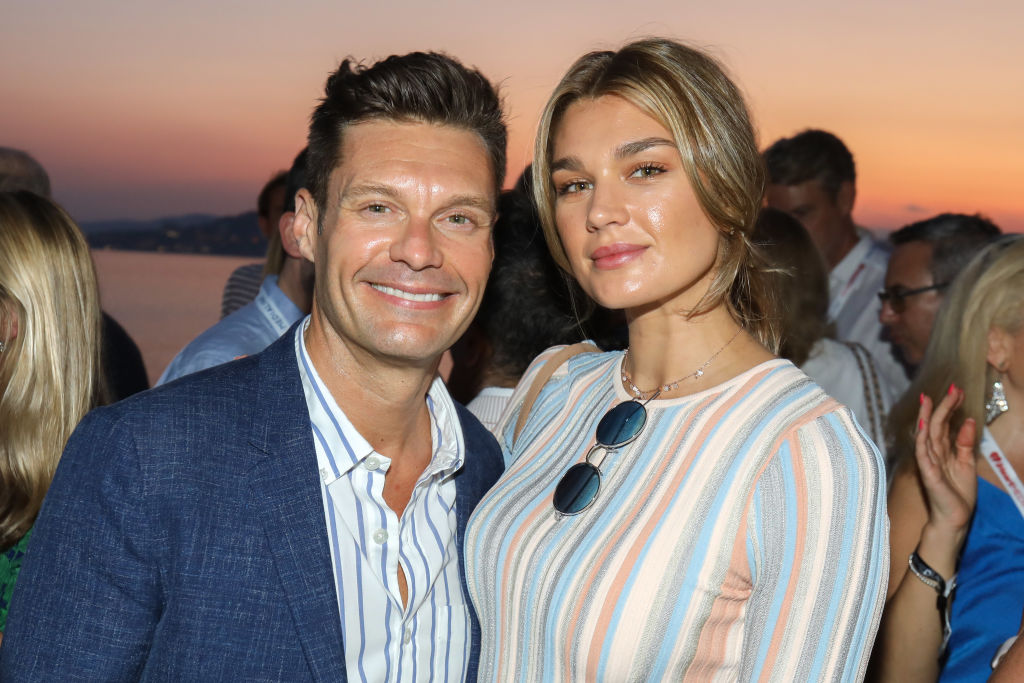 Seacrest first met Taylor on March of 2013 through some mutual friends. Taylor, a trained chef, was able to get Seacrest's attention by showing off her culinary skills.
"It was the first time we were together, and she said, 'I make these amazing gluten-free pancakes,' and I said, 'What?! Well, tell me everything!" Seacrest told People back in 2018. "That is all it took for me to really fall."
The two started dating shortly after they met, but by December 2014, they had split up. Then, in 2016, the couple got back together and seemed happier than ever.
In 2017, Taylor had moved to New York to be with Seacrest while he co-hosted the Live with Kelly and Ryan Show. The couple seemed extremely happy together and were constantly posting pictures of each other on their social media pages. Throughout their relationship, Taylor had even made a few appearances on Seacrest's morning talk show.
Ryan Seacrest and Shayna Taylor split up after three years together
In February of this year, the couple announced that they would be splitting up. The news shocked several fans because a few weeks prior to the split, Taylor had shared a photo of the two of them on her Instagram page with a sweet Valentine's Day caption that read: "Happy Valentine's Day to my best friend…"
The couple has yet to share what caused the breakup, but many speculate that Seacrest's busy schedule may have gotten in the way of their relationship. In addition to being the host of American Idol, Seacrest also has his own nationally-syndicated radio show and co-hosts the hit morning show with Kelly Ripa every weekday morning. He also has a wide range of other hosting jobs and commercials that he films throughout the year. Because of his extremely hectic schedule, Seacrest is known as one of the busiest men in Hollywood.
Shortly after the couple had split up, a source that is close to the adorable duo had told People: "It was an amicable split and they're still really close. They still love and care about each other.
Are Ryan Seacrest and Shayna Taylor still just friends?
Recently, TMZ had reported that the two are now back together after they have been spotted vacationing on a private yacht in Positano, Italy. They were caught splashing around in the ocean, putting suntan lotion on each other, all while laughing and smiling at one another the entire time.
So far, neither Taylor nor Seacrest has confirmed that they are back together. And other sources are saying that the two are still just friends. However, if their past actions are any indication, there is a very good chance that the two could have decided to, once again, reconcile their relationship. One thing that has already been proven before is that when it comes to these two, being apart definitely seems to make the heart grow fonder.