Ariana Grande and Pete Davidson's NYC Apartment Is Insanely Plush
Ariana Grande and Pete Davidson have officially begun their lives together. The newly engaged couple decided to pledge their lives to one another after dating for just a few weeks. Now, they've officially merged all of their belongings in a luxurious New York City apartment. We all know that NYC isn't exactly known for giving its residents a ton of space. However, when you're a celebrity, you can pay for a bit more square footage and privacy.
In the last couple of weeks, we've watched the "Side to Side" songstress and the Saturday Night Live comedian confirm their romance, put their lovey-dovey PDA all over social media, and announce their engagement. Last week, Grande coyly revealed that she and the actor had moved in together. In one of her Instagram stories, she posted a pretty iconic image of SpongeBob Squarepants and captioned it, "Us in our new apartment with no furniture 1 speaker and red vines."
Now that we have details about the adorable couple's new digs, we can assure you that the new apartment can accommodate a lot more than speakers and red vines. The pair just moved into a deluxe $16 million apartment in New York City's posh Chelsea neighborhood. Their new place is in a new luxury building that was designed by renowned architect, Zaha Hadid. The location is super convenient for Davidson who works about 20 blocks up at Saturday Night Live.
According to TMZ, the couple who are still getting to know one another will have plenty of space to spread out if they need to. Their new home has more than 4,000 square feet. It consists of five bedrooms, four and a half baths, and the apartment is high up enough for them to see stunning views of the Big Apple and its glorious Empire State Building. If we're keeping it real, we'd be scared to stay there by ourselves. It seems way too intimidating for one person if either Davidson or Grande were traveling for work.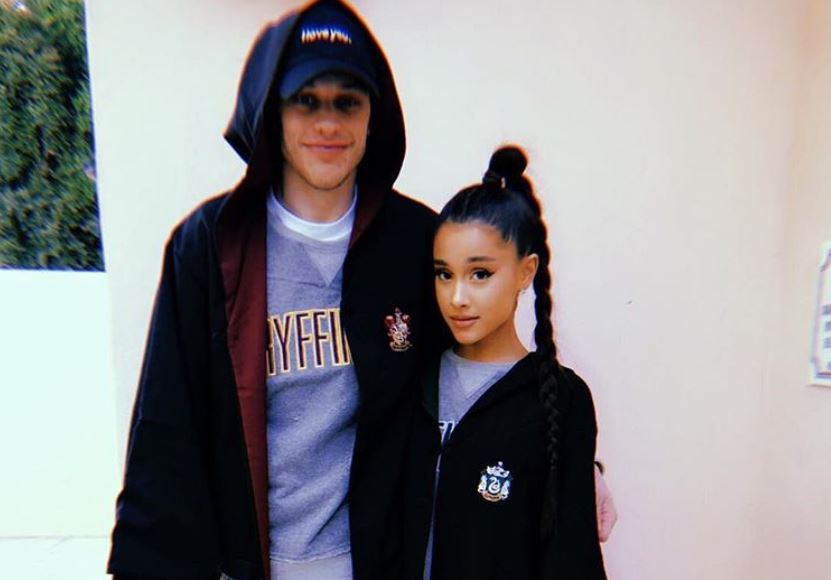 Along with the luxury of their actual unit, the apartment building itself has a ton of amenities. There are the obvious perks, of course, like a fitness center and a doorman, but it also has a 75-foot sky lit pool. We're not exactly sure what that means, and because NYC winters can be brutal, we hope it's inside. However, if the pool happens to be on the roof in the open air, Grande and her fiance picked the perfect time of year to move in if they want to have any pool parties. If it's raining, they can always bring their pool party indoors and chill in the building's IMAX theater. The lovebirds aren't the only famous folks living in the residence either. They are now neighbors with legendary rocker, Sting.
TMZ could not confirm if the couple had dropped cash on their new home, or if they are just renting for now, but we do know that they were spotted in NYC shopping for furniture earlier this week. We highly doubt they will be putting any Ikea furniture in their lush living quarters. The pair walked arm in arm in the blistering New York heat (Grande sported her signature ponytail of course) with the songstress casually flaunting her massive engagement ring.
Though the couple has not discussed the details of their engagement, we do know that the comedian had the 3.03-carat pear-shaped stunner specially made for the Dangerous Woman vocalist. It took New York jeweler Mr. Flawless two weeks to complete the masterpiece. Clearly, Davidson has been saving up his coins because the ring reportedly cost an astounding $93,000. We just hope there is a safe in the new apartment and that Grande and Davidson are really good at coming up with codes.
Since Davidson and his lady are so open about their relationship, maybe we'll get a Good Housekeeping spread of their new place once it's fully furnished. You can't blame us for dreaming.
Follow Aramide on Twitter @midnightrami.
Check out The Cheat Sheet on Facebook