Ariana Grande's Atlanta Concert Was A 'Victorious' Reunion — And You Won't Believe Who Performed
Popstar Ariana Grande is known for pulling out all the stops at her incredible live performances. But her latest stunt is one especially for her early fans — specifically, those who watched Victorious. Read on to learn more.
Ariana Grande starred in 'Victorious'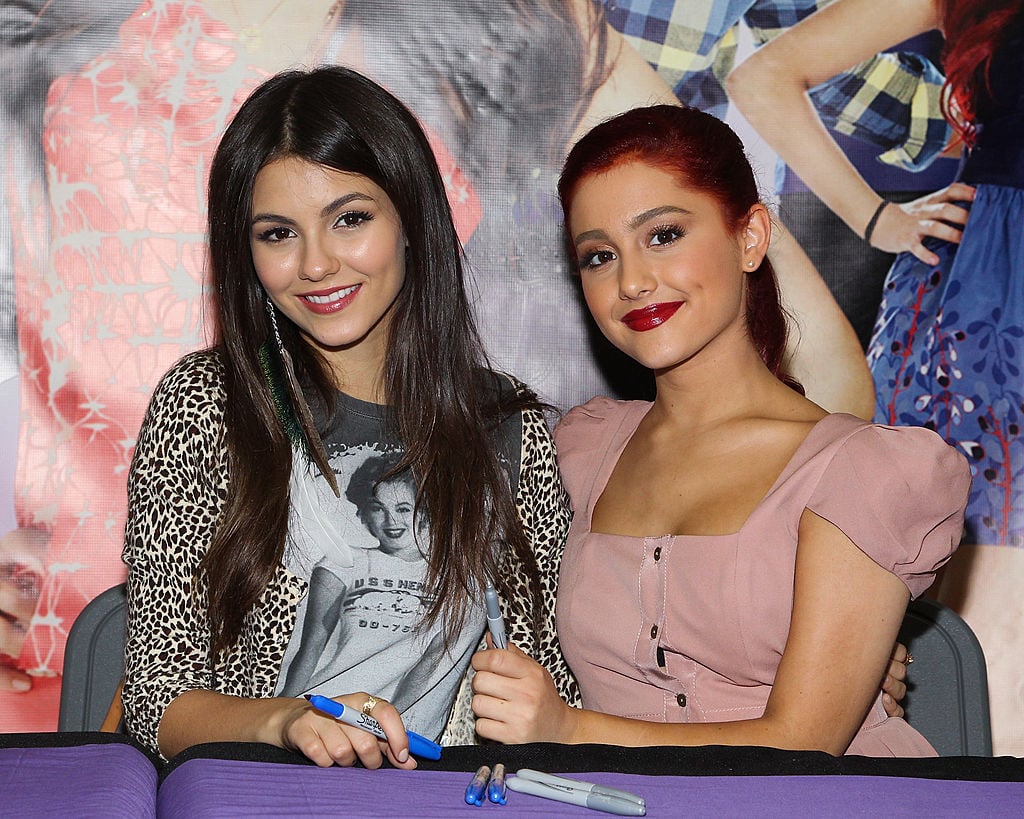 Grande got her start in Hollywood in the Nick show Victorious. She portrayed Cat Valentine, a ditzy (and progressively stupid) teenager attending Hollywood Arts High School in Los Angeles. The series aired from 2010-2013 before its cancelation.
The show was comprised of an ensemble cast. Grande starred alongside Victoria Justice, Leon Thomas III, Matt Bennett, Elizabeth Gillies, Avan Jogia, and Danielle Monet. Grande also starred in a short-lived spinoff, titled Sam & Cat.
She is still close with a few cast members from the show
Grande has remained close with a few of her castmates from the series. She frequently works with Thomas, who produced and even co-wrote much of her earlier work in the years that followed Victorious.
Gillies and Grande, who met when they co-starred in the Broadway musical 13 even before Victorious, have remained close. Gillies, who currently stars on the CW drama Dynasty appeared in Grande's music video for "Thank U, Next."
Speaking of the star-studded video, Bennett portrayed Grande's love interest in a scene that paid homage to the movie Bring It On. He and Grande have also remained good friends, and he (along with Thomas) came to her Twilight Zone-themed Halloween party in Oct. 2019.
Grande teased a reunion before her Atlanta concert
Ever since Victorious landed on Netflix, fans have been in overdrive reminiscing on social media. The stars themselves, including Grande, have joined in. And after Grande canceled her Nov. 2015 show in Charlottesville, she was posted two hints to her Instagram Story: A quick shot of Jogia and Gillies in Victorious and a video of her and Bennett hanging out.
Grande then revealed that her Charlottesville performance would be a bit different, due to her illness. However, she wrote on the day of that she was "so excited" but she couldn't tell fans why. Then, Gillies wrote back "Why?"
If you thought that was a hint, the next part got even more obvious. Grande RT'd Gillies and wrote "feeling: nervous" followed by emojis, a nod to the status updates Justice's character would post on the Victorious. Bennett replied, writing, "Is it because you think Atlanta's swell?" This is also a reference to the series when his character sings a song to Cat.
Before Grande even got onstage in Atlanta, attendees posted videos of the Victorious theme song, "Make It Shine," playing. And Bennett, who was hanging out in the pit in front of the stage, joined in as they sang.
Bennett then came on stage to sing and play on his guitar, belting out the aforementioned song, "I Think You're Swell." After it, Grande said, "That was special, right?" before teasing "another surprise."
Gillies, who Grande called, "one of [her] best friends ever," to sing "Give It Up," which the two of them performed on Victorious together (see the above video). All in all, it was a pretty incredible reunion.