Ariana Grande Has Taken Selena Gomez's Spot As The Most Followed Woman On Instagram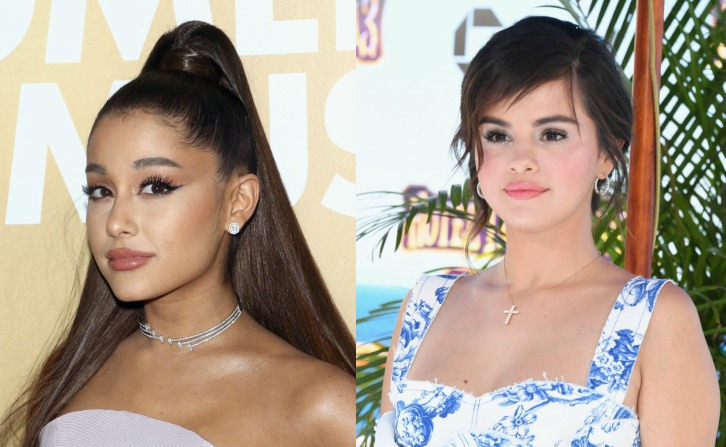 Selena Gomez's days as the most followed woman on Instagram has finally come to an end.
The actress-singer has just been knocked down to second place by none other than Ariana Grande.
The "Thank U, Next" singer has slightly surpassed Gomez since gaining millions of followers over the last few months.
Grande continues to take social media by storm, however, Selena Gomez is still very much a fan favorite.
Grande only surpassed Gomez only by a few thousand
Even though Ariana Grande is now the most followed woman, that does not mean she beat Selena Gomez by much.
According to Billboard, Grande won the top spot with 146,286,173 followers while Selena Gomez is close behind with 146,267,801 followers.
Which means that Selena Gomez is only 18,000 followers shy of Ariana Grande.
Reports reveal that Grande's following increased substantially over the past four months.
This reason being because, during these past few months, Ariana Grande has released her fifth studio album, dropped music videos for her hit singles, and called off her engagement from Pete Davidson.
Billboard reports that Grande has gained more than 13 million followers between October 2018 and now.
Ariana Grande is an active Instagram user and posts content giving fans in look into her daily life.
The singer is always staying connected to fans and is always sharing phots and videos of her with friends, family and pets on her Instagram Stories.
Selena Gomez is not as active
For the past few years, Selena Gomez has been one of the most followed celebrities and still is.
Back in September 2018, Selena Gomez decided to take a break from social media and focus on her mental health.
That same month, Selena Gomez shared on Instagram Live how the Internet has played a role in her depression and anxiety.
She shared the reasoning behind her break and why doing this was in her best interest. "As much as I am grateful for the voice that social media gives each of us, I am equally grateful to be able to step back and live my life present to the moment I have been given," Gomez explained. "Kindness and encouragement only for a bit! Just remember: negative comments can hurt anybody's feelings."
Also in the live video, Gomez shared that she couldn't understand why she still had so many followers even though she stepped aways from social media.
While on her break, it was revealed that Gomez had entered a facility to help with her depression and anxiety.
On January 14, 2019, Selena Gomez returned to Instagram with a message explaining why she needed the break.
"It's been awhile since you have heard from me, but I wanted to wish everyone a happy new year and to thank you for your love and support. Last year was definitely a year of self-reflection, challenges and growth," Gomez wrote. "It's always those challenges which show you who you are and what you are capable of overcoming. Trust me, it's not easy, but I am proud of the person I am becoming and look forward to the year ahead. Love you all.
Gomez and Grande are still not the most followed celebrities
Even though Selena Gomez and Ariana Grande have an extremely large following on Instagram, there is still one person that holds the top spot.
Cristiano Ronaldo has way surpassed Gomez and Grande's following of 146 million with 155 million followers on Instagram.
Back in October 2018, Ronaldo dethroned Gomez's title as the most followed celebrity by a few thousand.
Since then, the soccer star has garnered an even larger following and continues to receive millions of likes on a single post.