Revealed: This Is What Ariana Grande's Natural Hair Looks Like
Ariana Grande is known for her stunning voice, her outspoken personality, and of course her signature ponytail. She burst onto the scene in 2010 in Nickelodeon's Victorious which ran until 2013. Afterward, she took her red-headed character, Cat Valentine to the spin-off, Sam & Cat. After leaving Nickelodeon– Grande began carving out a massive singing career for herself with hits like, "Bang Bang," "Break Free" and of course, "thank u, next."
Though Grande has gotten older and more sultry –even dealing with her complicated personal life in the public eye, her iconic ponytail has remained the same. In fact, many of us don't even know what her natural hair looks like.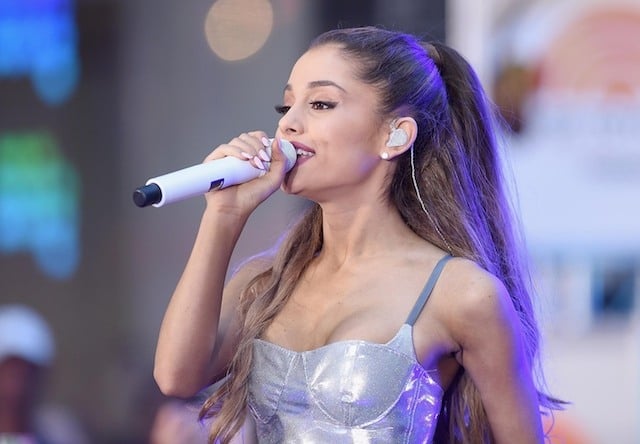 This is what Ariana Grande's natural hair looks like
The Grammy-Award-winner has had a tumultuous couple of years. In 2017, a terrorist attacked one of her concerts in Manchester, England killing 23 people. Her long-time friend and former beau, rapper Mac Miller, passed away in Sept. 2018 after a drug overdose. Grande had a very public engagement and breakup with comedian Pete Davidson, and she had a public battle with the producers of the Grammy's and ended up staying home instead of performing at the ceremony. Now, it looks like the Sweetner songstress is taking some time to let her hair down –literally.
After winning a Grammy for Best Pop Vocal Album for Sweetner, Grande posted a photo of herself at age 5. She wrote, "If i'm honest ….. this is still exactly what i look like without lashes and my pony… anyone who knows me knows me knows ….. like …. i'm twenty five. i was five here. the only difference now is that hand now says bbq grill finger" One fan asked to see proof and Grande snapped an adorable makeup-free photo of herself with her natural curly hair.
Why does Ariana Grande always wear a ponytail?
Like many of us, Grande isn't letting go of her signature style anytime soon. However, the real reason she always wears a ponytail is a bit more complicated than being a creature of habit. Grande's natural curls were destroyed after years of bleaching and dying her hair red. In 2014, the singer wrote a lengthy post on Facebook about her hair saying,
ince people give me such a hard time about my hair I thought I'd take the time to explain the whole situation to everybody. I had to bleach my hair and dye it red every other week for the first 4 years of playing Cat… as one would assume, that completely destroyed my hair. I now wear a wig on Sam & Cat. My real hair is back to brown and I wear extensions but I wear it in a pony tail because my actual hair is so broken that it looks absolutely ratchet and absurd when I let it down. I tried wigs, they looked RIDICULOUS. Tried a weave because I am working on a new project and want to try some different looks and literally wanted to rip my scalp off. So as annoying as it is for y'all to have to look at the same hair style all the time, it's all that works for now (AND I'm comfortable for the first time in years)…. And trust me, it's even more difficult for me to have to wait forever for my natural hair to grow back and to have to wear more fake hair than every drag queen on earth combined. So PLEASE gimme a break about the hair (or just don't look at me lol). IT'S JUST HAIR AFTER ALL. There are way way way more important things. Love y'all very much.
Now, it looks like Grande's hair is healthy and bouncy. However, it probably doesn't have the glam and drama that she's used to which is why she's still obsessed with her ponytail.
Check out The Cheat Sheet on Facebook!