Ariana Grande Has Achieved A New Milestone In Her Career
Singer-songwriter and actress Ariana Grande has been working hard in the industry for many years. Over the past several, her music has come first, and now, she's reached a pretty remarkable place. Here's the achievement she
Ariana Grande has been putting out hit after hit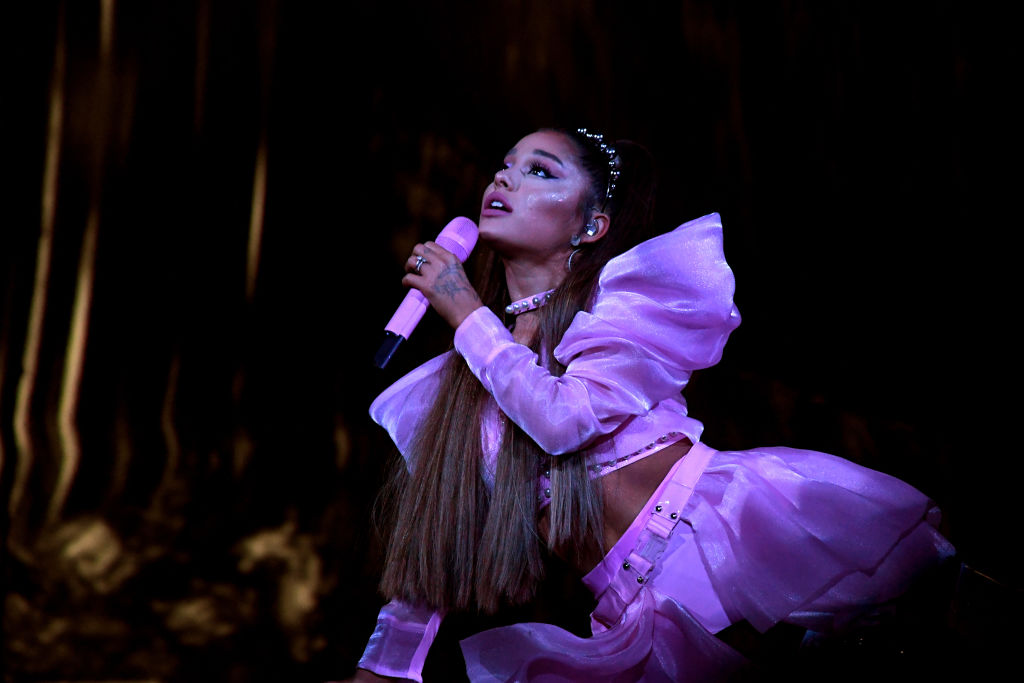 Grande is, undoubtedly, very accomplished. After getting her start in the Nickelodeon sitcom Victorious, she was known as an actor with incredible music chops, as seen in the series. However, she then decided to focus more on her music, putting out her first album, Yours Truly, in 2013.
Since then, Grande has done something few artists have ever done — continue to put out new music at an almost breakneck pace. Since 2013, she's released a total of five albums, nearly one per year. Throughout all of this, she also continued to act, appearing in the Fox horror-comedy Scream Queens as well as the Hairspray Live! special.
A fan told her about a recent accomplishment
Releasing single after single and album and album for so long is a feat in and of itself. On top of that, nearly every song Grande puts out also becomes a hit. And one fan tracked that progress over the past seven years.
Beginning with "The Way" in 2013, Grande has had at least one song reach the top 10 of the Billboard Hot 100 each year. The artist replied to this milestone, writing, "This is so sick and special. I still can't believe any of it or how quickly it's all happened. [It] still feels like I just started."
The Broadway star who always knew Grande was talented
If you're not familiar with musical theater (which is where Grande got her start), you may not know Kristin Chenoweth, an acclaimed performer who is also known for TV series such as Glee and Pushing Daisies. She starred in the musical Wicked, and it's through that gig that she first met Grande.
"So her grandma, her Nona, brought her backstage to say 'hello' during Wicked," Chenoweth told Seth Meyers on Late Night. "And she said, 'This is my granddaughter, Ari, and she also likes to sing.' And I said, 'Oh, that's so sweet.' I mean, she was like 10! And she goes, 'Sing something for her Ariana. Sing!'
She continued. "Ariana sang a little something, and I was like, 'Holy crap. She's really good.' So I had these little wands. I gave her a wand, and I said, 'Just remember to follow your passion. Do what you love.' And we stayed close. And skip to [now], she's the biggest star on the planet."
What is Grande up to now?
Grande is, naturally, as busy as ever. The European leg of her Sweetener Tour, which she's been on consistently since March 2019, has come to a close. She heads out on the second and final U.S. leg of the tour this week, making her way west across the U.S. before concluding in Dec. in Los Angeles.