Ariana Grande Upset Over Mac Miller's Loss At The 2019 Grammy Awards
Ariana Grande has yet another problem with the Grammy Awards.
After deciding to not attend this year's Grammy Awards due to a disagreement with producers, the singer still watched the event from the comfort of her home.
As the singer tweeted her thoughts throughout the night, she did not hold back when it came time to call out the award show once again.
Ariana Grande was not happy with the results
The past few days leading up to the Grammy Awards has not been easy for Ariana Grande.
After pulling out of performing during the event, the singer still watched the show to support her fellow artists.
When it came time for the winner of Best Rap Album to be revealed, Ariana Grande was expecting her ex-boyfriend, Mac Miller, to win the Grammy.
Miller tragically passed away back in September and this was the first Grammy the rapper has ever been nominated for.
Once it was revealed that Cardi B. was the winner of that category, Ariana Grande made her thoughts over Mac Miller's loss known.
In now-deleted tweets, many could tell Ariana Grande was not happy with the results and felt as though Mac Miler was not given the recognition he deserved.
Right after Cardi B. was announced the winner of that category, Ariana Grande wrote out a string of tweets, "trash" in one, "f–k" in another and then "literal bulls–t" in a third. 
Grande was still proud of Cardi B.
After her string of tweets was seen by fans, they immediately knew that the singer did not agree with Cardi B.'s win.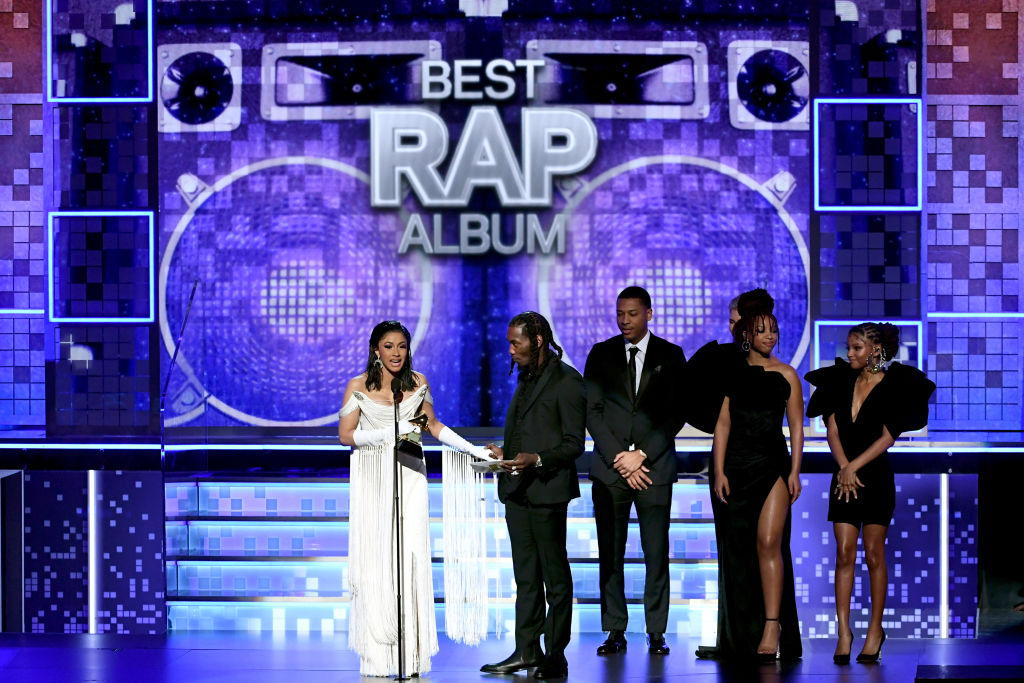 Fans believed that Ariana Grande was shading Cardi B. for taking home the Grammy for Best Rap Album instead of Mac Miller.
The singer quickly took to Twitter to reveal that her tweets were not directed towards Cardi B. and that she was happy for the rapper.
Grande wrote, "nothing to do w her. good for her. i promise. i'm sorry."
The singer even defended Cardi B. after a fan called the "Money" rapper "trash."
"She's not at all and that's not what i meant and u know that," Grande responded to the fan.
Grande wanted Mac Miller's memory to live on
Even though Ariana Grande was proud of Cardi B. for winning the Grammy for Best Rap Album, the singer was still angry.
In her tweets, the singer revealed how upset she was over the fact that Mac Miller's family was invited to attend the ceremony on his behalf and the rapper was not even recognized for his music.
A fan tweeted, "Y'all invited Mac's parents out and you didn't give him an award are y'all DUMB? @RecordingAcademy," in which Grande replied, "This. this is what i meant. karen was gonna have a green suit made."
She then added, "THEY INVITED HIS PARENTS OUT. NO," and, "he slept in the studio for two months."
Even though Ariana Grande had called it quits from Mac Miller back in May 2018, the singer always believed that his music deserved to be nominated for a Grammy.
With her frustration surrounding Mac Miller's loss, the singer still showed her gratitude to the Grammy's for winning Best Pop Vocal Album.
Grande tweeted, "i know i'm not there tonight (trust, i tried and still truly wished it had worked out tbh) and i know i said i try not to put too much weight into these things …. but f*ck ……. this is wild and beautiful. thank you so much."