Ariana Grande Gave the Biggest Salute to Her 'Victorious' Days on Tour
Ariana Grande is undoubtedly one of the biggest artists in the world. She is currently on her worldwide Sweetener Tour playing sold-out shows for millions of her fans. With an astronomical 167 million followers on Instagram alone, Grande easily secures the titled of the most followed woman on earth. And, with five Grammy nominations under her belt this year, her music career has never looked better. With everything the "thank u, next" singer has accomplished, it can be easy to forget that she became a household name by starring in the hit Nickelodeon show, Victorious.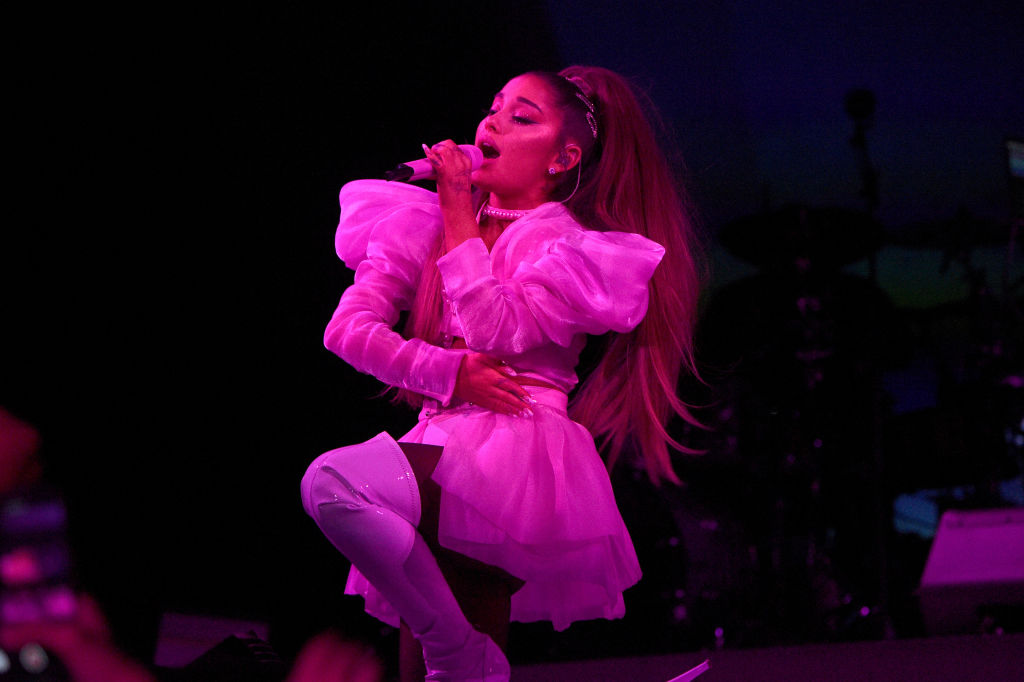 Years before she became a Grammy Award winner, Grande was making a name for herself as Cat Valentine, the strangely loveable redhead on Victorious with boundless energy. In fact, Cat was so popular that the network opted to make a spin-off with her character called Sam & Cat. Arianators can thank Cat for Grande's signature high ponytail. Because her hair was constantly dyed red for her character, the "7 Rings" singer had severe hair damage and began wearing her hair in a ponytail to mask it. What started as a necessity became her preferred hairstyle choice and now seeing Grande without a ponytail is a rare occurrence.
Ariana Grande used Victorious to launch her music career
Though Grande is a talented actress, music has always been a top priority for her. In fact, she only auditioned for Victorious as a way to further her singing career. "I never really saw myself as an actress, but when I started talking about wanting to make R&B music at 14, they were like, 'What the fu*k would you sing about? This is never going to work. You should audition for some TV shows and build yourself a platform and get yourself out there because you're funny and cute and you should do that until you're old enough to make the music you want to make.' So I did that. I booked that TV show, and then I was like, OK, now can I make music?" the "Boyfriend" singer said in an interview with Vogue.
But, despite moving on from acting, Grande has fond memories from her Victorious days and is still good friends with some of her castmates. Diehard Victorious fans will notice that Matt Bennett (who played Robbie Shapiro) was featured in two of Grande's music videos for "One Last Time" and "Thank U, Next."
Leon Thomas attends Grande's Halloween party
Meanwhile, Leon Thomas (Andre Harris) and Bennett also attended Grande's 2019 Halloween party, Ariana's Twilight Zone. "Had a great time at @arianagrande's Halloween party !!! It was great running into my boy @mattbennett as well. You know we had to take a picture for old times' sake. If you were wondering who I was for Halloween swipe to the right," Thomas captioned a photo of his Victorious alums.
But, Grande gave Victorious fans and even bigger gift when she invited Bennett and Dynasty actress Liz Gillies (who played Jade West) to sing songs from their Victorious days on tour with her. She and Gillies, who have known each other for over a decade, sang their Victorious duet "Give It Up" together. Following the performance, Gillies took to her Instagram page to reflect on the special memory.
Liz Gillies and Ariana Grande perform a duet together
"Me & Ari & our Mommies. We've been through so much together. There's a photo of the four of us standing in front of the Hollywood sign when we first got to LA 10 years ago that would be perfect for a side by side but I couldn't find it! The memories we've shared are endless and this night was a very special one to add to the books. Love you Mama & love you Joan & Ari! More memories to come," Gillies, who has also appeared in two of Grande's music videos, captioned a sweet photo on Instagram.
Matt Bennett makes an appearance on the Sweetener Tour
Bennett also made an appearance on Grande's tour singing a song called "Swell" to her while she sat on the stage. This was a nod to when his character Robbie wrote and sang the song to Cat after she'd been rejected by a boy she liked. "Definitely the craziest thing I've ever done! Thanks for letting me rock out on stage with you shorty :) I think you're swell! @arianagrande," Bennett wrote after sharing a photo of the performance to his Instagram page. What a sweet way for Grande to pay tribute to her roots on tour. We're sure Victorious fans everywhere are thrilled.