Ariana Grande's Best Collaborations
Some artists don't work well with others, but Ariana Grande certainly does. Grande's music crosses the boundaries of many genres, including pop, R&B, and trap. With that in mind, it's no surprise that she has worked with a wide variety of other artists. Let's look at Ariana Grande's best collaborations.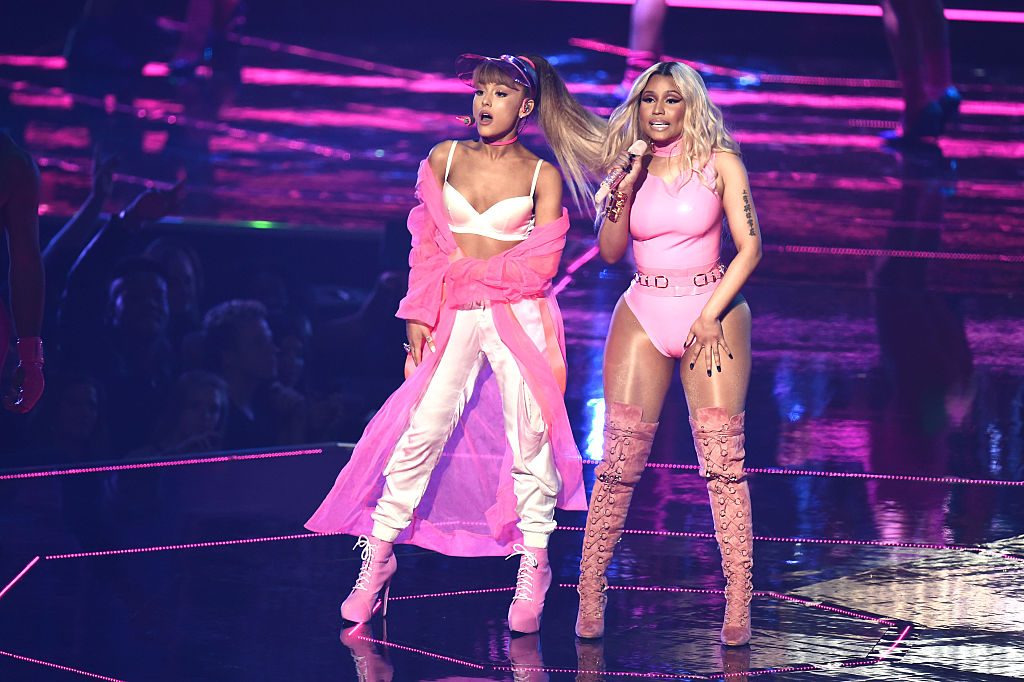 'Bang Bang'
When you think of Ariana Grande collaborations, "Bang Bang" is one of the first to come to mind. It managed to showcase three iconic divas of the era –  Grande, Jessie J, and Nicki Minaj – and highlight the talents of each. Grande and Jessie J are two of contemporary pop's best crooners, and the two of them belt the chorus so hard that they might make Christina Aguilera jealous.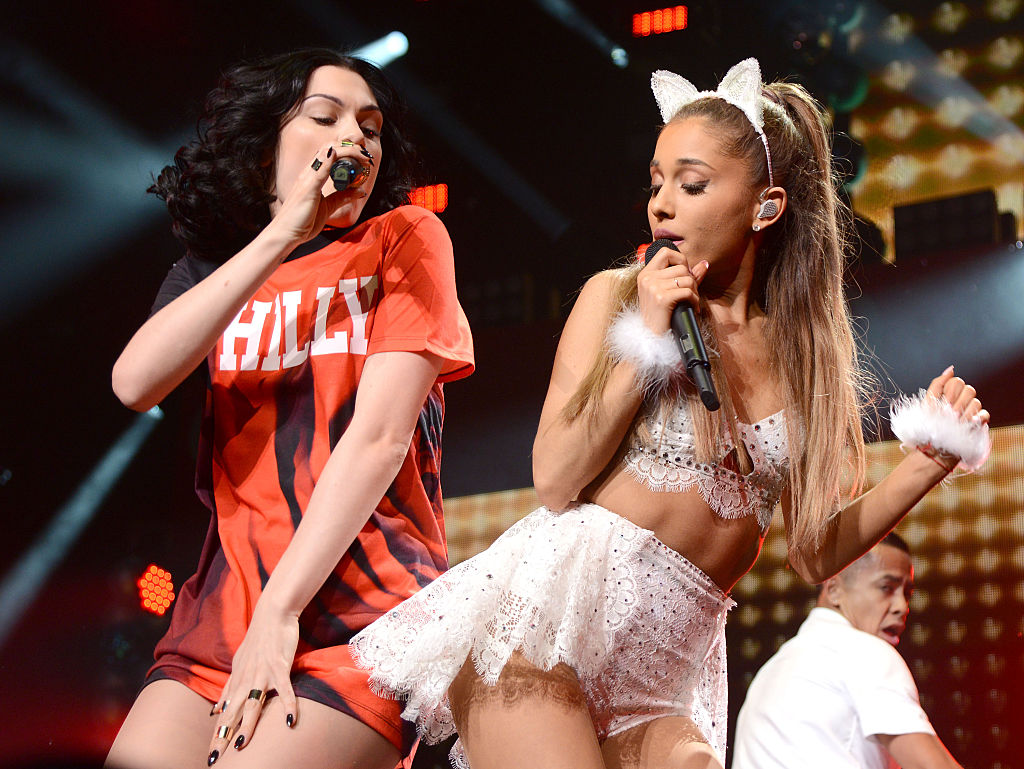 As if Minaj wanted to equal the level of effort that Grande and Jessie J put into their singing, she delivers a rap verse on the bridge that is much faster than her usual work. Her Busta Rhymes-style flow is catchy and fun to rap along to, if you have that level of talent. While Grande and Nicki Minaj have worked together several times, this song is the only collaboration between Grande and Jessie J. Their voices gel together so well that you wish they would collaborate again.
'Don't Call Me Angel'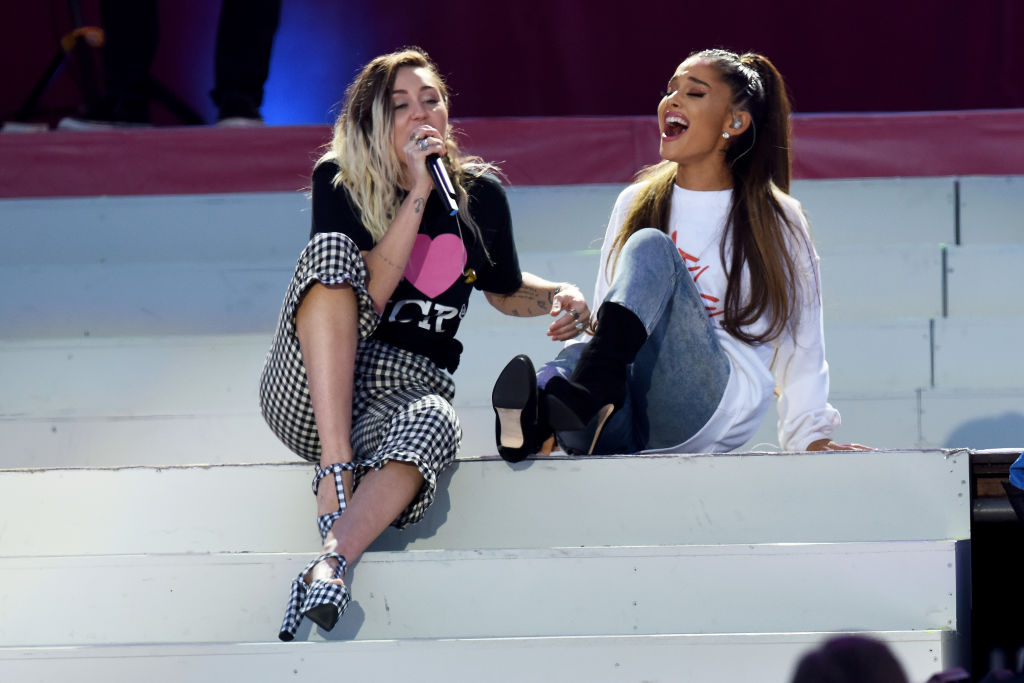 Since recruiting two other pop divas to record a song with her work so well for Grande on "Bang Bang," she decided to do it again a few years later with the Charlie's Angels theme song "Don't Call Me Angel," a collaboration between Ariana, Miley Cyrus, and Lana Del Rey. The three singers come from very different places musically, but they managed to create a song which which gels all three of their styles.
Grande's and Cyrus' parts of the song feature an electro-R&B beat that fits with both of their singing styles, while Lana Del Rey's bridge is quintessentially Lana Del Rey, with breathy vocals and a slow, moody backbeat. The new Charlie's Angels movie won't be released until next month; if it does become a hit, it will owe part of its success to this song.
'Get On Your Knees'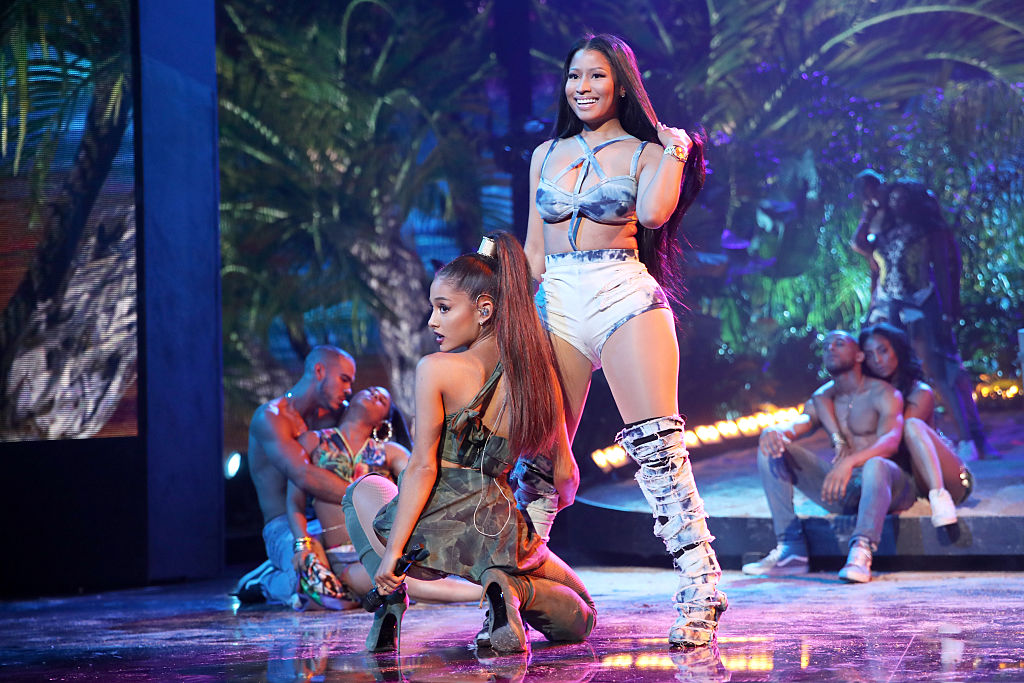 Here's another song that is technically a collaboration between three divas. It's a Nicki Minaj song featuring Ariana Grande that was written by none other than the California Gurl herself, Katy Perry. Minaj acknowledges the song's origin in one of her verses, where is she mentions Perry's hit "Firework" in passing. All three of these singers have their sultry side, so of course a collaboration between them is incredibly risque.
Given the song's pedigree, it's surprising that Minaj's record label never decided to release it as a single. Perhaps they thought it was just a little too steamy for the radio. It's more likely that her record label didn't want to release another sex song after Minaj had already released "Anaconda" –  one of the most salacious hits of the 2010s – as a single from the same album as "Get On Your Knees." The track features an uncharacteristically subdued vocal performance from Grande that sounds just as beautiful as her usual grandiose belting.