Ariana Grande's New Japanese Hand Tattoo Was Misspelled and Hilariously Translates To Something Else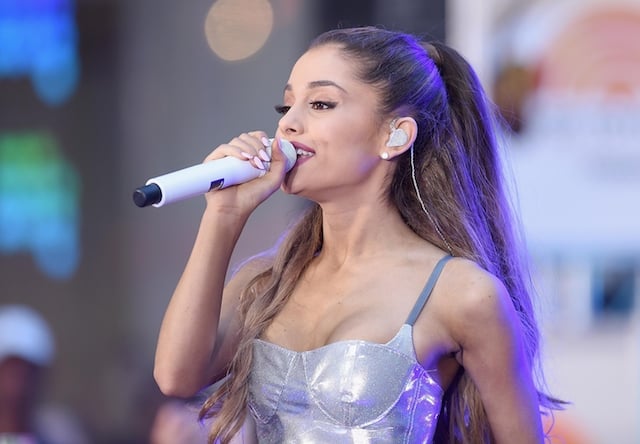 Ariana Grande is no stranger to tattoos.
The singer is known for her small and subtle ink but many are starting to point out a mishap when it came to her newest addition.
A first glance, Ariana Grande's new hand tattoo looked awesome but a few fans soon realized the singer had just experienced a tattoo fail.
Grande wanted "7 Rings" tattooed on her
Many of you are probably wondering how Ariana Grande could possibly get a tattoo that was misspelled, so let's start from the beginning.
With her hit single "7 Rings" topping the charts and being the no.1 song in multiple countries, Grande decided to commemorate her success with another tattoo.
Ariana Grande decided on getting "7 Rings" tattooed on her palm in Japanese and had tattoo artist Kane Navasard execute the work.
Soon after the deed was done, the singer took to Instagram to show off her new ink. However, fans were quick to call Grande's attention to the fact that what she had gotten tattooed on her hand did not translate to "7 Rings".
According to fans who are fluent in Japanse, the singer mistakenly got "barbecue grill" tattooed on her hand. Twitter users explained that the phrase Grande had gotten tattooed on her actually spells out "shichirin," which in turn translates to a Japanese-style barbecue grill.
She is fine with the misspelling
Since posting the photo of her new tattoo and later deleting it, fans have been blowing up social media with Grande's misspelled ink.
Though Ariana Grande realized her tattoo spells "barbeque grill," the singer is still in love with it.
In a recent Twitter post that has since been deleted, Grande revealed the reason behind her new tattoo being misspelled.
She tweeted, "Indeed, I left out 'つの指,' which should have gone in between," she wrote in a since-deleted tweet. "It hurt like f–k n still looks tight. I wouldn't have lasted one more symbol lmao. But this spot also peels a ton and won't last so if I miss it enough I'll suffer thru the whole thing next time."
The singer went on to add, "also….huge fan of tiny bbq grills."
https://twitter.com/PopAlarms/status/1090489236191498241
Grande can get it touched up
Though Ariana Grande is not expecting this tattoo to last very long, the singer might consider getting the rest of the tattoo done.
Tattoos tend to fade away over time when they are on your hands, which is why many tattoo artists suggest getting the ink touched up.
Even though the singer has admitted to loving tiny barbeque grills, many are wondering if she will get the tattooed covered-up just like she has done in the past?
Ariana Grande is still not sure if she would want to go through the pain of getting the entire phrase tattooed on her hand.
Any tattoo lovers out there know that hand tattoos are very painful and can easily understand why Ariana Grande had to call it quits before the new ink was fully completed.
Well, the lesson of today is everyone makes mistakes but they should try to be avoided when it comes to permanent ink!