Ariel Winter's High Slit Dress Isn't Her First Daring Red Carpet Outfit
Ariel Winter plays Alex Dunphy on Modern Family. Though her character on the show isn't exactly passionate about fashion, Winter loves a good show-stopping red carpet ensemble. One look at Winter's Instagram and you can see that the actress is also passionate about more than just fashion: She's an adamant advocate for body positivity and self-love. Winter stands up against bullying, body-shaming, and sexism, and she does it all while showing a lot of skin.
Here are some of her most bold, iconic red carpet looks (No. 6 is a great twist to the classic black dress):
1. Her high slit 2017 Emmys dress
https://www.instagram.com/p/BZPbx_ghI3Y
Winter has a knack for turning heads on the red carpet, though she went with a different look than she usually does at the 2017 Emmys. She showed off some leg in a beautiful black beaded gown with a high neckline, low back, and revealing double slits.
With a delicate black heel, her legs looked incredible. "I was just looking for something different. I loved it and thought it was a beautiful dress," she told People. She also added, "I usually do cleavage and not legs so I decided to switch it up!"
Next: A smoking little black dress.
2. Shiny and black
Winter burned up Instagram with this shimmering black number, which she wore to the LaPalme Magazine fall cover party in Los Angeles. She was joined by boyfriend Levi Meaden. This post has received well over 300,000 likes.
Next: Casual never looked so good.
3. Winter's version of 'casual'
https://www.instagram.com/p/BUH9_MKBIWb
Another one of Winter's more infamous looks came about earlier in 2017 at an ABC screening event. But it wasn't so much the dress itself that turned heads as it was the event the dress was worn to. Every other cast member of Modern Family showed up to the event in casual attire (most of the men wore jeans).
Winter came dressed "in a cleavage-baring gold mini dress, which she paired with matching metallic heels." Again, she looked confident and happy in her own skin.
Next: Looking and feeling like gold.
4. Classic in gold
https://www.instagram.com/p/BQY5nBmAHnW
At the 2017 Screen Actors Guild Awards, Winter wore another metallic, sheer dress. Daily News writes: "'Modern Family star Ariel Winter looked stunning in a sheer gold beaded Mikael D dress as she arrived in style to the 23rd annual Screen Actors Guild Awards on Jan. 29, 2017."
With a bright orange lip to add a pop of color to her all-gold ensemble, Winter looked as classic as the little gold statues given away that evening.
Next: But stunning silver looks really good, too.
5. Winter and Kylie Jenner are style twins
https://www.instagram.com/p/BKmMYs7jrZT
At the 2016 Emmys, Winter wore a silver (she loves her metallics!) floor-length Yousef AlJasmi dress. Though she caught everyone's attention, thanks to the show-stopping quality of the dress, she also turned heads because Kylie Jenner wore almost the exact same ensemble just a few days prior.
Unfazed, as per usual, by the Hollywood drama, Winter said, "This was actually the quickest decision. I saw it, tried it on, and I was like, 'This is what I want to wear,' and that's that."
Next: A hot little black dress with a twist.
6. A hot little black dress
https://www.instagram.com/p/BKH5pbyD7Sq
At the Television Academy Celebrates Nominees For Outstanding Casting event held in 2016 in Beverly Hills, Winter wore a very sexy LBD to honor Jeff Greenberg, the casting director for Modern Family.
Between the lace-up, bustier-style front and the classic all-black, Winter was dropping jaws in yet another show-stopping number.
Next: Say goodbye to that neckline.
7. A plunging neckline at the Trevor Live Event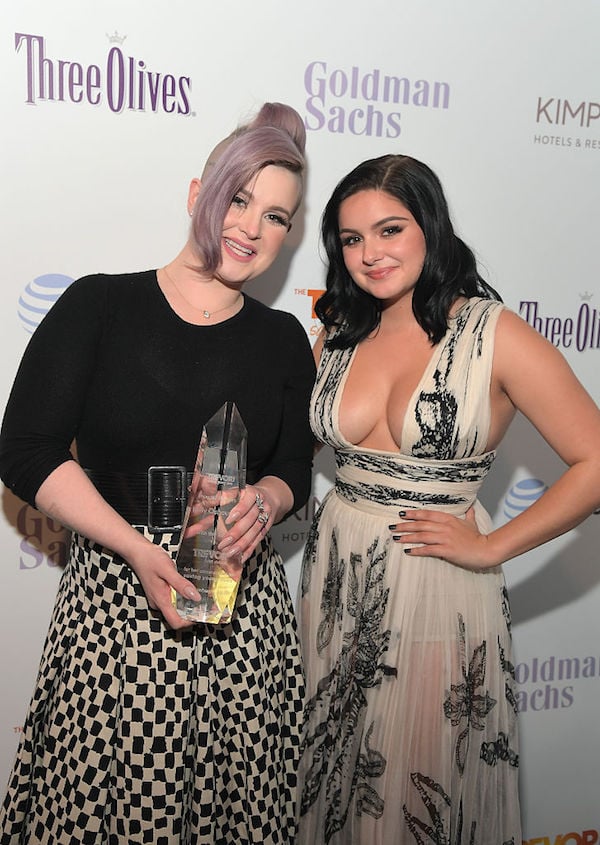 Winter attended 2016's Trevor Live event to present an award to Kelly Osbourne for her contributions to the LGBTQ community. She wore a black-and-white sheer gown with a plunging neckline and perfectly cinched waist.
Not only did she steal the show thanks to her gorgeous get-up, but she also debuted her new boyfriend at the event as well.
Next: A lot of skin with a classy look.
8. Another leg revealing dress
Winter wore this incredible outfit to the 2017 Vanity Fair and L'Oreal Toast to Young Hollywood.
Next: The infamous summer bash attire.
9. Her infamous summer bash attire
https://www.instagram.com/p/BJG_S2AjYbV
At the Just Jared Summer Bash in 2016, Winter wore what some websites call her "raciest red carpet outfit yet." Her outfit included a metallic green one-piece bathing suit with cut-outs along the sides and a plunging neckline, along with a pair of Daisy Dukes and a pair of nude heels to tie the ensemble together.
Not only does a bathing suit with some short shorts sound more than appropriate for a summer bash, but Winter, once again, looked content and confident in her (very visible) skin.
Check out Entertainment Cheat Sheet on Facebook!