Ariel Winter Will Appear in 'Law & Order: SVU' Season 21
Ariel Winter will reportedly show up in the new season of Law & Order: SVU. The Modern Family star was spotted filming with Mariska Hargitay for the new role in the upcoming 21st season. Law & Order: SVU is a huge hit with fans all over the world. The show is known for having numerous guest stars on the show, including Snoop Dogg, Ludacris, and many more. Ariel Winter is now joining the ranks, at least in a guest appearance.
The episode will air this fall on 'Law & Order: SVU'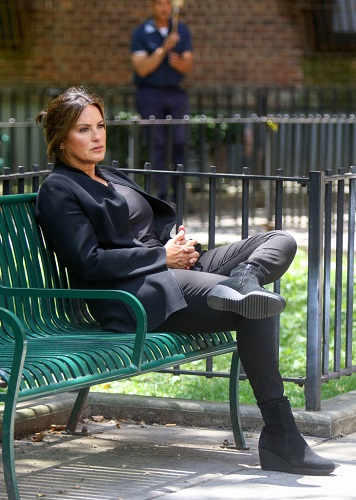 Winter teased a new project with new hair via her Instagram account. "Filming something new that I'm really excited about," she wrote. The episode she will guest star in will air this fall when the new season of Law & Order: SVU premieres. The episode will explore new techniques being used to help victims recall critical details and disclose trauma.
Hargitay and Winter were spotted filming together recently in New York City for the episode. According to E! News, Winter wore a yellow top and white pants, with strawberry blonde hair. Hargitay was seen putting an arm around Winter at one point. Presumably, she may play a victim in this upcoming role.
'Law & Order: SVU' is a huge hit with fans
Hargitay is also an executive producer on the show and couldn't be prouder of the work they have achieved so far in the groundbreaking series. The show touches taboo topics and brings them into the light. Fans love the show because it's so believable. Seeing the detectives get justice for the victims who can't help themselves is so heartwarming.
"I'm deeply proud to be a part of this groundbreaking show, and humbled to make television history today," Hargitay said in a statement in regards to the show being the longest-running series on television. "The longevity and continued success of SVU is a testament not only to the show's powerful storytelling and ability to connect with viewers, but to its necessity. We have told important stories for 20 years, and we will continue to tell them."
Dick Wolf, the creator of SVU and executive producer, knows how much fans love the show and Hargitay. "As SVU moves into its third decade, Mariska has become an iconic figure as a star, advocate and crusader for women," said Wolf. "She is an enduring champion of the movement to end sexual violence, and dozens of episodes have dealt with the very same issues that have shifted into the spotlight in this country in the past two years. Mariska is a delight as #1 on the call sheet and, to me, a true friend."
When does 'Law & Order: SVU' season 21 premiere?
The highly-anticipated season will premiere on Thursday, September 26. The NBC drama is the long-running live-action primetime series to date. The new season already has a guest cast that includes American Gods and Deadwood star Ian McShane.
Fans can't wait to catch up with their favorite detectives on the show. Mariska Hargitay, who plays Lt. Olivia Benson, has been on the show since the beginning and continues to inspire millions around the world with her work and advocacy. Fans can't wait to see what this next season has in store.