Ariel Winter's Most Controversial Instagram Posts
Ariel Winter grew up in front of the public's eyes by joining Modern Family when she was just 11 years old. So it makes sense that she would change a lot over the years. But lately, she's gotten a lot of criticism for it.
The actress has specifically been criticized for the way she dresses on Instagram. She has responded to this criticism multiple times and has spoken against body-shaming and slut-shaming. However, it seems like haters just won't let up.
So what exactly gets them so angry? Here are 11 of Winter's most controversial Instagram posts and what she had to say about them.
1. Shimmering black number
Winter burned up Instagram with this shimmering black number, which she wore to the LaPalme Magazine fall cover party in Los Angeles. She was joined by boyfriend Levi Meaden. This post has received well over 300,000 likes.
Next: A cigar and a revealing outfit get a lot of feedback.
2. A big cigar
Winter enjoyed this photo opportunity while in Beijing, China at a cigar bar. Though the post received almost 243,000 likes, some commentators were less than kind and said she looked like hooker or should do porn with that kind of outfit.
Next: A cute bikini family photo brings out the worst in people.
3. Her 2015 bikini photo
The actress posted a cute vacation picture with her nieces on a boat back in 2015. But she surprisingly got a lot of hateful comments on it, due to her bikini.
She followed up with a post to defend herself, sharing a picture of a woman in a skirt with comments on her body, along with the following message:
Who knew that an innocent photo with my nieces would turn into this? The height of a girl's skirt or whatever she is wearing for that matter, does not imply what she is asking for. It sickens me to think at 17 years old, a photo of myself with my nieces is suggesting that I'm "asking for it." I typically never give power to the mean things people bravely say behind their computer screens on the Internet, but this is for the girls who are constantly bullied whether it be online or at school.. You are not asking for anything because of what you are wearing- you are expressing yourself and don't you ever think you deserve the negativity as the consequence to what you are wearing- YOU ARE BEAUTIFUL. Celebrate you and don't let anyone's comments allow you to think less of yourself. Us girls have to stick together!!!!!!
Next: She gets a ride to the pumpkin patch from a famous Disney character.
4. Going to the pumpkin patch
Winter posted this photo with the description: "Mickey gave me a ride to the pumpkin patch." Of course, it didn't take much time for commentators to suggest giving other things rides, too. Her body parts, such as her lips and chest were also scrutinized.
Next: It's her graduation and she'll dress how she wants to.
5. Her graduation picture
Winter posed in a picture with her graduation cake in a cutout dress. Many people found her dress choice inappropriate.
She later fired back on Twitter, "Dear sorry body-shamers, I looked HOT in that dress. And if you hate it, don't buy it. But please get a hobby. XOXO Ariel #EmbraceYourBody."
Next: A bikini from above photo in Mexico.

6. Bikini from above photo
This photo was another hit on Instagram, drawing its fair share of comments that aren't appropriate. Winter posted it as a flashback Friday photo of a time when she traveled to Mexico.
Next: Many critics didn't like her change seen here.
7. Her behind-the-scenes photo
The young actress posted a behind-the-scenes picture of a photo shoot. The picture didn't go over well with many people, and the comments were filled with hate.
Many of the critics called the outfit revealing and didn't like the change in her look.
Next: She puts on a bikini for Memorial Day and people lose it.

8. Her Memorial Day bikini post
Some people enjoy the beach or a cookout for Memorial Day. But many weren't happy that the actress decided to post a bikini photo with the caption "Memorial Day." They believed it to be insensitive, given the holiday is to remember those who died serving in the armed forces.
Next: A Photoshop controversy

9. The Photoshop controversy
Winter often talks about self-acceptance and body positivity. But she has been accused of using Photoshop on her Instagram photos to look slimmer, including this one.
One fan accused her of this in the comments. She responded back, "This is the real me. I don't Photoshop my photos. People look different at different angles. Thanks for the support," according to Twist magazine.
Next: She fires back at the haters.

10. Ariel Winter's panel dress response
The Modern Family star stood out when she attended a panel in a gold dress, while the rest of the cast was more casual. There was backlash over her outfit choice because of this.
The actress wrote a response on Instagram asking why anyone cares what she wears.
Next: She also addresses online bullying.

11. Ariel Winter's response to online bullying
Winter took the time to write about the importance of self-acceptance after receiving hateful messages. It seems like she's more interested in understanding her haters than trying to take them down.
Next: Check out her most daring looks on the red carpet.
12. Her high slit 2017 Emmys dress
https://www.instagram.com/p/BZPbx_ghI3Y
Winter has a knack for turning heads on the red carpet, though she went with a different look than she usually does at the 2017 Emmys. She showed off some leg in a beautiful black beaded gown with a high neckline, low back, and revealing double slits.
With a delicate black heel, her legs looked incredible. "I was just looking for something different. I loved it and thought it was a beautiful dress," she told People. She also added, "I usually do cleavage and not legs so I decided to switch it up!"
Next: Casual never looked so good.
13. Winter's version of 'casual'
https://www.instagram.com/p/BUH9_MKBIWb
Another one of Winter's more infamous looks came about earlier in 2017 at an ABC screening event. But it wasn't so much the dress itself that turned heads as it was the event the dress was worn to. Every other cast member of Modern Family showed up to the event in casual attire (most of the men wore jeans).
Winter came dressed "in a cleavage-baring gold mini dress, which she paired with matching metallic heels." Again, she looked confident and happy in her own skin.
Next: Looking and feeling like gold.
14. Classic in gold
https://www.instagram.com/p/BQY5nBmAHnW
At the 2017 Screen Actors Guild Awards, Winter wore another metallic, sheer dress. Daily News writes: "'Modern Family star Ariel Winter looked stunning in a sheer gold beaded Mikael D dress as she arrived in style to the 23rd annual Screen Actors Guild Awards on Jan. 29, 2017."
With a bright orange lip to add a pop of color to her all-gold ensemble, Winter looked as classic as the little gold statues given away that evening.
Next: But stunning silver looks really good, too.
15. Winter and Kylie Jenner are style twins
https://www.instagram.com/p/BKmMYs7jrZT
At the 2016 Emmys, Winter wore a silver (she loves her metallics!) floor-length Yousef AlJasmi dress. Though she caught everyone's attention, thanks to the show-stopping quality of the dress, she also turned heads because Kylie Jenner wore almost the exact same ensemble just a few days prior.
Unfazed, as per usual, by the Hollywood drama, Winter said, "This was actually the quickest decision. I saw it, tried it on, and I was like, 'This is what I want to wear,' and that's that."
Next: A hot little black dress with a twist.
16. A hot little black dress
https://www.instagram.com/p/BKH5pbyD7Sq
At the Television Academy Celebrates Nominees For Outstanding Casting event held in 2016 in Beverly Hills, Winter wore a very sexy LBD to honor Jeff Greenberg, the casting director for Modern Family.
Between the lace-up, bustier-style front and the classic all-black, Winter was dropping jaws in yet another show-stopping number.
Next: Say goodbye to that neckline.
17. A plunging neckline at the Trevor Live Event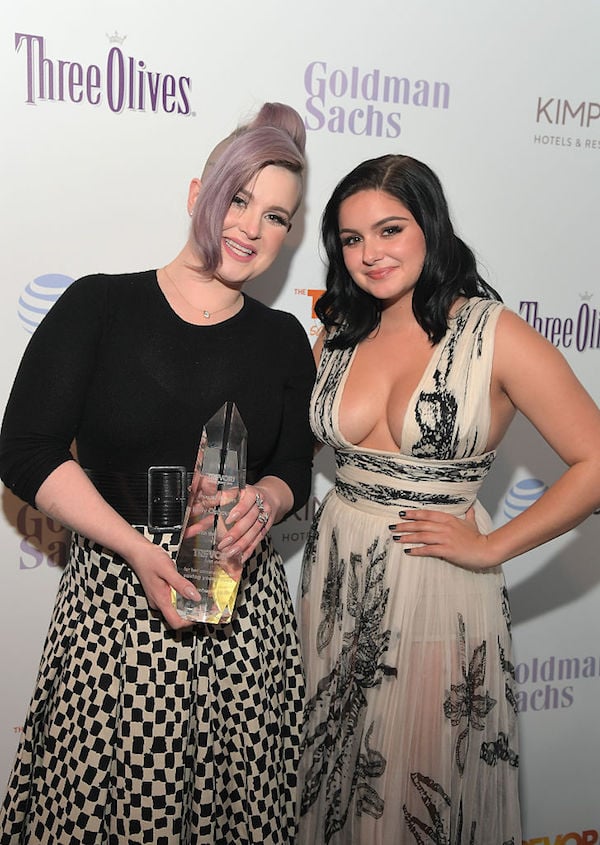 Winter attended 2016's Trevor Live event to present an award to Kelly Osbourne for her contributions to the LGBTQ community. She wore a black-and-white sheer gown with a plunging neckline and perfectly cinched waist.
Not only did she steal the show thanks to her gorgeous get-up, but she also debuted her new boyfriend at the event as well.
Next: A lot of skin with a classy look.
18. Another leg revealing dress
Winter wore this incredible outfit to the 2017 Vanity Fair and L'Oreal Toast to Young Hollywood.
Next: The infamous summer bash attire.
19. Her infamous summer bash attire
https://www.instagram.com/p/BJG_S2AjYbV
At the Just Jared Summer Bash in 2016, Winter wore what some websites call her "raciest red carpet outfit yet." Her outfit included a metallic green one-piece bathing suit with cut-outs along the sides and a plunging neckline, along with a pair of Daisy Dukes and a pair of nude heels to tie the ensemble together.
Not only does a bathing suit with some short shorts sound more than appropriate for a summer bash, but Winter, once again, looked content and confident in her (very visible) skin.
Follow Nicole Weaver on Twitter @nikkibernice.
Additional reporting by Kelsey Goeres.
Check out The Cheat Sheet on Facebook!