What Do ARMYs Think the BTS Comeback, 'Shadow,' Will Be Like?
It's finally time for some new music from this K-pop group. Well, almost. Thanks to video clips, recent outfits of the group, and clues from the BTS members, fans have a pretty good idea of what their next concept, called Shadow by some fans, will be like. Some predict it will be totally different from Map of the Soul: Persona, which was painted with hues of pink. Here's what the BTS ARMY is saying about the group's upcoming album.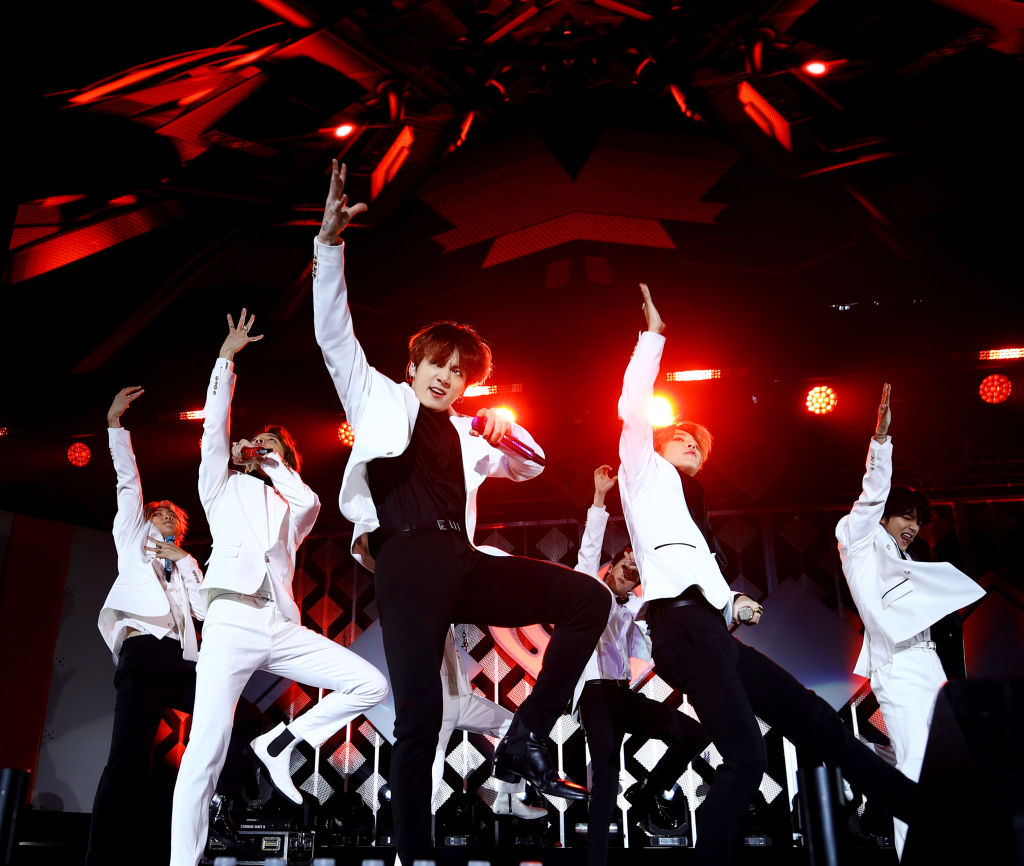 Earlier this year, BTS gave an iconic performance at the Melon Music Awards
They swept at the American Music Awards. They gave a jaw-dropping performance at the MMAs. Recently, BTS even performed at the iHeartRadio Jingle Ball, along with other headliners, like Halsey and Billie Eilish.
With the MMA performance under their belt, fans are wondering what's next for this K-pop group. Some sources report that BTS teased their next concept, Shadow, at their final concert of the "Love Yourself: Speak Yourself" era.
What are BTS fan predictions about this upcoming era?
Although nothing has been confirmed by the BTS members or by Big Hit Entertainment, fans of this boy band have a few theories about the group's comeback. Mostly, some fans think Shadow will have darker themes similar to albums like Love Yourself: Tear and Wings.
"I honestly believe that there will be a dark/mafia/dangerous type of concept. I honestly don't know why but recently I've seen a lot videos (from either BTS' new game, Bighit, or BangtanTV) where BTS are wearing dark sort of clothing which really gives me the mafia vibes. We can understand from Persona that it was a song about finally loving yourself but I think that Shadow will be about self-doubt and/or negative opinions about oneself even after finally loving yourself," said one user on Quora.
"From their recent activities such as concerts, you can tell it will be dark. Like the concepts in their concerts, events like Festa, and even BTS World (yeah they can have Easter eggs hidden in their mobile game, anything can happen), they have shined [a] light on dark topics and dressed a certain way that gives off those Wings vibes as well," wrote another Quora user. "I can see Shadow as a storyline album the same way The Most Beautiful Moment in Life, pt 1 and 2 were, as well as Wings."
When will new music by BTS come out?
There's no word regarding when the next album by BTS will premiere on most streaming platforms. However, during an interview with KIIS FM at the 2019 Jingle Ball, RM confirmed that the group has been working on music, which will presumably release within the next few months.
Most recently, BTS released a remix of their song "Make It Right," featuring the artist Lauv. Separate from BTS, Suga released a song with Halsey, "Suga's Interlude," while J-Hope and Becky G released their song "Chicken Noodle Soup."
Music by BTS, including the album, Map of the Soul: Persona, is available on Spotify, Apple Music, and most streaming platforms.