ARMY Discovered the Setlist for BTS's Japan Muster and It's Perfect
BTS will hold their Official Fan Meeting Vol. 5 [Magic Shop] in Chiba, Japan on Nov. 23 and Nov. 24. Also known as 5th Muster, the fan meeting is when BTS performs a setlist of old songs, new hits, and puts on skits for fans. BTS fans discovered the possible setlist for the 5th Muster in Japan and it's safe to say that any ARMY in attendance is truly blessed.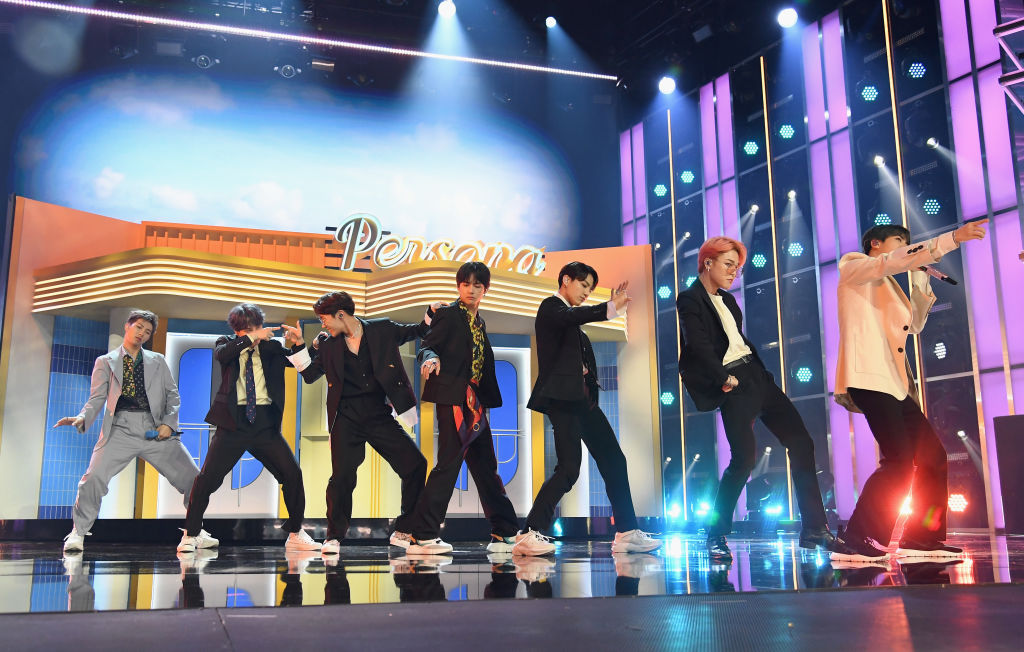 BTS fans figured out the Japan Muster setlist
Before the Japan Muster, fans could hear BTS rehearsing for the upcoming fan meeting. Based on what fans heard during rehearsals for the 5th Muster in Chiba, ARMY speculates this is the setlist:
"DDAENG"
"Whalien 52"
"Love Maze"
"Intro: Skool Luv Affair"
"Dimple
"JUMP"
"Pied Piper"
"Boy With Luv"
"134340"
"Airplane Pt.2"
"Lights"
"Magic Shop"
"Let Go"
"We are Bulletproof Pt.2"
"Best of Me"
"Tomorrow"
"HOME"
"2! 3!"
During the summer of 2019, BTS performed multiple 5th Muster fan meetings in Busan and Seoul. After the 5th Muster in Chiba, BTS will put on two more fan meetings in Osaka, Japan in December. The speculated setlist for the Japan Muster incorporates some of BTS's Japanese songs and songs performed at 5th Muster this summer.
"So you're telling me that they're going to perform Magic shop, Best of me, Lights, Let go, Tomorrow, and Home; tomorrow at Japan Muster???? I—," tweeted a fan.
BTS will perform their new single 'Lights' at Japan Muster
BTS released their song "Lights" in July 2019. The song reached the No.1 spot on the World Digital Song Sales chart upon its release. BTS also released a music video for the song. Because it is BTS's newest Japanese single, it makes since BTS would include it on the setlist.
One Twitter user wrote, "THEY'RE REHEARSING LIGHTS!!!!! THAT HIGH NOTE!! YAAAAAAS!!! I— I AM CLEARLY NOT OKAY!"
BTS fans also speculate that the group will perform the song "Let Go" from their Japanese album, Face Yourself.
"magic shop, let go, and lights in on the setlist for japan muster,, i guess it's crying season," a fan tweeted.
"Lights, Let Go, AND Home are on the Japan muster setlist….I'm gonna cry so much please I need a MINUTE," wrote a fan on Twitter.
BTS fans are excited for the setlist
Unfortunately for ARMY, the Japan Muster will not be livestreamed like the 5th Muster in Seoul. Some of the songs on the setlist are songs BTS rarely performs, so fans in attendance are in for a special treat. On social media, ARMY posted how excited and jealous they were for the upcoming setlist.
"karmys and jarmys always winning when it comes to muster setlist and merch. it really hits me when i cant even listen and see them perform irl my fave songs and I—," a fan tweeted.
"BTS IS GOING TO PERFORM LIGHTS, HOME, LET GO, BEST OF ME, MAGIC SHOP, AND HOME TOMORROW AT JAPAN MUSTER WHEN I SAY J-ARMYS WON THE SETLIST," one fan tweeted.
"wait… @BTS_twt japan muster this weekend… means they'll be performing the same setlist last seoul/busan muster…. that means they'll be performing home.. pied piper… dimple… another lost for i-armys hshshhs :((," wrote a Twitter user.