ARMY Thinks BTS's New Album Is Coming on Oct. 25
ARMY is always theorizing about what BTS will drop next. Fans were right about the collaboration between J-Hope and Becky G and BTS: Bon Voyage season 4. For months, ARMY has theorized BTS will release their new album in October. Now some fans are convinced the comeback date is Oct. 25.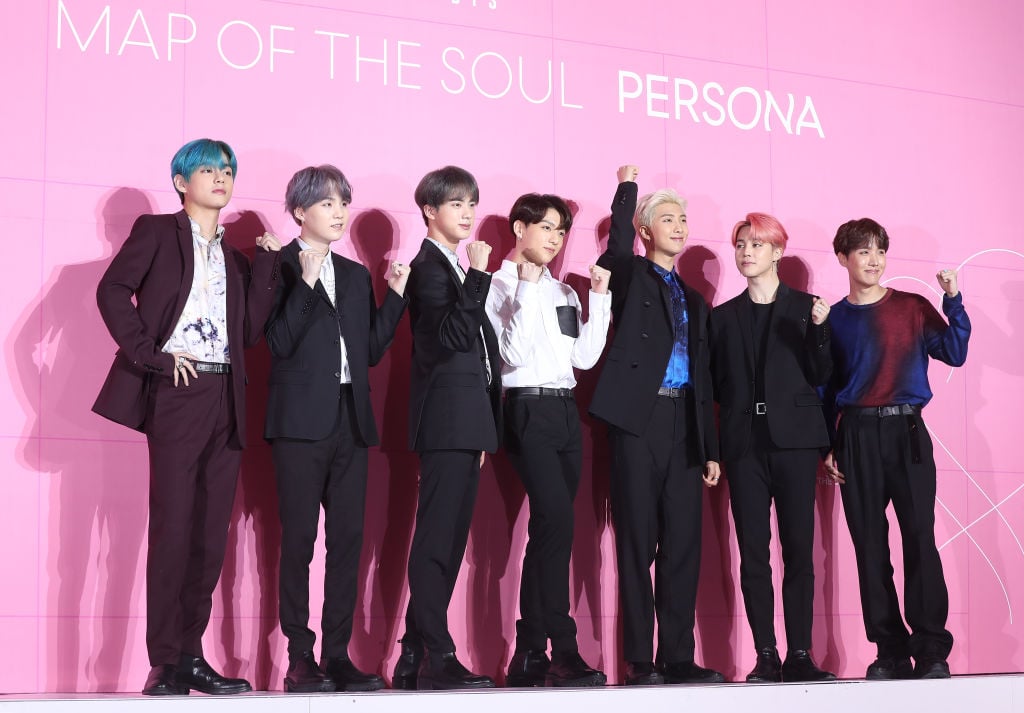 An image with the theorized comeback date spread throughout Twitter
On Sept. 29, an image spread throughout Twitter that sent ARMY speculating. In the image, BTS's name and proposed album title were written beside the date Oct. 25. While the date and album name are just a prediction, it was enough to make ARMY excited.
"RUMOR BTS will comeback with 'SHADOW' on October 25 this is still UNCONFIRMED. So let's just wait for BigHit's announcement PS: this is just a PREDICTION from Taiwanese ARMYs and the red words on the bracket says 'no fixed date,'" a fan wrote on Twitter.
The rumor also caused widespread confusion throughout the BTS fandom.
"WHY IS SUDDENLY EVERYONE SAYING BTS IS COMING BACK ON OCTOBER 25," one fan tweeted.
Big Hit Entertainment has not confirmed a new album for BTS
While fans have speculated about a new album for months, Big Hit Entertainment has not confirmed anything. The company announced a comeback for TXT, but has not released any new information about a BTS comeback. Even though there is no confirmation, BTS fans are not deterred.
"Watch BigHit deny that October 25 is BTS's comeback date like they always do but it's actually true," a fan tweeted.
Even without confirmation, BTS fans think Big Hit Entertainment could announce BTS's new album in October. If the group is expected to have a comeback in the fall, an announcement at the beginning of October would give fans plenty of time to pre-order the album and emotionally prepare.
"Tomorrow is October 1st. Bighit *might* drop news of BTS Comeback date. We will start having one month pre-order for the albums. Be on your guard, the shadow era about to start soon," a fan account tweeted.
BTS fans already have several theories about the new album
The theory about BTS's comeback being on Oct. 25 is only the latest theory about a new album. Already, fans have theories about the album name, theme, and comeback stage. Fans have suspected the album will be called Map of the Soul: Shadow since early 2019.
In the music video for "Persona," RM stands in front of a chalkboard. "Map of the Soul" is written with the words "Persona," "Shadow," and "Ego." With Map of the Soul: Persona being the first, fans assumed Map of the Soul: Shadow and Map of the Soul: Ego are the next albums in the series.
Fans also think the album will have a darker tone than Map of the Soul: Persona. ARMY speculates the new album will be like Wings or Love Yourself: Tear.
The comeback stage for BTS's new album depends on the album's release date
Because fans speculate the album will drop in either October or November, they have different theories regarding the comeback stage. If the group's comeback is in October, then BTS could use their concert dates for Love Yourself: Speak Yourself [The Final] as a comeback stage.
"I'm aware this probably is wrong, and I know it's difficult to predict this time around as TXT is known to be having their comeback around the same time, BUT my prediction is that BTS will have their CB stage at the SY Seoul finale 26/10 so 25/10 will be their CB date," one fan speculated on Twitter.
If BTS's comeback is not until November, BTS could use the iHeartRadio Jingle Ball concert as a comeback stage. The group is confirmed to perform at the concert in December, and could use the concert to promote a new album in the U.S.
A fan tweeted, "bts are confirmed to perform at the jingle ball on dec 6. so im guessing their comeback is in november??"