'The Hills: New Beginnings': Audrina Patridge Says She Will Always Have 'Chemistry' With Ex-Boyfriend Ryan Cabrera
Did Audrina Patridge just hint there's a possibility she could rekindle a romance with her ex-boyfriend, Ryan Cabrera, during an episode of MTV's reality series, The Hills: New Beginnings? Learn what Patridge said on The Hills reboot about the "chemistry" between her and the 37-year-old musician ahead.
Patridge, 34, has been back in the spotlight this summer since The Hills: New Beginnings premiered on MTV in June. In the show's latest episode, Cabrera and Patridge spent some quality time together catching up on a boat (It's Orange County, Calif., after all). 
Patridge made it clear there's still something between her and Cabrera nine years after they were first romantically linked. In Jan. 2010, they had a brief relationship and broke up in May of that year. Last summer they were romantically linked again but by Oct. 2018 had called it quits.
Audrina Patridge will 'always' have 'chemistry with Ryan Cabrera
Before meeting up with her ex-boyfriend, Patridge didn't hesitate to share her feelings about Cabrera with her co-star, Mischa Barton, a former cast member of  The O.C., Fox's teen drama.
"He's someone that I care about," Patridge told Barton before spending time with Cabrera. "We always hang out and there's no label or anything, right now. We just really enjoy each other, and whatever happens, happens, I guess."
Patridge may appreciate a take-it-slow type of dating situation at this point in her life because of ongoing drama with her ex-husband, Corey Bohan, 37, specifically about custody of their 3-year-old daughter, Kirra Max Bohan. Learn why Patridge's daughter isn't featured on the show, here.
The couple's divorce became official in Dec. of 2018 and Patridge's been open about struggles she's encountered as a now-single parent. In an earlier episode of The Hills: New Beginnings, tearing up she confided in another co-star, Heidi Montag, about adjusting to life as a single mom.
Back to her dating life. Spending time with Cabrera may feel familiar and comfortable to Patridge as she's in uncharted territory going from a parenting duo to a one-woman show.
She told Barton she and her ex-boyfriend make time to see each other when they're in the area because of Cabrera's busy schedule.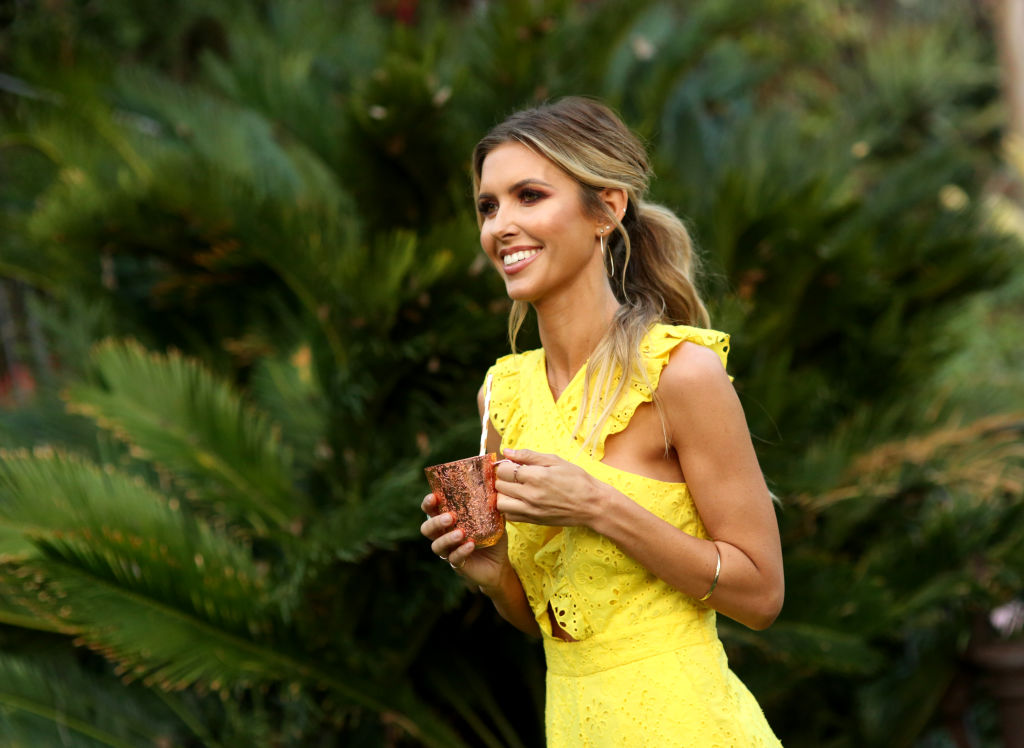 "Ryan's always on tour or producing, so whenever he's back in town, we get together, we hang out," she told Barton, adding, "There's always that little bit of chemistry and flirty-ness between us."
So, Patridge hasn't shut down the idea of rekindling a romance with her former beau. But she's also been linked to another man during her time on The Hills: New Beginnings, Justin Bobby Brescia, a fellow alum of The Hills. 
Is Audrina Patridge in the middle of a love triangle?
As longtime viewers of The Hills know, Patridge and Brescia's relationship has been complicated. He's known for his choice of footwear at the beach: "Homeboy wore combat boots to the beach," as Lauren Conrad once said. Patridge looked past his odd choice of shoes and said during an interview earlier this year "anything can happen" between the two.
She added that while they are "hot and cold" she and Brescia have their "moments" and will "always care about each other and be in each other's lives somehow." So, Patridge may now be in a love triangle of sorts. See what happens next between Patridge, Brescia, and Cabrera on The Hills: New Beginnings Monday nights at 10 p.m. EST on MTV.