'Avengers 5': Will We See 4 Separate Avengers Teams In 'Secret Wars'?
Rumors are swirling that Marvel's 'Avengers 5' - reportedly called 'Secret Wars' - could feature up to four different Avengers teams.
The Avengers suffered some pretty significant losses in Avengers: Endgame, but Earth's Mightiest Heroes are expected to make a big comeback in Avengers 5. Marvel has kept a tight lid on its plans for the group as it heads into Phase 4 of the Marvel Cinematic Universe (MCU), but there are some clues that offer a look at what's ahead. At the forefront is the idea there could be four separate Avengers teams by the time we reach Phase 5.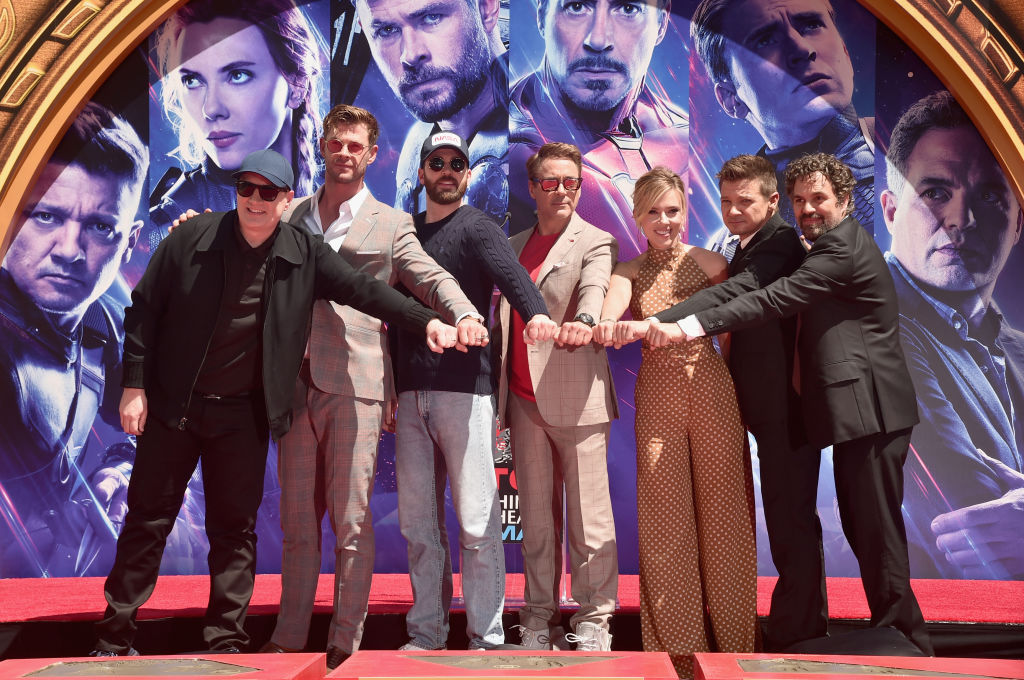 Inside Marvel's plans for 'Avengers 5'
Avengers: Endgame witnessed the death of two Avengers — Iron Man (Robert Downey Jr.) and Black Widow (Scarlett Johansson) — while Captain America (Chris Evans) retired and gave his shield to Falcon (Anthony Mackie).
The only original franchise that will continue in Phase 4 is Thor, with Chris Hemsworth set to reprise his role in Thor: Love and Thunder. The other two franchises that kicked off the MCU, Iron Man and Captain America, are not expected to produce any more solo films.
Over the summer, Marvel announced several upcoming projects, including The Eternals, Blade, and Shang-Chi and the Legend of the Ten Rings.
The studio also acquired the rights to the X-Men and Deadpool, which were previously with Fox. The acquisitions have led to reports of a future Fantastic Four project, though Marvel has yet to release any details on that front.
With a full slate of upcoming projects, Marvel has been tight-lipped about Avengers 5. It is highly unlikely that we'll get another Avengers movie over the next two years, but we could see the group come together as early as 2022.
Marvel has three films scheduled for 2022 but has only revealed the title of one of the movies, Black Panther 2. This leaves the door open for a potential Avengers 5 release in 2022.
Will 'Avengers 5' feature different teams?
Although we lost a few of the leaders of the Avengers in Endgame, there is no reason to believe that the group has completely dismantled.
In fact, there are plenty of superheroes left who could pick up the slack. This includes Falcon, War Machine (Don Cheadle), Scarlet Witch (Elizabeth Olsen), Ant-Man (Paul Rudd), Captain Marvel (Brie Larson), Doctor Strange (Benedict Cumberbatch), and Black Panther (Chadwick Boseman).
With so many franchises being introduced in Phase 4, Marvel could also add these new faces to the Avengers squad. There is a ton of potential for characters like Shang-Chi, Black Knight (Kit Harington), Deadpool (Ryan Reynolds), X-Men, and even the Fantastic Four.
Considering how there are so many characters to pick from, some fans believe that Marvel will form multiple teams for Avengers 5. Each one of these teams would follow various storylines from the comics, including the Young Avengers and the Dark Avengers.
And there is even some speculation that the Avengers won't be limited to the big screens. Marvel is getting ready to launch a slew of TV shows on Disney's new streaming platform, and these characters could also form a team of their own.
Did Spider-Man tease 'Secret Wars'?
While we wait to learn more about Avengers 5, Spider-Man: Far From Home may have teased a Secret Wars storyline for Avengers 5.
The Secret War theories surfaced after fans noticed a scene in the movie that featured Spider-Man's suit from that story. The scene in question features Spider-Man choosing his new suit with help from Tony Stark's technology.
One of the costumes in the gallery looks very similar to the suit Spidey rocked in Secret Wars, which could have been a major tease about what's ahead.
Spider-Man's future, of course, was in jeopardy earlier this year after Disney and Sony failed to reach an agreement. Luckily, the studios finally came together and agreed to produce at least one more solo film for the character.
Disney is also allowed to use Holland in a future movie in the MCU, details of which have not been released.
The next movie in Marvel's lineup is Scarlett Johansson's Black Widow, which is due out in theaters on May 1.
Marvel has not announced when Avengers 5 will be released.