Inside Past Romances Between 'Avengers: Endgame' Co-Stars
The highly-anticipated final installment in the superhero saga that has come to define a generation, Avengers: Endgame, is, at last, less than a month away.
With the original saviors – and a few additions that have been picked up over the last decade – on a mission to avenge the fallen, the final film is destined to be an action-packed and emotionally stirring epic. However, will the narrative be as emotionally infused as some of the off-screen romances that have occurred between co-stars?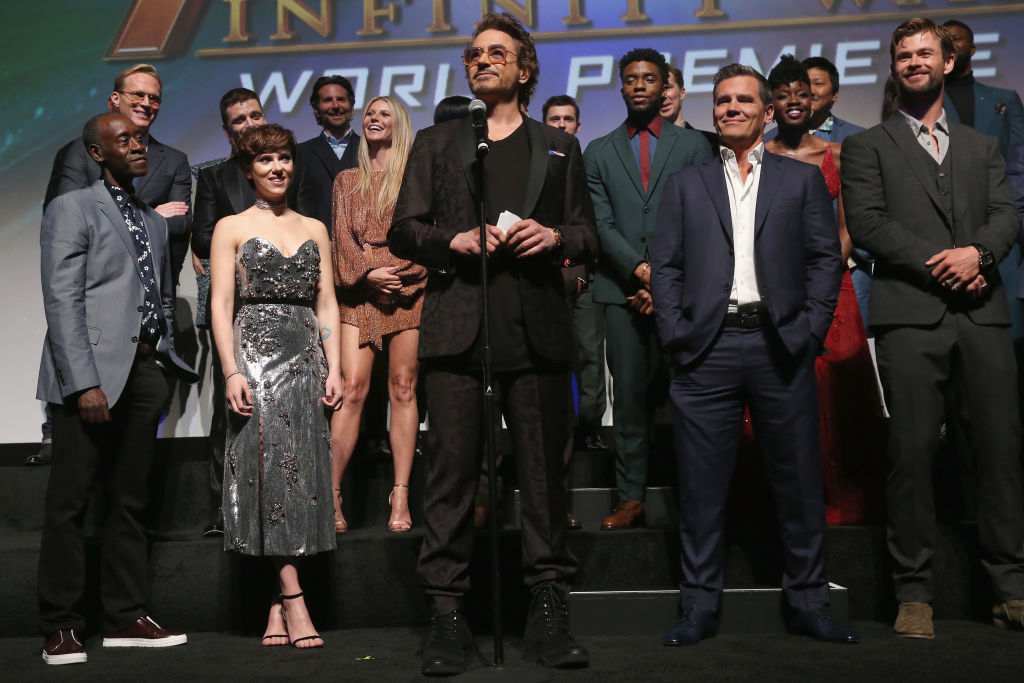 On-screen, the Avengers stay PG-13, committed to delivering an action-packed and family-friendly tale. Off-screen, there have been some hot and heavy romances between co-stars.
From Bradley Cooper and Zoe Saldana to Elizabeth Olsen and Tom Hiddleston, some Avengers: Endgame stars boast a little romantic history. So, just how many Avengers co-stars have tumbled together in between the sheets? Let's break down all the major flings.

Elizabeth Olsen (Scarlet Witch) and Tom Hiddleston (Loki)

Rumors that Elizabeth Olsen and Tom Hiddleston were dating began circulating in 2015, according to Screen Rant. While the couple initially failed to comment, they publically confirmed their relationship soon after the rumors caught wind.

In 2015, Elizabeth Olsen and Tom Hiddleston co-starred in two films together: Avengers: Age of Ultron and I Saw the Light. In the latter film, Hiddleston and Olsen played husband and wife, so it's likely that this film had a larger hand in catalyzing their relationship as compared to Age of Ultron.

According to Screen Rant, sources confirmed that while neither party was looking for a serious relationship, they were good for each other and cared about one another. So, this one looks like a classic friends with benefits story, yet, add a little compassion to the ordinary mixture. Hiddleston and Olsen are no longer "together."

Robert Downey Jr. (Iron Man) and Marisa Tomei (Aunt May)

Robert Downey Jr. and Marisa Tomei dated back in the 1990s, and while the two are no longer romantically involved, they remain close friends. Robert Downey Jr. and Marisa Tomei starred together in 1992's Chaplin and 1994's Only You.

According to Screen Rant, Marisa Tomei confirmed that Robert Downey Jr. got her the role as Aunt May in Civil War, as he recommended her for the part. Throughout the films, Tony Stark comments on Aunt May's beauty and youthful appearance, which prove to be funny little easter eggs for anyone who knows about their romantic history.

Zoe Saldana (Gamora) and Bradley Cooper (Rocket Raccoon)

Bradley Cooper and Zoe Saldana now portray Guardians of the Galaxy members Rocket and Gamora respectively. While Cooper is now in a committed relationship with Irina Shayk and Saldana is married to Marco Perego, the two briefly dated in 2011, while working on the set of The Words.

Cooper and Saldana only dated for a mere matter of months, splitting up in 2012. While both work on the same team in the Avengers, Bradley Cooper only voices Raccoon, so the two probably don't have to spend much time on set together. However, given that both are in happy relationships, it likely would not present an issue.