'Avengers: Endgame': Now We Know How Doctor Strange Drilled Through Those 14 Million Outcomes, And It's Rough
Summer is winding down but that doesn't mean people have stopped thinking—or talking—about Marvel's Avengers: Endgame that was released way back in April. Fans still have questions about the SNAP, time travel, what Loki was up to, what Doctor Strange saw during his calculation meditation, and many, many other things. Luckily, the Russo Brothers are still talking about the movie too.
DVD and Blu-ray releases just came out last week, refreshing the discussion about major plot points, story holes, characters, and deleted scenes. That makes for perfect timing for the two directors to reappear and answer fan questions about some of the most pressing things about Avengers: Endgame and yes, Infinity War too. One of those had to do with Doctor Strange's process for figuring out the winning Avengers scenario. Spoilers ahead.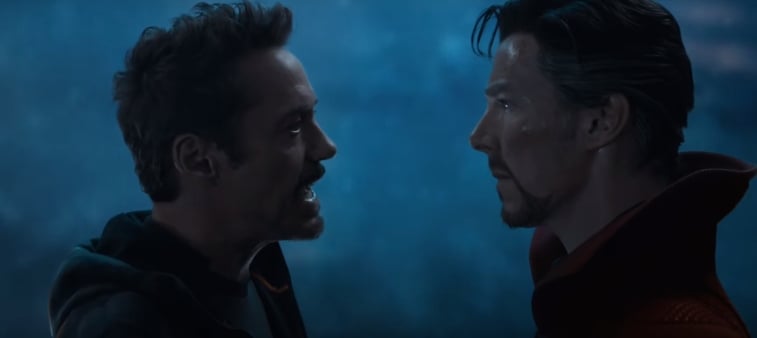 Let's back up to Doctor Strange in 'Infinity War'
After Avengers: Infinity War ended, fans were emotionally gutted about the number of character deaths they witnessed. It didn't matter if they were on social media, sitting in traffic, or sipping on a latte in a coffee shop, people were crying and wallowing in their sorrow over their favorite heroes and of course, that Spidey-Tony Stark scene.
But not everyone was crying. Though the dusty disintegrations were somewhat hard to watch, some of us found ourselves asking, "Wait. Was no one paying attention to Doctor Strange?"
It could be argued that the most important scene in that movie was the one where Doctor Strange told Iron Man, Star-Lord, and Spider-Man that he saw 14,000,605 futures and that there was only one where they won. That was the moment that would define Infinity War and Endgame.
The other clue that was dropped was his chill demeanor when he dissolved into the void, telling Stark, "Tony… there was no other way." Doctor Strange was matter of fact and casual about his deductions, but how did the Sorcerer Supreme arrive at that specific scenario?
It was a painful job, but Doctor Strange had to do it
The Russo Brothers answered a Twitter question about the moment, and they got down to brass tacks. The question posed was, "When Doctor Strange is seeing all the scenarios for how the war could end, does he see it like a montage or a movie? How do you as the creators see this happening in his brain?"
Anthony Russo shared that we know from Strange's standalone film that he when goes into these meditative states, it takes a tremendous amount of time and "Strange has to exert an immense amount of energy to go into this state." Understanding that, we know that it's an arduous process to experience each one of those 14 million+ timelines.
But it was Joe Russo who really put things into perspective by adding: "He has to physically live and die in them. Right before he dies, he has to reset it and do it again, taking copious notes each time he does it." Keep in mind that as a master of the mystical arts and meditation, Strange probably handled the death and discomfort better than others would have.
Peep the Q & A session:
The Russo Brothers were gracious enough to indulge in more Avengers inquiries
During the fun back-and-forth session, the pair managed to squeeze in explanations about what happened to babies during the snap, time travel paradoxes, their favorite superheroes, and Hulk's healing abilities.
We're not going to dig into each of those, but when asked which Marvel superhero they'd want to be if given the opportunity, neither chose a magical figure. Joe said Spider-Man was his favorite from childhood, and he always liked the idea of web powers, climbing up walls, and the Spidey suit. But Anthony preferred Falcon because he's interested in seeing where he takes the Captain America mantle in the future.
Now that we have a better idea of how the Marvel Cinematic Universe is accounting for Doctor Strange's abilities, fans should keep certain things in mind when his sequel film comes out. Don't forget that Doctor Strange in the Multiverse of Madness hits theaters on May 7, 2021.