'Avengers: Endgame' Writers Reveal 'Only Regret' They Have About Black Widow's Death
The death of Natasha Romanoff or Black Widow (Scarlett Johansson) in Avengers: Endgame shocked audiences and left the writers of the record-breaking Marvel film with one regret about the superhero's demise.
When Avengers: Endgame first hit theaters on April 26, 2019, fans of the Marvel Cinematic Universe (MCU) rushed to see the culmination of every Avengers movie before it. While Steve Rogers aka Captain America (Chris Evans) got a happy ending with Peggy Carter (Hayley Atwell), Tony Stark better known as Iron Man (Robert  Downey Jr.)  died along with Johansson's character.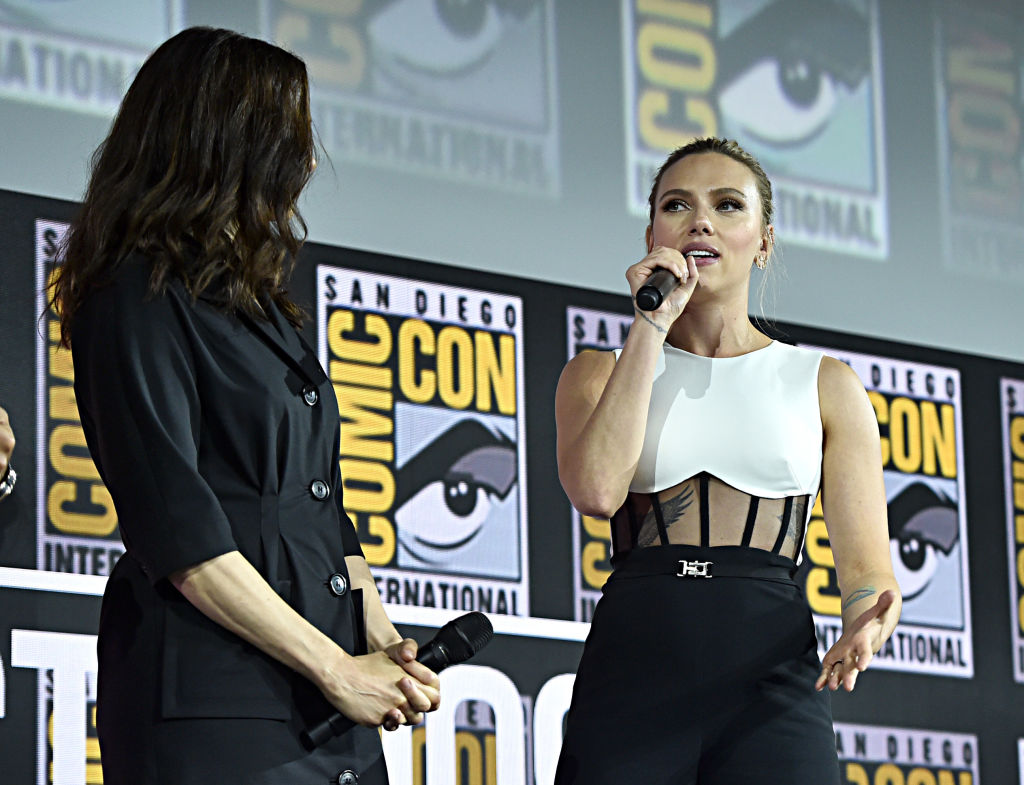 Black Widow sacrificed herself so her fellow superheroes could retrieve the Soul Stone to take down Thanos (Josh Brolin) after she and Hawkeye (Jeremy Renner) had a dispute about who would be sacrificed. 
Writers regret timing of Black Widow's death
Understandably, fans were sad to lose Black Widow in Avengers: Endgame but the writers of the movie, Stephen McFeely and Christopher Markus, feel "really proud of that moment."  But they do regret one thing about it: the timing. 
During an interview with Vanity Fair published on Nov. 20, 2019, McFeely and Markus discussed Black Widow's death.

"I'm really proud of that moment. I don't have any regrets," McFeely told the publication.

OK, maybe one.

"The only regret is that it comes at the end of Act Two," he added. "So you can't really roll around in the grief because we've got another hour of movie and we haven't solved the A-plot problem. So that's the downside."

Other than when Black Widow's death happened in Avengers: Endgame, the writers had no regrets about killing off the character. That might be because they spent years knowing someone would be "going over that cliff."

Death a 'resolution' of Black Widow's story
The writers didn't pick a superhero at random to die by sacrificing themselves for others. When asked about deciding Black Widow's death, McFeely said he and Markus "certainly thought long and hard about it."

 "We knew we were killing the first female hero of the Marvel Universe. We stupidly came up with these rules in the first movie — someone's going over that cliff,"  he said. "So we had to decide." 

McFeely continued saying whoever they picked had to clearly love the other character in the scene and for that reason, they "couldn't send Steve Rogers and Hulk," played by Evans and Mark Ruffalo.

"A puzzle of our own making" as the writer put it, choosing Black Widow to die felt right for the character. "It felt like it was the resolution of her arc, that if she could sacrifice herself for her new family and for half the universe, that was worth it to her," McFeely explained. 
In the same interview, the writers revealed the reactions they got from women on the movie's crew when they said they might spare Black Widow and have Hawkeye sacrifice himself. 
McFeely recalled the reactions he and Markus got saying, "A number of women on the crew, when we said, 'Hey, we're thinking maybe Hawkeye goes over,' said, 'Don't you do that! Don't rob her of this!'"

While Black Widow's story might've appeared to end in Avengers: Endgame Johansson is set to star in a stand-alone film about her MCU character due out on May 1, 2020.