Meghan Markle Is Painting Baby Sussex's Nursery With Eucalyptus-Infused Paint — Here's Why
As Meghan Markle's due date approaches, the Duke and Duchess of Sussex are busy getting ready for baby — starting with a gorgeous nursery in their new home, Frogmore Cottage. The couple are reportedly using a mood board to draw inspiration for their firstborn's bedroom and Meghan Markle has added some unique touches to the space, including eucalyptus-infused wall paint.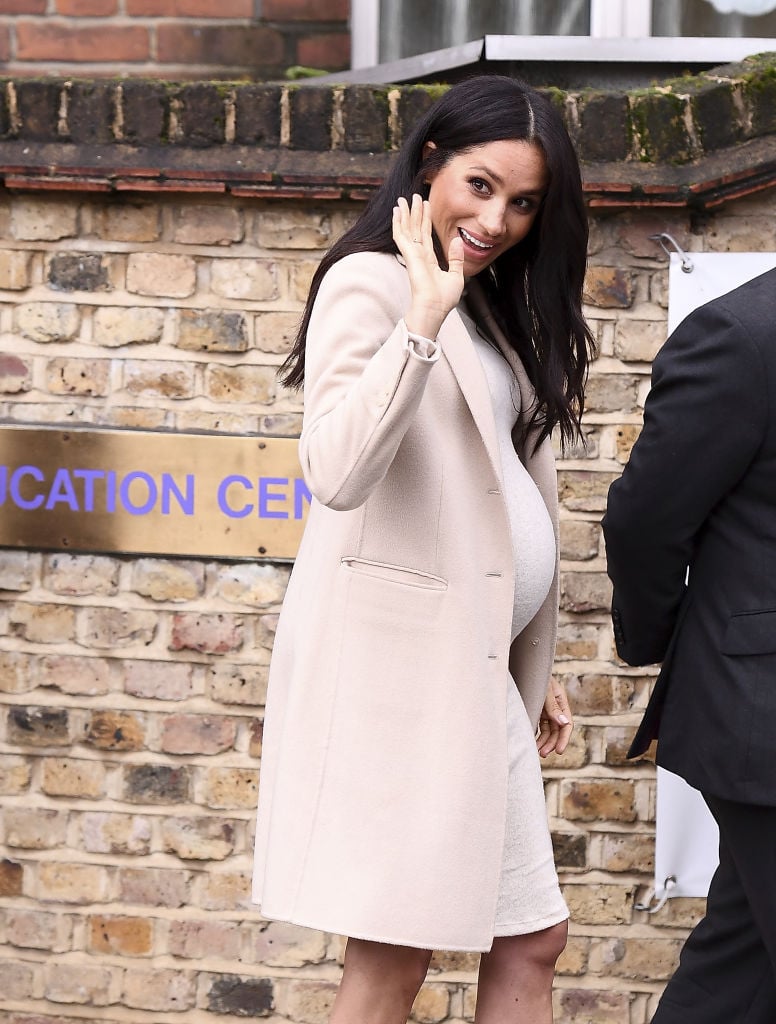 Take a closer look at Baby Sussex's nursery, plus why the Duchess of Sussex wants to incorporate essential oils into the room, ahead.
Baby Sussex's nursery
Meghan Markle is known for her environmental interests, so it should come of no surprise that she and her husband are busy curating an eco-friendly space for their little one's abode. To get ready for baby, they have honed in on an idea that cater's to the mother-to-be's passions and likely the things she will instill in Baby Sussex from a young age.
Vegan paint
According to Cosmopolitan, Meghan Markle has requested vegan paint for Baby Sussex's nursery. As it turns out, most paint used in homes gets its range of shades and textures from animals and crushed bugs (think: Dried gall bladders and ground bones), so choosing a vegan paint is excellent for the environment.
Eucalyptus-infused walls
In addition to going with a vegan option, Meghan Markle plans to infuse the paint with eucalyptus oil. Eucalyptus not only offers a zen-like aroma, but it is also antiseptic, antibacterial, and can help with colds, coughs, and respiratory issues. That said, we don't know how effective the essential oil is when mixed with paint and slathered all over the walls.
Is eucalyptus essential oil safe for babies? It depends on the type. According to Healthline, there are two types of eucalyptus and one is more common than the other. Eucalyptus globulus is the most common species and safe for adults. However, it's not considered safe for children under the age of two. If Meghan Markle infuses Baby Sussex's nursery paint with eucalyptus radiata, there shouldn't be any concern. But, she should check with a pediatrician first.
Smart monitoring system
The Sussex family home is going to be decked out in technology — especially in Baby Sussex's nursery. Father-to-be Prince Harry has ensured that he and Meghan Markle can keep an eye on their firstborn through a smartphone connected monitoring system.
Gender-neutral color scheme
Prince Harry and Meghan Markle might not know the gender of their baby (or, if they do, haven't made it public), but that won't impact the nursery design. Rumor has it, the Duke and Duchess of Sussex chose a gender-neutral color scheme for their Baby Sussex's nursery. And while they might keep it that way, they could also add a splash of pink or blue once the baby arrives.
Mood board inspiration
Meghan Markle is staying organized and inspired with a mood board for her baby's first bedroom. The collage-like organization allows her highness to keep track of colors, patterns, textures, and even specific wants like furniture, blankets, and wall decor.
Check out The Cheat Sheet on Facebook!