'The Bachelor': Chris Harrison Reveals How Peter Weber's Season Will Actually Be the 'Most Dramatic Ever'
Everyone knows Bachelor Nation host Chris Harrison loves to say each season is the "most dramatic ever." But at this point, has the saying lost its meaning? The answer is no. Recently, Harrison has been gearing up for Peter Weber's season of The Bachelor, which will start airing on Monday, Jan. 6. And now, it certainly looks like there's plenty of turbulence ahead. So buckle up — Pilot Pete is about to take us on a bumpy ride.
Chris Harrison hints at what happens in Peter Weber's season of 'The Bachelor'
When speaking with Access on Dec. 16, Harrison revealed Weber's season of The Bachelor will be — wait for it — the most dramatic yet.
"For 18 years, honestly, I've been pulling everybody's leg," Harrison said. "This time I mean it. Peter's season is the most dramatic ever."
The host then teased what kind of bachelor Weber will be when Jan. 6 rolls around. And it looks like the Delta pilot is about to get intimate.
"He's not shy," Harrison said. "And spoiler alert, he has his first kiss on night one. So it happens very quickly."
The Bachelor Nation host continued: "You know, sometimes, the bachelors or bachelorettes will be shy, like, 'I don't want to do this night one' or 'I want to wait.' [Weber]'s like, 'Whatever, I'm going to enjoy this. This is my one time to be the bachelor. I am leaning into it and we're going to go for it.' So he's not shy about showing affection."
That said, Harrison confirmed the women on Weber's season do not take the 28-year-old's public displays of affection very well.
"Clearly not well," Harrison said when asked how the cast members react. "I mean, would you if you're trying to date somebody and you see them making out on night one? Not well. But that's part of it."
But even so, Harrison assured fans Weber is able to handle the situation.
"The thing that Peter's good at is he's so sincere," Harrison said. "He's very endearing, and he wears his emotions on his sleeve. What you see is what you get with this guy. And so, he's very blatantly honest — he's open and honest with the women."
Chris Harrison reveals the defining moment of Peter Weber's season of 'The Bachelor'
Quite frankly, this is The Bachelor. The franchise feeds off the jealousy of contestants. So it's no surprise the cast members in Weber's season feel the way they do. But what will make the pilot's season stand out? What is Weber's "fence jump" moment?
"It's kind of funny. Like what has become the thing? Like OK, what is the 'jump the fence', what is 'the windmill'? What's his thing?" Harrison told Access. The host then shared that Weber's "thing" goes deeper than what Bachelor fans have seen before.
"I think Peter's thing will be steeped in emotion in real-life drama," Harrison said. "It's not something quite as superficial as, say, the windmill or the jumping of the fence. There's something just as dramatic, but it's real-life-based, real-heart-based."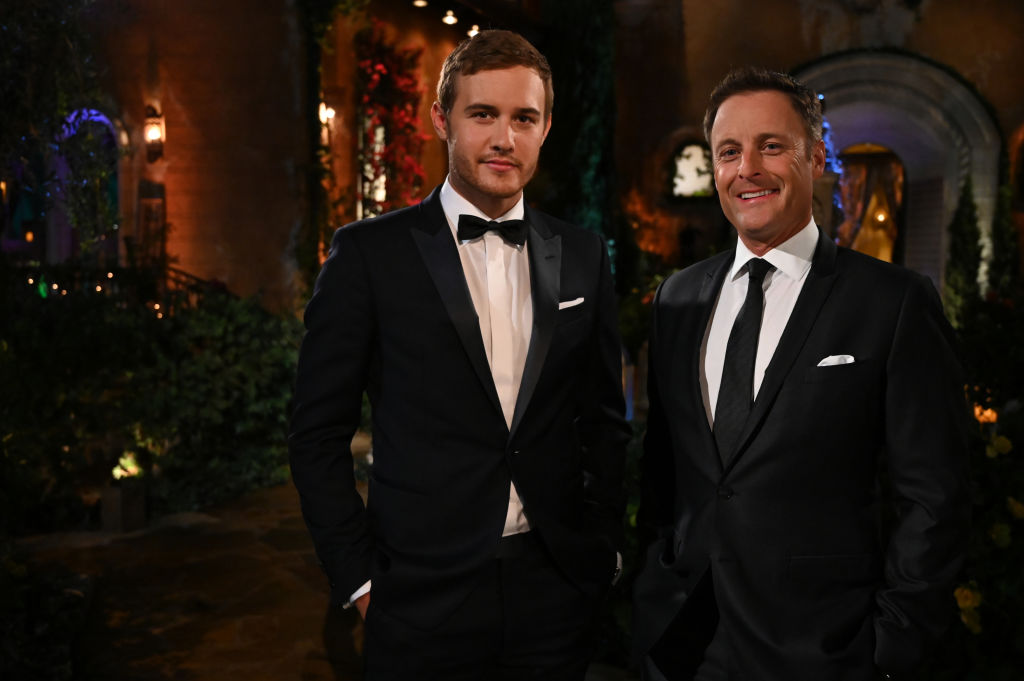 Of course, fans will just have to wait to see what actually happens. However, Harrison hopes viewers don't just remember Weber as the guy who cut his face.
"Hopefully it's not the cutting of the face," Harrison said. "That clearly is a big thing that we have to deal with this season, but there's much more to that."
Then in an interview with Entertainment Tonight, Harrison revealed that despite his — minor — injury, Weber jumped right back into filming The Bachelor.
"This is why I love Peter, he immediately was apologetic about [the injury] and he felt so bad that he messed up the show and ruined our lives and ruined the franchise," Harrison said. "He was such a sweet and sincere loving guy."
Chris Harrison says Peter Weber's season of 'The Bachelor' will feel like Ben Higgins' season
Still speaking with Entertainment Tonight, Harrison continued to weigh in on Weber's character on The Bachelor. And overall, it seems like the new lead has his heart in the right place. But it's possible that's exactly the problem.
"I don't mean this as a pilot reference or anything, it's a wild ride for people. It's a very wild ride," Harrison said. "I was trying to think of a season I could go back and reference, kind of like Ben Higgins' season, where it's a guy who really wears his heart and emotions on his sleeve and is really good at compartmentalizing but almost too much."
He added: "So, where it really lends he has a tough time kind of just cutting the cord with people and things kind of linger. That makes it difficult as he kind of kicks the can down the road. You need some emotional roadblocks and things get pretty tough down the road."
Harrison also echoed this sentiment in the above interview with Access. He noted Weber is all in and his "heart and soul is into it." However, the host hinted it will "lead to a Ben Higgins situation type problem, where you really do start falling for multiple women and you start feeling for multiple women."
"If you're in it, you're in it," Harrison said. "But there are other people part of this and their feelings are gonna get hurt, too."
Read more: 'The Bachelor': Are Hannah Brown and Peter Weber Still Together?