'The Bachelor': Did Hannah Brown Just Prove She Doesn't Stay on Peter Weber's Season?
Let's be honest, Hannah Brown has been through a lot in 2019. When the year started, the Alabama Native appeared on Colton Underwood's season of The Bachelor. Brown then became The Bachelorette and had her heart torn apart by Jed Wyatt. Immediately after, she moved on to win Dancing With the Stars with her partner Alan Bersten. And now, it seems Brown will return to Bachelor Nation in Peter Weber's season airing on Jan. 6. But will Hannah Beast stay at The Bachelor mansion to win back Weber's love? Brown recently shared her goals for 2020 on Instagram. And quite frankly, her comments tell us everything we need to know.
Hannah Brown will appear on Peter Weber's season of 'The Bachelor'
In the promo trailer for Weber's season of The Bachelor, Brown makes a surprise appearance. However, the edit makes it look like Weber and Brown want to get back together.
"I'm so confused right now," Weber says. "What are you doing here?"
"Making decisions for my heart," Brown says. "Because I know there's still something there and I would do anything for our relationship."
Then Weber gets cozy with Brown and asks the former bachelorette to join the cast. "Hannah Brown," he says. "What would you say if I were to ask you to come be part of the house?"
Of course, the preview ends there, egging fans on to watch the premiere. But a few more details are given away in the official synopsis, courtesy of ABC, where The Bachelor teases Brown's involvement in Weber's season. And it seems Brown will appear twice in the Jan. 6 episode — once at limo night and again on a group date.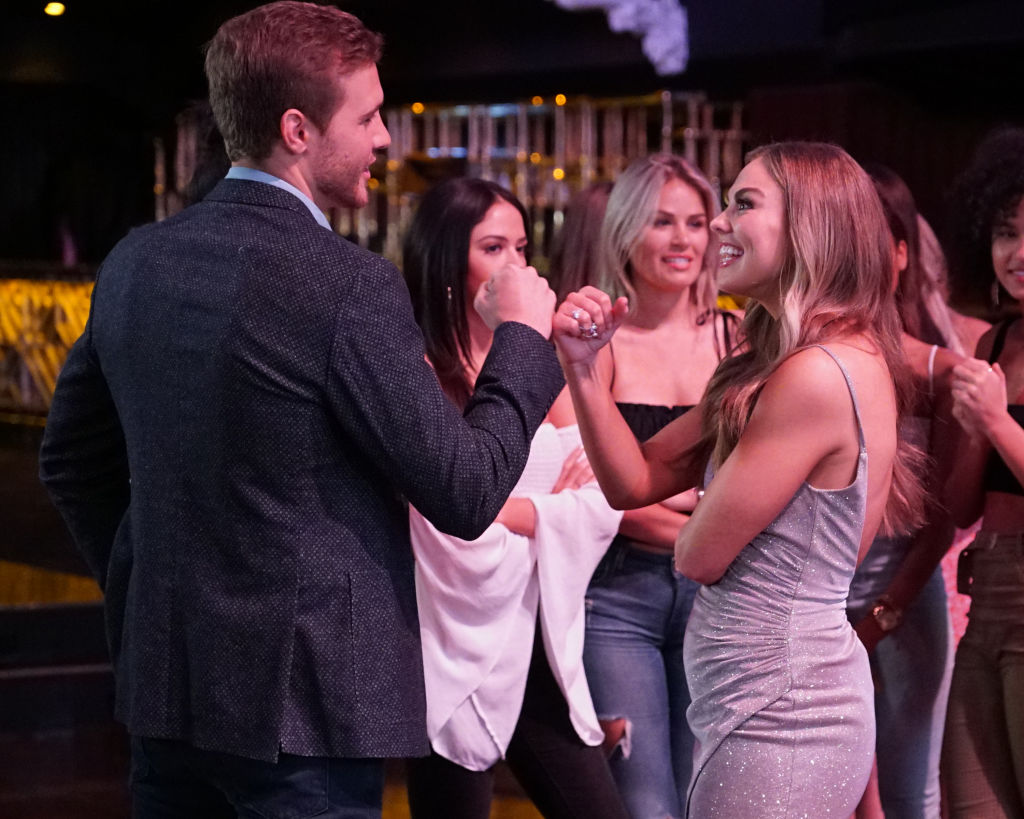 "Hannah B. steps out of the limo," the synopsis reads. "Why would she be here?"
Then on the group date, Brown "explains to the nine enthusiastic women that they will be revealing their most memorable sex stories and fantasies in front of a live audience."
Nevertheless, the network continues to create buzz surrounding Brown and Weber, as the two former flames have a moment at the group date.
The synopsis continues: "But what happens when Peter discovers a distraught Hannah backstage? What she shares with him will leave them both as confused as ever. Do the two of them still have feelings for one another and share the same sizzling passion? Will Hannah join the group of women in the Bachelor mansion and continue to date Peter?"
Hannah Brown shares her 2020 goals on Instagram
On Instagram, Brown shared her 2020 goals with her followers. The DWTS champion detailed multiple action items and plans to turn self-care a priority, make new friends and discover her community in Los Angeles, get healthy by eating better and working out, continue dancing, and find an assistant manager she can trust.
Then in her second Instagram Story, Brown revealed she's hopeful about finding "the real kind" of love in the new year.
"LOVE," Brown wrote as one of her 2020 goals. "I still want it. The real kind."
Given ABC's narrative surrounding Brown and Weber's relationship for The Bachelor premiere, the reality star's remarks might be a bit confusing to some fans. Brown's Instagram Story indicates she is currently single and not dating Weber. So it seems likely Brown doesn't stay on the series for long — or at least she doesn't end up with Weber.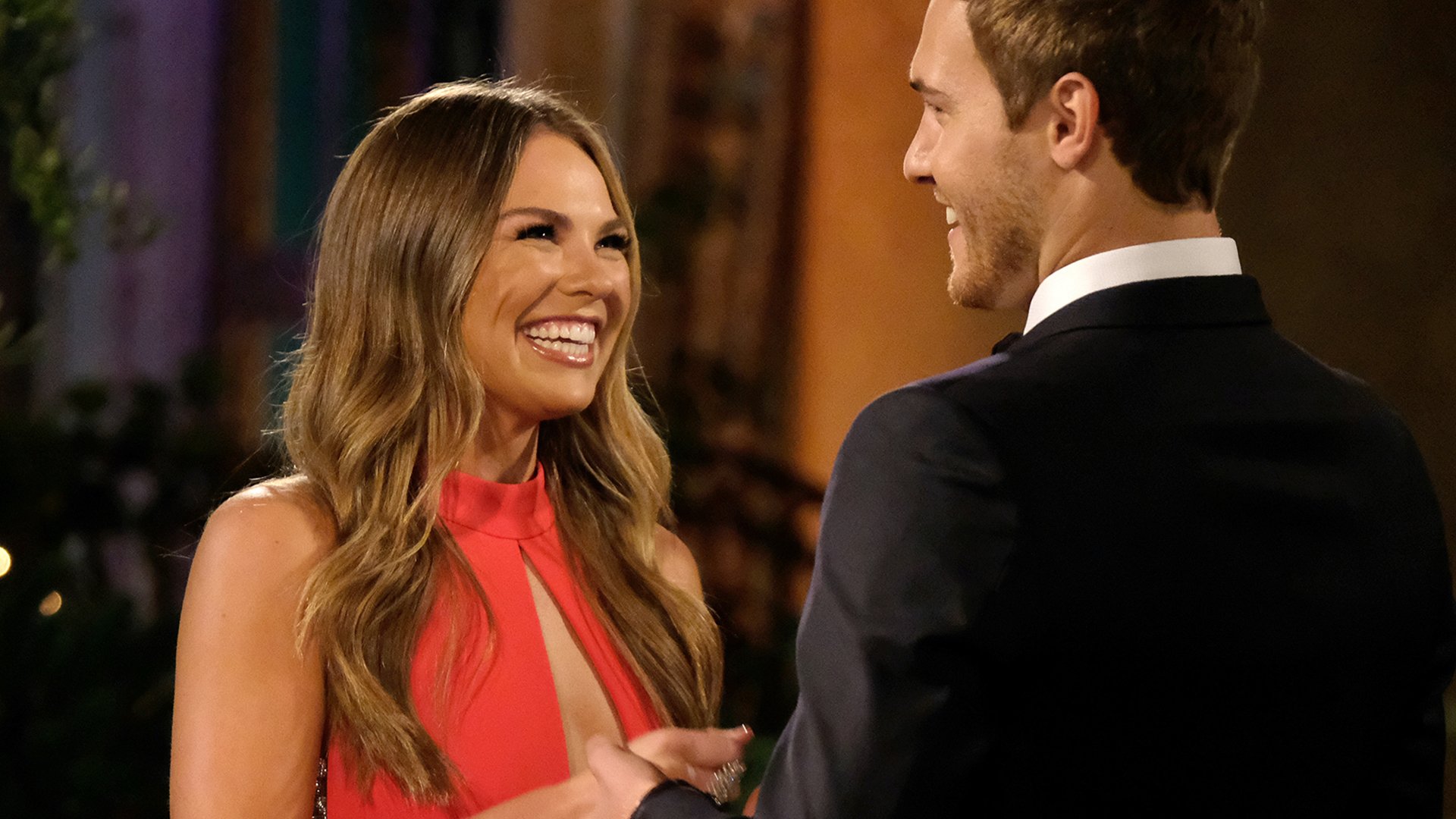 Nevertheless, this idea doesn't exactly come as a surprise. In an interview with Entertainment Tonight at the 2019 Jingle Ball on Dec. 6, Brown hinted she doesn't join Weber's season of The Bachelor, as the dating series was filmed at the same time as Dancing With the Stars.
"I feel like if we put two and two together, like, I worked my *ss off to win that mirrorball… I was in the studio eight hours a day," Brown said. "You should do the math and watch in January."
Even if Brown doesn't stay on Weber's season, it's clear Hannah Beast is ready to embark on her own journey outside of The Bachelor franchise. Then on Instagram, Brown detailed her overarching aspirations for the new year. And basically, the 24-year-old is ready to crush it in 2020.
"Don't give up on dreams," she wrote. "Work hard. Feel good enough. Fell capable enough. Don't settle. Believe you deserve it all. Give back. Be kind. Be strong. Don't take bullsh*t. Be a leader. Learn from others. Gain wisdom. Get out of your comfort zone. Take changes. Stay hopeful."
Read more: 'The Bachelor': Chris Harrison Says Peter Weber Isn't the Same Guy From Hannah Brown's Season of 'The Bachelorette'