'Bachelor In Paradise': Blake Horstmann Releases Text Messages Between Him And Caelynn Miller-Keyes To Defend His "Name"
The last two nights of Bachelor In Paradise haven't been an awesome look for Blake Horstmann. After flirting big-time with Hannah Godwin he took Tayshia Adams on a date. Then it was revealed that, prior to filming, he had spent time with both Caelynn Miller-Keyes and Kristina Schulman.

Schulman addressed her feelings towards Horstmann and how he handled their fling on the date she took him on. She didn't appreciate that he spent the night with Miller-Keyes the night after he slept with her.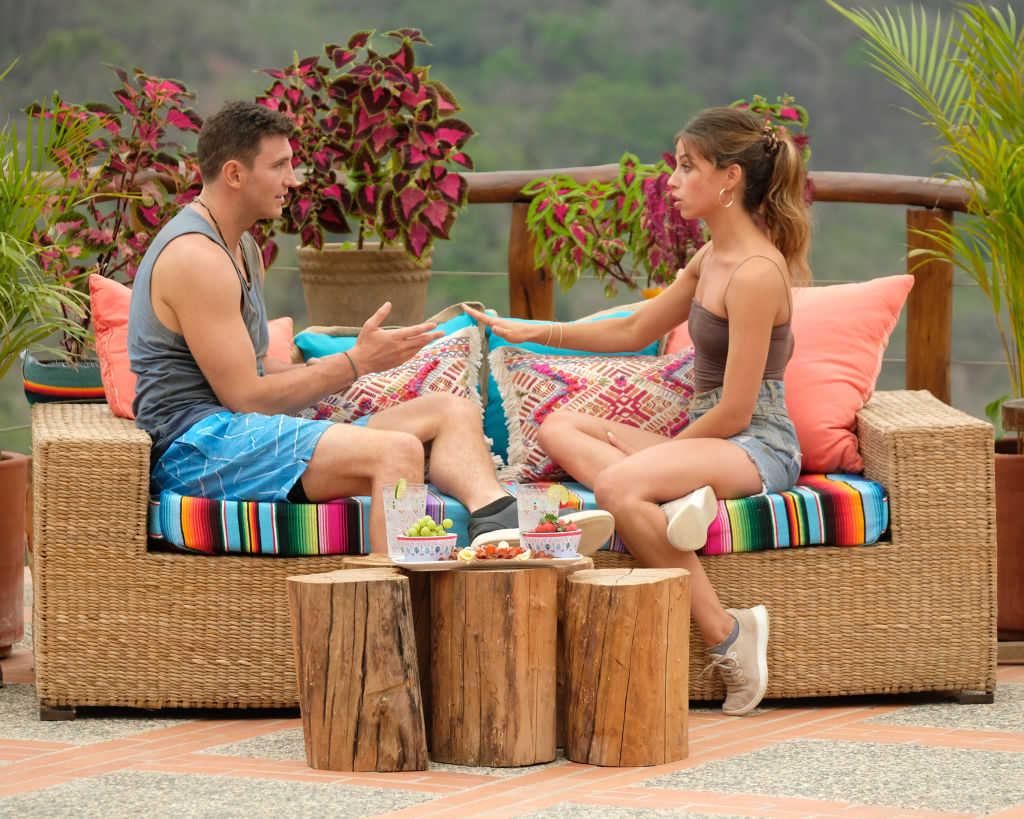 Meanwhile, Miller-Keyes was telling the camera and a few select beachgoers that Horstmann had been making her feel like a "mistake" and "dirty secret." When she confronted him, he apologized for making her feel that way and said he didn't know she had feelings for him. 

After the second episode, Horstmann took to Instagram because he felt his "name and character [were] being attacked."

Blake Horstmann's Instagram spiel about Caelynn Miller-Keyes

He posted a lengthy essay to Instagram about how he's been in a "dark place" and has made mistakes with women recently. He assured his followers that he's working to be better.

Then, he addressed Miller-Keyes' accusations.

"With all of that said, I want the get the truth out. I was not able to defend myself down in Paradise, because me and most of the beach had no idea the things Caelynn was saying in her interviews. I NEVER "sett talked" her at Stagecoach. Caelynn and I were NEVER in a relationship. I NEVER ghosted Caelynn, I NEVER called her a mistake and I absolutely NEVER EVER EVER silenced Caelynn. I never expected to have to do something like this, but after finally seeing the episodes I feel like I have no other choice but to release the text exchanges between her and myself," he wrote.

He continued: "This is the last thing I wanted to do, but my name and character are being attacked. My name is all I really have. Most of all, it is the only real way to prove what is being said by Caelynn and the story that is being shown is far from the truth. I'm deeply sorry for my actions at Stagecoach but telling the world that I silenced a woman amongst many other harmful accusations was just too much."

Then he released screenshots of the text exchanges he had with Miller-Keyes during Stagecoach and just before Paradise.

The text messages Blake Horstmann posted between him and Caelynn Miller-Keyes

Horstmann's intention in posting the messages was to showcase that Miller-Keyes had led him to believe that their relationship was casual, that he did not ghost her, and that he didn't "silence" her.

The first few screenshots from Stagecoach show Miller-Keyes telling Horstmann to "loosen up" and "have a good time" with her. She told him she was coming over for "only sex," after Horstmann told her "We can cuddle but no sex lol."

"If I come over it's strictly for sex. Nothing more nothing less," she told him.

Then, one week before Paradise, according to Horstmann, the pair texted about whether to keep their night together a secret or not.

"Dude I'm shaking/Who knows?/And how?/We've been so careful/What happened?" Miller-Keyes texted Horstmann. Horstmann told her he'd call her back.

"I really don't want to tell people but I also don't want people finding out and looking like a liar," wrote Miller-Keyes.

The two seemed to decide that it's "better to be honest" and eventually conclude that they're "over thinking everything."

Read more: 'The Bachelorette': Tyler C. and Gigi Hadid Reportedly Went Bowling On Their Second Date