'Bachelor in Paradise': Caelynn Miller-Keyes Just Clapped Back at a Fan Who Told Her to Brush Her Hair
This season of Bachelor in Paradise was full of love, heartbreak, and of course, a ton of drama between contestants. We remember Caelynn Miller-Keyes when she made her debut on Colton Underwood's Bachelor season. And when she arrived on the beach, she was heartbroken over how her relationship with Blake Horstmann seemed to end prior to the show filming. Now, we know she's with Dean Unglert after a tumultuous beginning to the season — and it seems like she's finally happy with her love life.
Like all reality stars, Miller-Keyes isn't immune to critique. And while she's been criticized for her choices in the past, it seems fans are now attacking her for her hair. Here's what she just commented back to a fan on Instagram.
Caelynn Miller-Keyes is posting her current travels online
Dean Unglert and Miller-Keyes were bad at hiding their relationship before the conclusion of Bachelor in Paradise, as they both posted photos to their Instagrams that showed they were traveling in the same locations. As fans know, Unglert is currently living out of his van and plans to stay unemployed so he can continue his explorations in the near future. And while he first broke up with Miller-Keyes in Paradise since he didn't think their relationship could ever work in the real world, he returned to beg for forgiveness and ask her to leave the show with him.
Miller-Keyes reluctantly agreed — and while she's never lived out of a van before, she seems to be adjusting now. Not only have her and Unglert traveled together, but she's also currently on a trip to Paris with a few other Bachelor Nation stars. It appears she's in France to promote Amaryllis Apparel, too.
She's been critiqued many times in the past for her behavior and relationships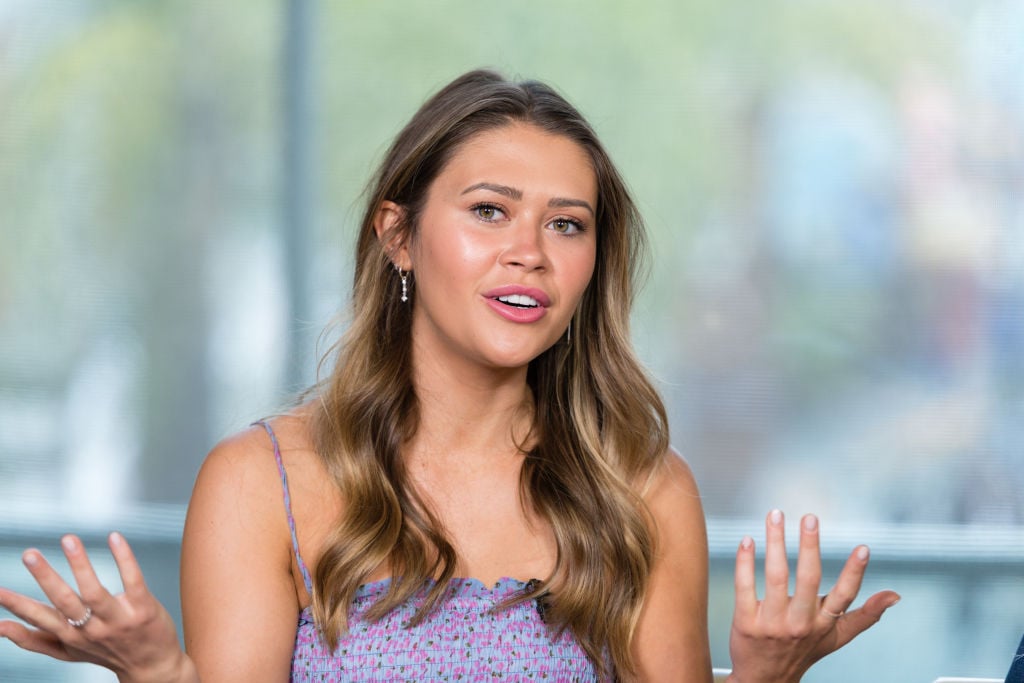 Now that Miller-Keyes is in the spotlight for her relationship with Unglert, she's being picked apart for her current and past behaviors. We can't forget that many questioned her true intentions for even being a contestant on The Bachelor in the first place, as many thought she just wanted to claim her spot as the next Bachelorette. And in Paradise, it was drama from day one of her beach arrival. She claimed she was deeply involved with Blake Horstmann prior to the show, and Horstmann then chose to release text exchanges between them to prove his own points.
It turns out Unglert's ex, Rachel Lindsay, isn't necessarily a fan of Miller-Keyes either. "I don't get Caelynn and I'm not a huge fan, I'm just going to be honest. I don't get her," Cosmopolitan reports Lindsay told PeopleTV's Reality Check. "She was head over heels for Dean. Connor walks in, she's flipping her hair and she's like, 'Connor is who I wanted to meet the entire time.' She apparently was crying over Dean at the wedding but then sees Connor and completely changes — which one is it?" she continued.
She responded to a follower who told her to brush her hair
It's not just Miller-Keyes' behavior that's under fire. Now, it's her looks. The pageant queen posted this photo of herself in Versailles while promoting Amaryllis Apparel, and one fan commented on her hair. "You're very stunning but please brush your hair once in awhile," the follower wrote. To that, Miller-Keyes had her own snarky response. "lol what's a brush?" she clapped back. In another comment, she then added, "also… wind…."
Miller-Keyes also took to the comments to write back to a few others who had questions. "Where do you get ready in the van?" another asked along with a crying-laughing emoji. And Miller-Keyes responded with, "I don't…." Considering she's in a totally different country than Unglert, this makes sense. But it looks like she'll be back to Unglert soon. Another fan wrote, "From van to Versailles. Get it girl." And Miller-Keyes added, "and straight back to the van."
We're loving that Miller-Keyes is so responsive on her Instagram. And fans can't wait to see her and Unglert reunite once again for more luxurious fan living!
Check out Showbiz Cheat Sheet on Facebook!