'Bachelor In Paradise': Dean Unglert On Why He's Not On 'Engagement Level' With Caelynn Miller-Keyes
'Bachelor In Paradise': Dean Unglert and Caelynn Miller-Keyes aren't getting engaged any time soon.
Dean Unglert and Caelynn Miller-Keyes got together on this past season of Bachelor In Paradise. The two became incredibly smitten with each other as soon as Dean entered the beach. But after a couple weeks of getting acquainted, Dean ended their relationship and left Mexico because he felt he couldn't give Caelynn what she wanted (a relationship). And he did it on her birthday.
Caelynn was heart broken for a couple episodes but seemed to move on to Connor Saeli well enough. But just as things were starting to get serious with Connor (the two were headed to the "boom-boom room"), Dean came back to Paradise to ask Caelynn to leave with him.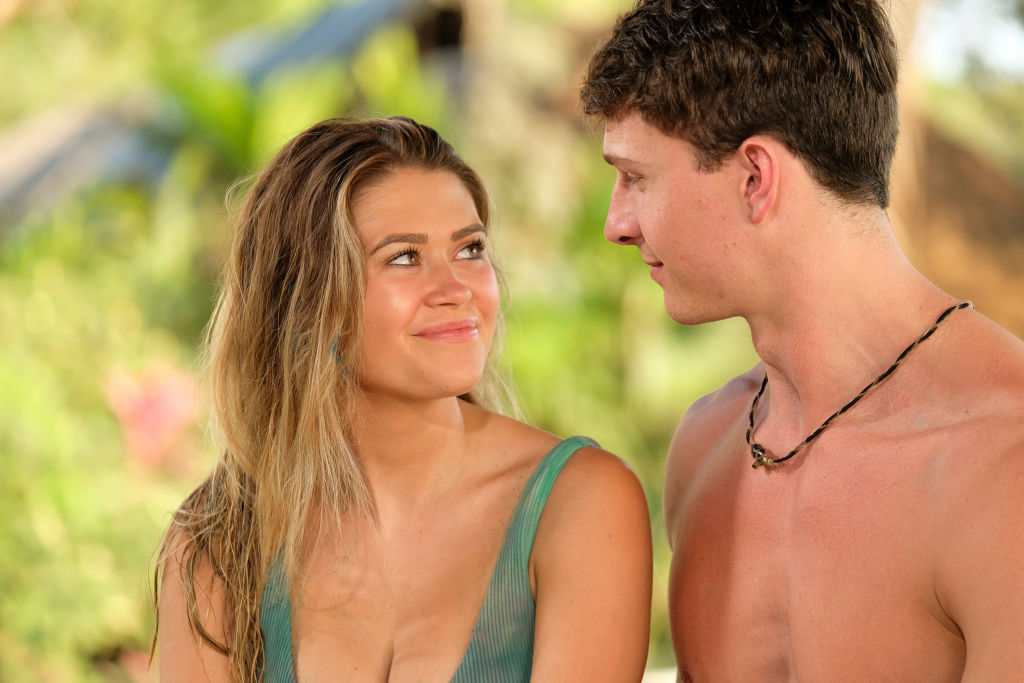 She did, and the two are still together today.
Dean says he and Caelynn are treating their relationship like a 'real life' relationship
According to Dean, their relationship is "going well," but the two aren't anywhere near getting engaged.
"Caelynn and my's relationship is very new of course. We're two and a half months into our relationship and things are going well. I don't know, we're obviously not on engagement level yet, that's gonna take a little bit of time. But I think that that's like an appropriate realistic standard that we've set for ourselves. We're just gonna, like, date regulalry and hopefully something happens and if it does: great, and if it doesn't, we're both individuals who are gonna be ok without it," he told Access recently in an interview.
Dean went on to talk about dating in Bachelor Nation vs. dating in "real life."
"I made a very concerted effort to keep a realistic idea. Like, when you're in real life, you date for a year, two years, then you begin to realize and think about what the future's gonna hold. For the first twelve months of a relationship you're trying to figure out if you guys are compatible for a life-long partnership. And if you're not, then maybe it carries on a little longer than you want it to, if you are, then you begin to speak more seriously about everything," he said.
Dean says he understands why some Bachelor relationships are successful, because the franchise does a "really good job of condensing timelines." But he also understands why many of them don't work out. He's trying to avoid that with Caelynn.
"The Bachelor does a really good job of condensing timelines. And it's great, and it works, obviously. You see a lot of bachelors and bachelorettes that are married and have kids and are happy. But you see a lot of failures as well and it's because a lot of people rush into it. So I think what we're doing is focusing on what we want and what works for us and kind of forgetting about what people want from us. So we're taking our time. We're happy and that's all that's important I think," he said.
Dean takes back his previous statement saying 'Bachelor' relationships aren't real
Dean's singing quite a different tune about Bachelor relationships these days. When he was interviewed by Access before this past season of Bachelor In Paradise, he notoriously said: "None of these Bachelor relationships are real. Not a single one of them."
He told Access in his recent interview that he regrets making that statement. Maybe because he's found himself in one of those Bachelor relationships.
Read more: 'The Bachelor': Cassie Randolph Insists She And Colton Underwood Are '100 Percent On The Same Page' About Getting Engaged