'Bachelor in Paradise': Demi Burnett Disses Tanner Tolbert for Jed Wyatt Comparison
Demi Burnett is breaking new ground on Bachelor in Paradise by coming out as queer. She revealed that she was dating a woman before going on the show. Find out how Tanner Tolbert compared her to Jed Wyatt and what she has to say about it.
Demi Burnett was dating a woman before Bachelor in Paradise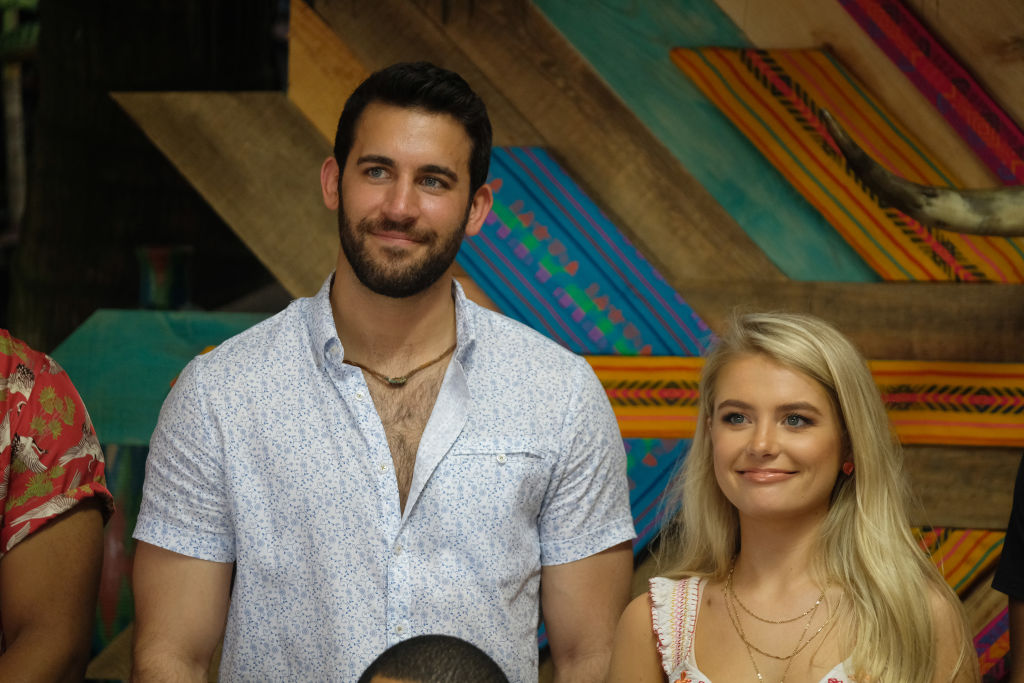 Burnett is in a complication situation this season. She is hitting it off with Derek Peth, but she revealed that she was dating a woman before the show and still thinks of her. Peth seemed understanding of the situation and they are continuing to get to know each other.
Jed Wyatt was previously on The Bachelorette and proposed to Hannah Brown. The problem was that he dated a woman before the show and never ended their relationship. He also kept her a secret and Brown found out through the news.
Now someone is comparing the two contestants. Burnett also has something to say about it.
Tanner Tolbert compared Burnett dating before the show to Wyatt
One person who doesn't seem understanding of Burnett's situation is Tanner Tolbert. He tweeted pointing out that Burnett and Wyatt both dated someone before going on the show. Tolbert deleted the tweet after receiving backlash.
He did later follow it up with tweeting, "Before filming even began I heard that Demi planned to leave the show engaged to this girl… I support Demi fully, but she could have proposed off the show. I am tired of everyone talking beforehand and pre planning these relationships… whether it's Demi, Blake, anyone…"
The former contestant then tweeted, "Demi- Calls out a guy for going on a dating show while having a girlfriend back home on night 1 of Hannah's season Also Demi- goes on a dating show with a girlfriend back home and pre plans to engaged to her at the end of paradise."
Burnett says her situation isn't the same
It's not surprising that Burnett wasn't happy to be compared to Wyatt. She responded to the comment on Twitter.
"Oh f*ck off, not the same at all. Maybe I can teach you a thing or two about going down on your wife @ttolbert05," she tweeted. She later added, "Now excuse me while I drink my mimosa in a robe."
Tolbert responded, "I'm always looking for ways to improve…" He then added, "It's not the same thing? Then how did I hear about your 'plan' before filming even started?"
Burnett answered, "There was NO PLAN. You are speaking on something you HEARD about as if it is a fact. I was 100% honest and upfront the entire time. You are a grown a** man tweeting about rumors."
He replied, "If a rumor becomes true… doesn't it then become a fact? Listen… I love watching you on TV and wish you nothing but happiness. But don't throw stones if you live in a glass house." The season 2 contestant also tweeted, "Gotcha… I must have dreamt it all up then… my bad."
Brown also had her good friend's back. The reality star tweeted, "one is my best friend, one is my ex-fiancé….I can tell you first hand, not the same."
One fan responded to her with, "You can defend one without bashing another , just saying ." Brown tweeted back, "Not bashing anyone…just staying it's not the same and the comparison is irrelevant."
Tolbert seems to still think the situations are the same while Burnett and Brown don't believe that. Fans will have to wait and see if Burnett does end the season by getting engaged.