'Bachelor In Paradise': Dylan Was Nervous Hannah G. Was Going To Turn Down His Proposal
Not everyone's lucky enough to find love on Bachelor In Paradise. And even fewer are lucky enough to leave the show in a relationship that's built to last. But Bachelor Nation is hopeful for Hannah Godwin and Dylan Barbour. After what Dylan describes as a "rocky" beginning, the two connected hard and fast.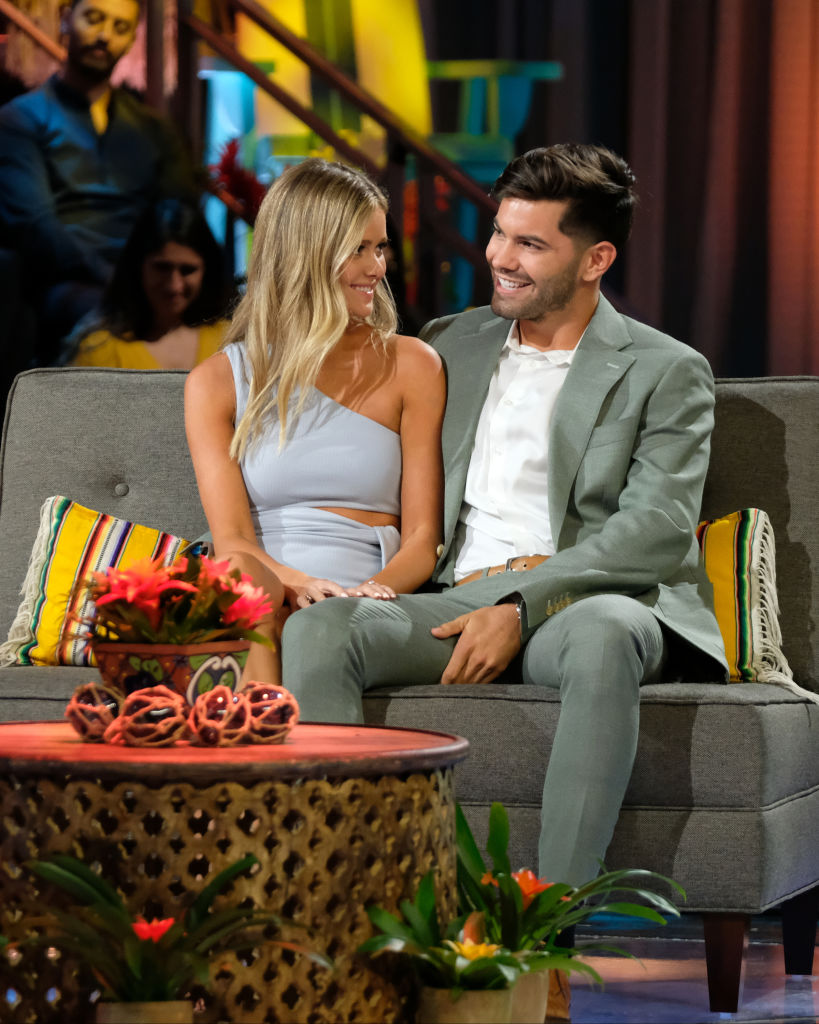 When Dylan and Hannah G. fell for each other
For Dylan, the connection was instant.
"I think it was our first conversation. I thought she was gonna be someone else and I was hesitant. I talked to other people when I got to the beach. I talked to everyone for like five minutes and I was like 'I'm not gonna be lazer focused.' And then I talked to her and it was over for me from that point. She just completely caught me off guard. I think a lot of people don't know just how funny she is and how sweet and caring she is about everybody around her. Yeah, I was just all-in from the second I met her," he recently told Extra in an interview.
Hannah G., on the other hand, fell for Dylan after building a solid friendship foundation.
"I feel like a good basis of a relationship is a good friendship and we have such a good, strong friendship I feel like. We have the same sense of humor, we're good at communicating… there's obviously so many weird social things that are going on when you're filming a show in Mexica and so just watching how he'd react and handling different situations and everything, I feel like that's where I was like 'you're my dude,'" she said in the same interview.
In an interview with Glamour, Hannah says the moment her feelings for Dylan were cemented was when Jordan Kimball asked her out on a date.
"As soon as I said yes [to Jordan], the first thing I thought was Dylan. I was like, Oh, my gosh! This dude. I swear in my head I was like, I love him. Literally, it was so strong," she said.
Both Dylan and Hannah G. felt unsure during their 'Bachelor In Paradise' proposal
Going into the proposal, Hannah G says she swears she had no idea as to whether Dylan was going to propose or not.
"Honestly, in the moment, I wasn't sure if he was going to do it or not. I feel like some people would have maybe an idea but I really had no clue if he was gonna actually do it. As soon as he got down I was just taking in the whole moment, like trying to wrap my brain around it, and I was like 'Oh wait I literally have one job and that's to answer' and I forgot because I was just like [so surprised]," she told Extra.
Dylan says Hannah's hesitation worried him.
"I was literally and figuratively sweating because she wasn't saying anything, staring at me, covering her mouth so I can't see if she's smiling or about to start crying. But she said yes," he said.
And the rest is history.
Read more: Dylan Barbour Has A Bone To Pick With The 'Bachelor In Paradise' Editors