'Bachelor In Paradise' Fans Are Telling Chris Bukowski To Not 'Screw This Up' With Katie Morton
Chris Bukowski and Katie Morton's relationship on Bachelor In Paradise had a slow start. The pair started off as friends before deciding to take their relationship to the next level. But after the two made the jump, Chris had trouble communicating where he was at with Katie despite Katie frequently voicing her frustrations.
The couple did end up getting engaged but, at the Bachelor In Paradise reunion, Katie wasn't wearing her engagement ring.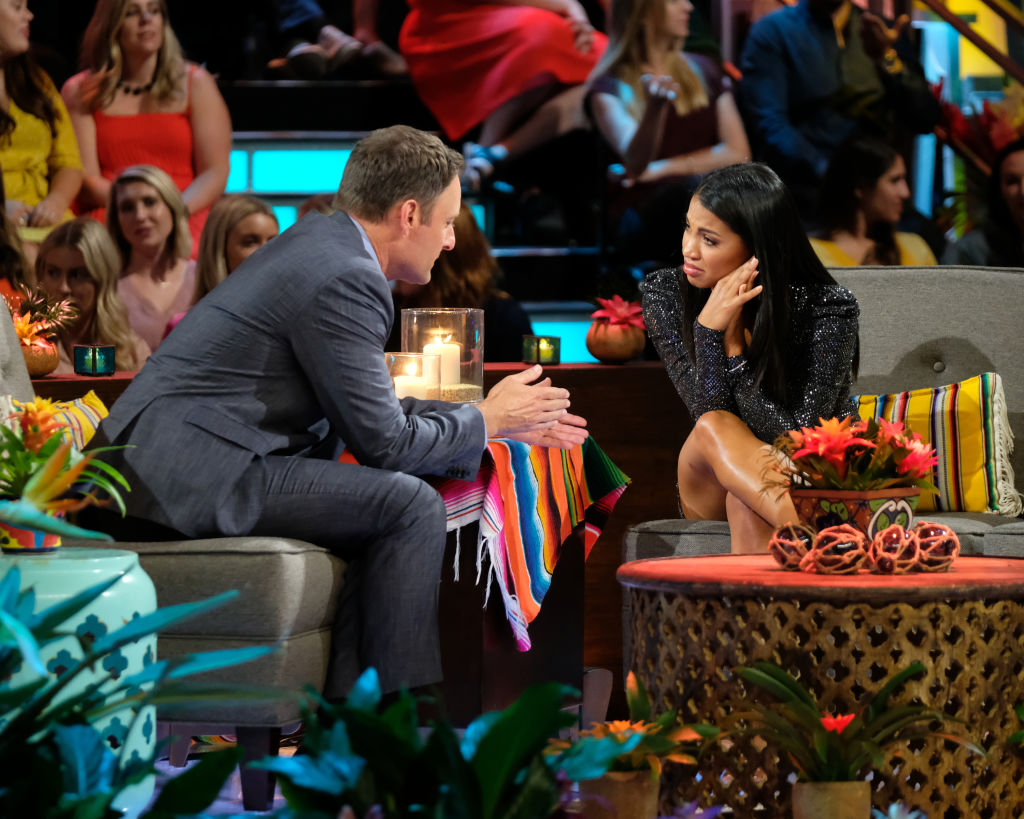 "I just put in so much effort every day and I love him so much, but I put in so much that my tank empties and if I'm not getting it filled, I break down," she told Chris Harrison when describing their "rocky" post-BIP relationship.
When Chris came out on stage, he promised to put in more effort. But when the two exited, he appeared upset (obviously feeling blindsided that Katie had gone on stage without her ring and aired their dirty laundry).
According to their Instagrams and interviews they've given in the week following the finale, Katie and Chris are still together.
'Bachelor In Paradise' fans are telling Chris he needs to shape up for Katie  
On Chris' Instagram, in particular, Bachelor In Paradise fans are weighing in on the couple's relationship. Many fans are telling Chris that he needs to make Katie feel loved or he's going to lose her.
"Chris don't screw this up! You could be great together. I'm rooting for you," wrote one fan on a recent Instagram post of Chris'.
"Please make it work Chris, you have a gem in her!" commented another fan.
"Katie deserves better," clapped another fan.
"What are you doing Katie? You deserve sooo much better!!" wrote another.
"Stop making Katie feel insecure. Love her up and tell her always. Don't lose the best thing that ever happened to you. Get therapy dude!" commented another.
Demi Burnett thinks Katie and Chris need couple's therapy
Fellow Bachelor In Paradise contestant Demi Burnett agrees with the above comment. She was just on The Ellen DeGeneres Show and got candid about Katie and Chris' relationship.
"You know, honestly at this point I'm worried about Chris and Katie," she said, adding that she thinks Katie is doing her best, but Chris still has some room for improvement.
"I know Katie is an optimist and she sees the good, she gets glimpses at the good parts of Chris, but I think Chris needs to step it up if he wants to keep her—and I think she needs to tell him to step it up," she continued.
We'll have to wait and see if Chris can get it together for Katie or if he can't work through his issues.
Read more: 'Bachelor In Paradise': Nicole Lopez-Alvar Absolutely Roasts Clay Harbor In A Comment On His Instagram