'Bachelor in Paradise' Fans Are Telling Katie Morton There Are 'Red Flags' With Chris Bukowski
This season of Bachelor in Paradise was a wild ride from start to finish. And while the show showcases plenty of drama and difficult breakups, there are a few couples who manage to find true love and make it all the way to the end. Hannah Godwin and Dylan Barbour got engaged this season, as did Demi Burnett and Kristian Haggerty. And we can't forget that Chris Bukowski got down on one knee for Katie Morton, too.
It seems there may be trouble in Paradise for Morton and Bukowski, however. While they clearly love each other, fans are telling Morton on Instagram to watch out for all of Bukowski's red flags. Here's why.
Chris Bukowski proposed to Katie Morton on Bachelor in Paradise
Katie Morton and Chris Bukowski certainly weren't the first couple to establish a connection on the show, but once they got together, they seemed to really get along quite well. Despite their connection, however, Morton still had reservations regarding Bukowski. Entertainment Weekly reminds us ahead of the Fantasy Suites, she said, "Before I can even think about accepting the Fantasy Suite card, I'm going to need a feeling in my gut that tells me whether or not it's right." Bukowski reassured her he was falling for her, however, and she felt confident enough to proceed.
This wasn't Bukowski's first go-round on Paradise, but this time, he felt like he found what he was looking for. On Decision Day, he got down on one knee and proposed to Morton — and of course, she said yes.
Morton didn't wear her ring to the After the Rose show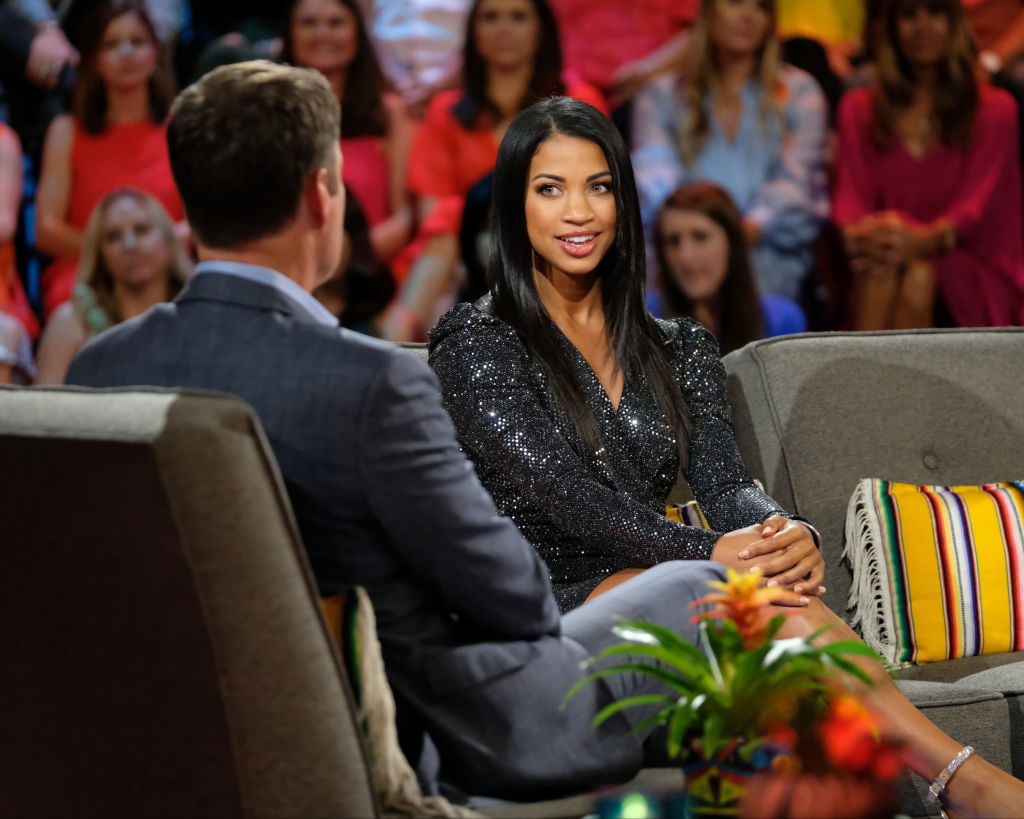 Things were off to a solid start with Morton and Bukowski, but it appears their relationship has since run into trouble. Entertainment Weekly notes during the After the Final Rose show, Bukowski wasn't on stage with everyone else from the show — and Morton was missing her ring. And she noted that while she's in love with Bukowski, communication's been difficult between the two of them.
"We're still engaged. I just put in so much effort every day and I love him so much, but I put in so much that my tank empties. And if I'm not getting it filled, I break down," Morton said. And she also addressed the difficulties of her relationship on Instagram with this post. "I know none of you will truly understand why things are the way they are but I ask that you trust me and support me as I navigate this new world of mine. Because I'm happy with me and we are finally happy with us. We have grown so much in our friendship and now in our relationship since that day," she wrote.
Bukowski added his own post of Morton and captioned it with his candid feelings, too. "Love is tough. Love is beautiful. Most importantly love is patient. Sometimes you need a shock to the system to put a fire under your a**. What I felt then I feel even more now."
Fans are warning Morton that Bukowski has red flags
Bukowski and Morton are making their relationship work, and they seem better now than they were during the finale. But fans are still greatly concerned for Morton. "Your efforts should be appreciated. Don't settle," one follower commented on her recent post. Another wrote, "Being engaged is meant to be the easy, deliriously happy part. Be careful." Yet another added, "Too many red flags and you're making excuses for what he will never be able to give your empath heart."
Bukowski commented on the post, too, however. "Love ya kid.. I'm going to keep that tank full," he wrote.
Despite their differences, it looks like these two are doing the best they can to learn from one another and achieve a healthy relationship. We're excited to see where it all goes!
Check out Showbiz Cheat Sheet on Facebook!