'Bachelor In Paradise': Fans Are Telling Caelynn Miller-Keyes That She's Not A Good Fit For Dean Unglert
Caelynn Miller-Keyes has been involved in some pretty heavy Bachelor In Paradise drama this season. In the first two episodes, Miller-Keyes accused Blake Horstmann of making her feel like a "dirty secret" after they spent the night together at Stagecoach.
When the episode aired, Horstmann posted a lengthy Instagram essay about how Miller-Keyes was attacking his "name and character." He also posted their private text conversations for Bachelor Nation to make their own judgments.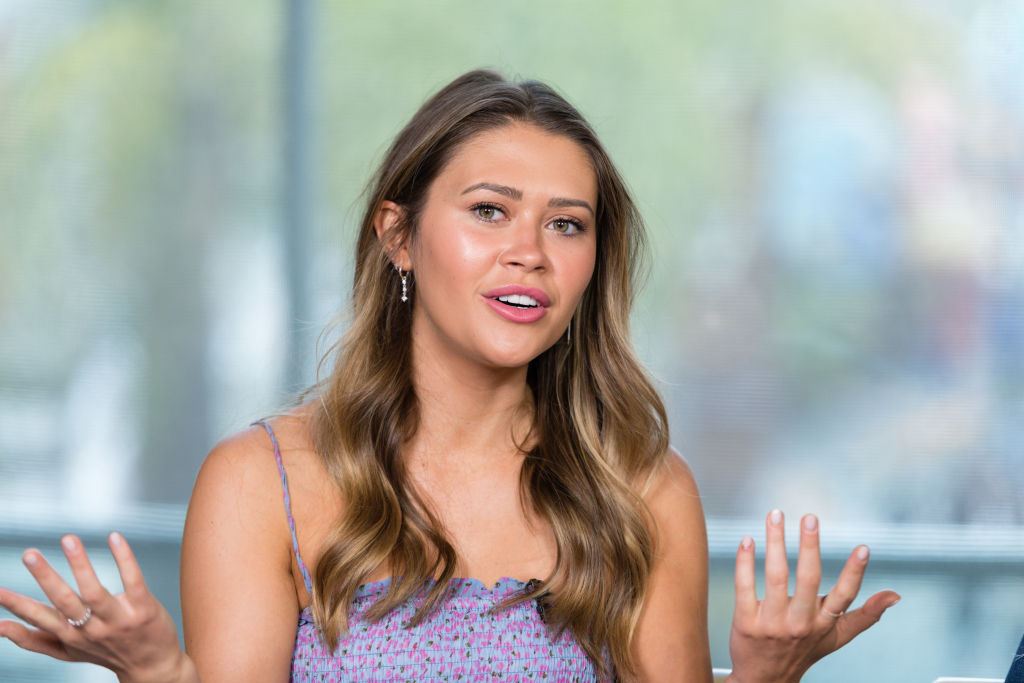 Miller-Keyes responded with her own post about how she was "absolutely mortified our private texts were put out there for the world to see and judge."
On the show, we never really see Miller-Keyes and Horstmann come to a resolution. Horstmann attempts to discuss their relationship with Miller-Keyes but she walks away, seemingly frustrated and hurt.
But just as Miller-Keyes was crying on the beach about a Horstmann-related matter, a new contestant made his 2019 Bachelor In Paradise debut: Dean Unglert. The two hit it off right away and have been cozied up on the show ever since.
Some 'Bachelor In Paradise' fans think Caelynn Miller-Keyes is too 'high maintence' for Dean Unglert
Miller-Keyes recently posted a photo to Instagram of herself posing in front of a body of water in Laguna Beach, California with a Yves Saint Laurent bag.
Several fans took to the comments section to voice their opinion on her new Bachelor In Paradise relationship.
"Girl you have a YSL bag, you hardly strike me as a person who wants to spend her nights in a van!!!" one commenter wrote, referring to a conversation Unglert had with Miller-Keyes about living in his van.
"Doesn't look like van attire to me," another commenter wrote.
"You're too high maintenance for Dean! Drama Queen!" wrote another.
Dean Unglert went on 'Bachelor In Paradise' with no intention of getting into a relationship
According to Us Weekly, Unglert didn't come to Paradise looking to get tied down.
"I'm not saying whether I am in a relationship now or I'm not, but I went on the show with zero intention to leave the show in a relationship," Unglert said on the Help! I Suck at Dating podcast, according to the publication. "Almost actually fighting it, to leave in a relationship."
Unglert has also famously been quoted saying that most of the romantic relationships that take place within the Bachelor franchise are "fake."
Dean Unglert previously had a connection with Lesley Murphy after meeting her on The Bachelor: Winter Games in early 2018. Caelynn Miller-Keyes is from Colton Underwood's season of The Bachelor earlier this year.
We'll have to wait and see if the two really are a good fit, or if their priorities and lifestyles don't match up as some fans are suggesting.
Bachelor in Paradise airs Mondays and Tuesdays on ABC at 8:00 pm.
Read more: 'Bachelor In Paradise': Nick Viall Says Blake Horstmann Premeditated Releasing Text Messages From Caelynn Miller-Keyes