'Bachelor in Paradise': Have Some of the Engaged Couples From Season Six Broken Up?
'Bachelor in Paradise' produced some pretty solid couples this past season. Three of them even got engaged. But are they still together?
Bachelor in Paradise may be over, but the engagements that resulted from this season shouldn't be, right? Well, we wouldn't be too sure. Reality tv relationships are notorious for ending just as quickly as they started.
Bachelor in Paradise only films for a little over two weeks, so it only makes sense that the relationships formed on the show wouldn't be completely set in stone.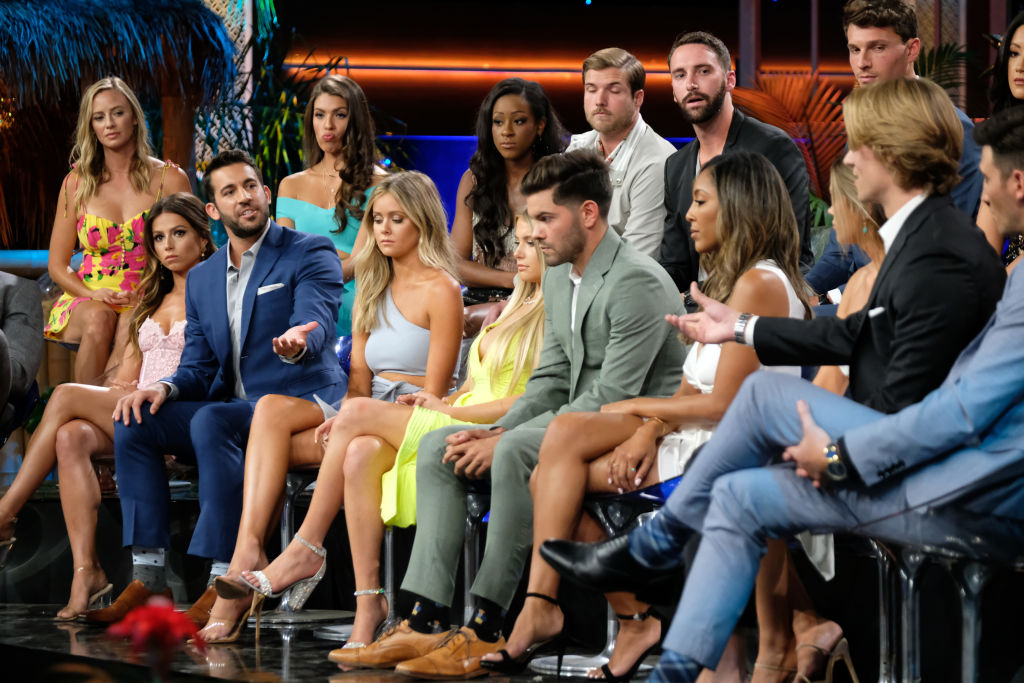 This season, three couples ended the season with rings on their fingers, Demi Burnett and Kristian Haggerty, Hannah Godwin and Dylan Barbour, and Katie Morton and Chris Bukowski. While they all seemed happy when the cameras stopped rolling, there are a few things that lead us to believe that that might not still be the case.
Demi Burnett and Kristian Haggerty
Burnett and Haggerty had one of the most interesting storylines of the season. In the beginning, Haggerty wasn't even on the show as she isn't a member of Bachelor nation. But once Burnett realized that she couldn't stop thinking about Haggerty and the relationship that they had formed at home, production brought Haggerty onto the show.
The two only dated each other throughout the rest of the season, unlike their fellow Bachelor in Paradise contestants. In the end, Burnett proposed to Haggerty in one of the most heartfelt moments of the season.
But since then, the two have rarely posted one another on their social media accounts. In fact, Haggerty posted an image of her and another woman, with the caption, "Couldn't do this crazy life without ya."
Some fans thought that maybe this meant that Haggerty had a new girlfriend, but Burnett commented on the post "love yall," so there doesn't seem to be any bad blood there. And both Burnett and Haggerty are still wearing their engagement rings, so it's probably safe to assume they are still together.
Dylan Barbour and Hannah Godwin
From the moment Barbour laid eyes on Godwin, he knew that she was the one that he wanted to be with. Unfortunately, Godwin didn't feel the same way. She was down to kiss pretty much anyone that tried and spent a lot of time getting to know resident Stagecoach Romeo, Blake Horstmann. But in the end, she chose Barbour and the two got engaged.
Since their engagement, the two have been constantly posting one another on social media so it's clear that they are still together.
Katie Morton and Chris Bukowski
Morton and Bukowski also had a rocky road on Bachelor in Paradise. Bukowski claimed that he loved Morton but was unable to really show it.
After their engagement, Morton posted a lengthy caption to Instagram, saying that her relationship with Bukowski had been difficult.
"As you've seen…It's been the furthest from easy," she wrote. "From the decision to take the leap onto the beach, navigating what was real and staying true to myself, and my world that spun out afterward."
She went on to say that she couldn't rely on Bukowski for joy.
"Your partner can make you laugh but your partner is not responsible for your happiness," she continued. "Happiness is found within and sharing that with each other is what lights up a room! Communication is the link to everything, which is something we sure did LACK in paradise and shortly after. It took us a few months to really get our bearings (especially with some exceptional and unexpected challenges). I know none of you will truly understand why things are the way they are but I ask that you trust me and support me as I navigate this new world of mine."
But since the show has ended, Morton has yet to post another picture of Bukowski on her Instagram. The last time that Bukowski posted Morton was also around four weeks ago. Morton did, however, post a picture with her engagement ring on three days ago.
So while the two may still be together, it doesn't seem like the relationship is still paradise.